June 24, 2019 by
marketing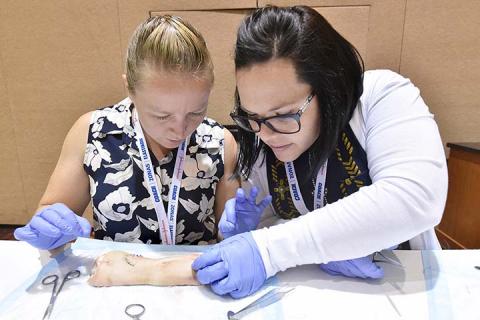 By Kim Diggs
Prior to the 70th NATA Clinical Symposia & AT Expo beginning, six preconference workshops were held on a variety of topics, primarily in the South Seas ballroom. Workshops ranging from three and a half to six hours incorporated lectures and hands-on labs to explore topics such as joint dislocation evaluation and suturing minor skin wounds.
From 8 a.m. to noon in South Seas F, Dr. Bryant Walrod, MD, CAQ-SM, Dr. Ryan McGrath, MD, and Dr. Mark Conroy, MD, CAQ-SM, instructed "Joint Dislocations: Evaluation and Acute Management." During their workshop, ATs explored various methods for stabilizing dislocations, acknowledging methods that date back to physicians in the B.C. era and showcasing new methods, such as the Fares method, which stands for fast, reliable and safe.
During the workshop, attendees practiced a few of the methods they were introduced to. There were anatomical model arms on hand for attendees to use for practice, but many chose to practice on their peers.
During "Using Dry Needling to Treat Neuropathy in Sports Medicine" at 8 a.m. in South Seas J, attendees learned how to understand if dry needling is effective for a particular patient. In the return-to-sport checklist, was normalized sensation, normalized reflexes and normalized myotome testing. Speaker Paul Killoren, PT, FPT, said dry needling can also inspire enhanced performance in athletes over time, if performed in stages.
"I personally think this is best done pre-competition and post-competition," Killoren said.
As both of these workshops were taking place, the "Advanced Functional Cast Therapy for Orthopedic Injuries" workshop was occurring in South Seas B. Sean Conkle, OTC, instructed an interactive lecture about mixing focused rigidity with a soft cast to allow more movement.
"We want fully functioning athletes, am I right?" Conkle said.
During the course of the workshop, he applied casts to attendees and allowed them to apply these new techniques, as well. The goal was to show that the materials used to splint and cast should be chosen according to the injury, while enforcing the idea of focused rigidity to mend musculoskeletal injuries, so the unaffected areas can still maintain mobility.
From 8 a.m. to 3 p.m. in South Seas E, attendees practiced suturing methods on pigs' feet during the "Care and Suturing of Minor Skin Wounds" workshop. Adam Cady, MHS, ATC, CSCS, spearheaded the demonstration by performing a variety of stitches on lesions created on a pig's foot. The goal was to show attendees how to identify and properly suture skin wounds.
At 11:30 a.m., ATs seeking information about being of service to performers attended the "Performing Arts" workshop in South Seas H. During the course of the seminar, several people spoke about areas in which athletic trainers are needed in the world of performing arts – including vocal preservation, as demonstrated by Linda Ganz, MS, CCC-SLP, a speech pathologist. Her presentation focused on the ways in which athletic trainers can assist performers who have throat injuries that affect their vocal cords.
Intercollegiate Council for Sports Medicine Summit also took place from 8 a.m. to 6:15 p.m. Throughout the day, there were eight presentations that ranged in topics – from evidence-based emergency action plan creation to risk mitigation. All of the speakers chose topics that affect how ATs deal with common issues among collegiate ATs, such as lawfully addressing concussion and the threat of chronic traumatic encephalopathy and providing viable options in sport to an athlete who has been sidelined.
During the course of the day, there were more than 20 speakers at these preconference workshops. To hone in on the topics and modalities of learning that best meet the needs of attendees, NATA is encouraging preconference workshop attendees to complete speaker evaluations.