June 26, 2019 by
marketing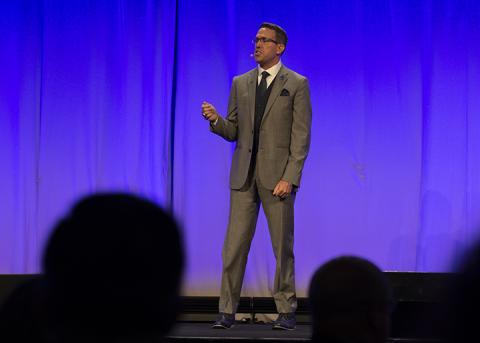 By Kim Diggs
Following the award ceremony and financial report, NATA President Tory Lindley, MA, ATC, delivered the State of Association Wednesday, June 26, in Shoreline, Mandalay Bay. Each year, during the NATA convention, the president discusses the major accomplishments of the previous fiscal year and lets attendees know what to expect in the coming fiscal year.
"Reflective of the work that each of you have done, the work that we find so incredibly fulfilling, let's celebrate that by taking a look back at some of the accomplishments that we all have achieved together last year," Lindley said.
During the State of Association, a video revealed some of the major accomplishments that occurred since last June.
At Your Own Risk, NATA's public-facing initiative aiming to educate laymen and advocate for the role of athletic trainers, reached more than 120 million people with its"The Role of Parents" campaign, which included blog posts, social media content, high-profile interviews, downloadable checklists and tips related to the role of the parent as it pertains to the safety of student athletes.
The Sports Medicine Licensure Clarity Act was signed into law by President Donald Trump Oct. 5, 2018. This law allows ATs the ability to practice athletic training according to their state practice act while traveling to another state. This was a major win for the association and the profession.
In March, National Athletic Training Month reached a record high in engagement with this year's theme, "ATs are Health Care." With increased visibility and a focus on setting inclusivity, this campaign garnered NATA's social media channels nearly 1 million impressions and increased digital presence by 29 percent.
From the restructuring of the Intercollegiate Council for Sports Medicine and Council on Practice Advancement to the dedication to hosting safe space training on the national and district levels to better serve LGBTQ+ patients, NATA prioritized dedication to inclusivity in many facets.
Lindley, then, spoke about the opportunities for new policy and job creation due to the new leadership in the National Federation of State High School Associations and made a public acknowledgment of the collaboration to come with American Physical Therapy Association.
"In January, the member organizations for athletic training and physical therapy committed to promote health and wellness and engage in efforts to advance population health," Lindley said. "By joining forces, through regular communication, we expect to increase the quality of patient care by promoting best practices and interprofessional health care by identifying legislative synergies, by improving access to underserved patient populations and through investigating principles on model language for improved state legislation."
After further explanation of the opportunities for mutual benefit, APTA President Sharon Dunn, PT, PhD, took to the stage, expressing her excitement about the collaboration.
Lindley concluded by listing some of the lessons he's learned throughout this year.
"I've learned that governmental affairs successes should be celebrated and will serve us for years to come through important relationships gained," he said. "With each legislative win, we're reminded that effective licensure, not just title protection, from coast to coast, is the only goal."