August 13, 2019 by
marketing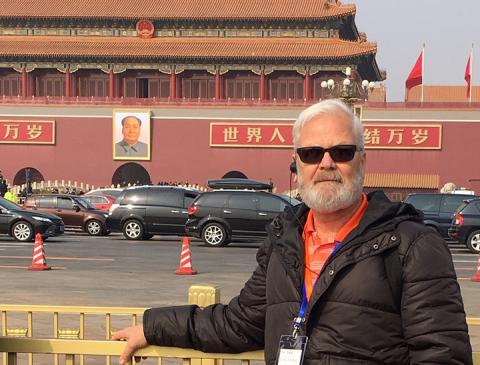 By Kim Diggs
After retiring from Modesto Junior College in Modesto, California, following a 38-year career that included time spent as a professor, head athletic trainer and treatment center coordinator, Bobby Boswell, ATC, forged a new path.
He pursued his dreams of working with the Olympic Games medical team, which afforded him the opportunity to travel internationally. After several successful years of service working with various teams and organizations, he created a sports medicine program working with USA Wrestling (USAW). Today, he is a 43-year NATA member who sees his knowledge as the sum of his many experiences.
After providing care to athletes in 72 international competitions that took place in 41 countries, Boswell picked up a few pearls of wisdom between Fresno and Tokyo, Japan, that he'd like to share with those who are starting their careers in athletic training.   
Excelling Takes Work
As a professor at Modesto Junior College, Boswell said he encountered many athletic training students eager to excel in their careers rapidly. He maintains that finding the career path that will lead to success requires time and hard work.
"Understand that it may take time for you to gain the experience and exposure to show others what you're capable of and enable them to see what an outstanding athletic trainer you have become," Boswell said.
Boswell suggests taking every opportunity to showcase expertise and completing each task as skillfully as possible to pique the interest of stakeholders, which can open doors to greater responsibility or major opportunities.
"The effort you put into your work is definitely important, but the passion you have for your work is what drives you to be your best," Boswell said.
Work Without Limitations
The applications of sports medicine have expanded greatly within the past 20 years, and NATA has been at the forefront of keeping athletic trainers aware of the new possibilities. Boswell suggests new graduates explore any setting they are interested in to determine which best fits them. This exposes them to a variety of opportunities, allowing them to display a range of skills and gain valuable experience.
"Experiencing a variety of work settings is still crucial to figure out where your passion lies, but the opportunities are endless and the preparation and diverse work settings provide a multitude of avenues to explore, helping you to become the best athletic trainer you can be," Boswell said.
Someone's Always Watching
Some new graduates may be afraid of the unknown, wondering how long they will have to wait before they have gained enough experience to pursue a promotion or a desired role with greater responsibility. However, dedication to every task is one of the most important factors in proving readiness for new opportunities, Boswell said.
One of his biggest tips for recent grads is to "work hard, and stay humble."
While working at Modesto Junior College, Boswell earned his first chance to work with the U.S. Olympic medical team during the 1984 Summer Olympic Games in Los Angeles.
As a frequent host of state and regional championships, Boswell said he saw these championships as opportunities to administer the highest level of care to athletes other than his own – not to gain a new opportunity, but to be the best athletic trainer he could be.
"You provide help and guidance throughout some of the most important times in an athlete's life," Boswell said. "Be the person, professionally and personally, you would like them to remember."
Little did he know that one of these championships would be the catalyst for a new path.
"I always provided all of the things that I thought would showcase what we, as athletic trainers, do for the betterment of the athletes during their competitions," Boswell said. "It was during a state championship competition in track and field that one of the visiting athletic trainers approached me regarding my work at these championships. He acknowledged my genuine concern for the athletes and the effort to accommodate their needs. He asked me to send him a résumé, as he was on the selection committee for the upcoming 1984 Summer Olympic Games. Excitedly, I sent my information to him and was offered an opportunity to work with the wrestling team for both the freestyle and Greco-Roman competitions. It was a great experience.
"Along with this fantastic opportunity, I [was] approached at the end of the games with the request to develop an athletic training program to care for and coordinate efforts involving all of the USAW in California. This would include all championships as well as any and all teams traveling from California to compete at national and international competitions."
It was through these two opportunities that he went on to travel to 41 countries, including China, Russia, Belgium, Bulgaria, Japan, Switzerland, Turkey, France, Poland, Germany, Denmark, Monaco, Czech Republic, Kyrgyzstan and South Korea.
Dedication to excellent care opened doors Bowell couldn't foresee.
"Do your best work always, and let your actions define you as a professional," he said.
Boswell traveled the world many times over, allowing his desire to excel as an athletic trainer to be his guide.
By using his passion for athletic training as his fuel for exhibiting compassionate care, Boswell was able to attract decision makers in the industry that positioned him to make an impact internationally. Adapting these principles post-graduation will allow new athletic trainers to set themselves up for big opportunities within their careers.