February 13, 2023 by
Lydia Hicks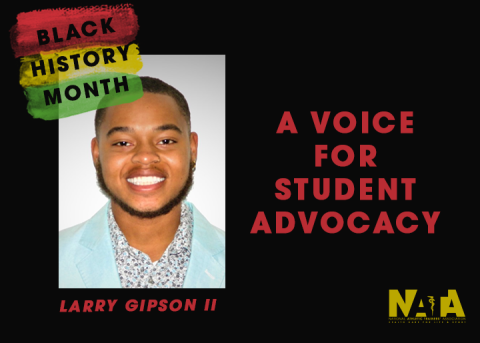 In honor of Black History Month, NATA is highlighting some of our Black leaders at the state, district and national levels and shares insight into their volunteer journeys. 
 
Helping people has always been a passion for NATA LGBTQ+ Advisory Committee student liaison Larry Gipson II.
Gipson said his "freak accident" while playing football in high school, during which he fractured his femur head and dislocated his hip, fueled his love for athletic training – a profession practiced by ATs, whose passion to return him to his sport inspired him.
"I spent a lot of time rehabbing with my high school athletic trainers," he said. "[I was moved by] the care they showed me and passion to get me back to the field for the game I loved. This inspired me to know that I was meant to do this as a profession, because helping people has always been a passion of mine."
From driving student engagement on campus and within the profession to supporting AT students through his committee, the University of Texas at Arlington master of science in athletic training student said that volunteering has helped him advance considerably.
Continue reading to learn more about his AT student advocacy and leadership journey.
 
What was your first volunteer position within the athletic training profession and why did you get involved?
My first volunteer position was back when I attended Texas A&M Corpus Christi University for my undergraduate degree in kinesiology with a concentration in pre-allied health. While there, I volunteered to help with the high school regional cross-country meet. This was my first big volunteer opportunity outside of the routine basketball practices where I served. Therefore, this was an avenue for students to attempt to get into their program to receive valuable experience and hours. 
Tell us about your current position as student liaison for the NATA LGBTQ+ Advisory Committee and what you hope to accomplish in this role.
My role as the student representative on the committee is to collaborate with committee members on various ongoing projects. I am also working to establish collaborations with other committees, such as the NATA Student Leadership Committee. This role is new and I am only the second person to hold the position. So I think it will be helpful to continue to increase student engagement so this role can develop more. My main goal here is to determine how I can make an impact and best help the student population since they are the future of the profession.
How has volunteering helped you grow personally and professionally? 
I would say that volunteering has helped me grow substantially, especially while in this graduate program. This is because I was put on academic probation for getting a "C" in one of my classes. So, I had to sit it out for a year, during which I volunteered at a high school. During this time, I was able to learn a lot when it comes to advocating for yourself and athletes. I also learned how to delegate and ask for help when it is needed so you don't burn out, as well as how to be professional in unhealthy work environments.
Why is representation in leadership important and how does it impact the profession?
Representation is important because it helps to inspire the next generation of people. This means a kid seeing someone that looks like them on a big stage that tells them their dreams are possible and achievable. Furthering the conversation about inclusivity is how representation impacts the profession. This happens by opening new doors for people who come from similar backgrounds or look like me. Last is breaking down barriers to excellence that have been overlooked due to unchecked biases.
Why should ATs get involved in leadership and service?
Athletic trainers should get involved in leadership or service because without that involvement, how do you expect there to be change? You must be the change by joining the committees, getting on the boards or advancing legislative efforts. These are just some ways change that can be implemented and help to progress the profession even further. 
What advice do you have for other athletic trainers who want to give back to the profession?  
The fact that you want to give back to the profession is the first step because it shows you are passionate about it. So, take that fire in your heart and let it guide you. Because, as Jordin Sparks said, you've got to take it "one step at a time. There's no need to rush." Therefore, you don't have to make a grand gesture; it can be a small act.