November 30, 2022 by
Lydia Hicks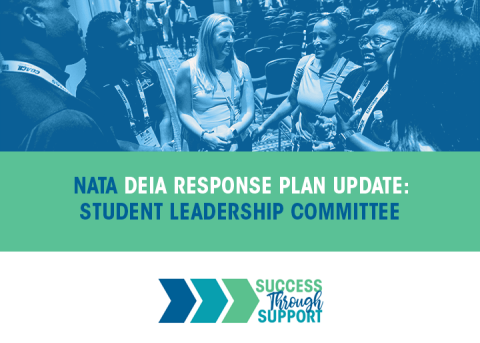 As part of Phase Six of NATA's Diversity, Equity, Inclusion and Access (DEIA) Response Plan, each NATA committee, commission and council was tasked with developing three to five actionable items that support one or more of the six NATA DEIA Commitments.

In this blog post, which is part of an ongoing series highlighting these efforts, NATA Student Leadership Committee Chair Dustyn Walton, outlines the SLC's actionable items, what the committee hopes to achieve and how members can get involved.
 
What are your committee's three to five DEIA actionable items, and why were they selected?
Establish permanent SLC liaison positions with the NATA Ethnic Diversity Advisory Committee and NATA LGBTQ+ Advisory Committee. The goal being to enhance committees, collaborate on projects and participate in continual learning.
 
Intentional inclusion of diversity in race, age, demographics and location when creating content, webinars and the Athletic Training Student Seminar (ATSS). We want all SLC events to be as inclusive as we can make them. This actionable item serves as a reminder for current and future committee members to keep this in mind during event planning.
 
The nominations process will represent appropriate demographics in each district when recruiting for future SLC candidates. The focus of this actionable item is to increase diversity within SLC and eliminate any unknown biases that may be present.
 
Identify barriers to becoming an AT student member of NATA as well as any additional barriers to staying a member of NATA after graduation. This actionable item was selected to identify membership barriers and identify actions that can be taken to increase student membership.
 
Tell us about the development process that led your committee to these actionable items.
We developed these actionable items by analyzing the SLC and identifying areas where we can promote diversity. With a large turnover each year on the committee, we identified the nominations process as one area that we can focus on with regards to the DEIA initiatives. SLC also hosts a number of webinars, social events and ATSS each year. In developing our actionable items, we deemed this as another area where we can focus on diversity and include topics targeted to all NATA members. SLC's liaison relationships with EDAC and the LGBTQ+ Advisory Committee allow SLC to stay up to date with current information within these two committees that can be promoted to student members. Finally, we wanted to focus on barriers that students may experience in becoming NATA members. We wanted to focus on how to increase student membership numbers and identify any barriers that current students or students transitioning to practice may experience. With this information, we then want to identify solutions to these barriers and increase access to NATA membership.
How will the actionable items you've outlined impact NATA's members?
While the SLC is student-driven, all members of NATA benefit from the SLC's efforts. As the committee that helps promote our profession and organization, we work to ensure that membership within NATA flourishes with long-term success. Without students and student engagement supported by certified members, the perpetuation of the organization would be in jeopardy. Students are the future of the profession and organization. The SLC's contributions to NATA align with and support the organization's initiatives.
How do you hope your committee's actionable items will contribute to NATA's overall efforts to improve DEIA?
Through the SLC's actionable items, we hope to advance DEIA for all NATA members, with focus on student members. We hope that, through our emphasis on liaison relationships, the committee selection process, SLC events and student membership barriers, we will be able to enhance DEIA for students and that the resources we provide to them will continue to be used throughout their careers.
Where are you in completing your three to five actionable items?
SLC is constantly working to complete these actionable items. We have established a liaison relationship with both the LGBTQ+ Advisory Committee and EDAC. We are still working on further developing these relationships to better support each committee. As far as the nominations process and event planning are concerned, these actionable items will be ongoing. We are currently in the process of selecting the 2023-24 committee members, while keeping in mind the DEIA actionable item to promote and intentionally include diversity within the committee. SLC is still in the process of identifying barriers to student membership and will continue to work on this item in the upcoming months. Once barriers are identified, we will then turn our focus to overcoming these barriers and increasing access to NATA membership for students.
How can your fellow NATA members help bring these actionable items to life? 
Fellow NATA members can bring these actionable items to life by encouraging students to get involved with NATA. They can do this by applying to serve on SLC, encouraging event attendance and providing information to SLC regarding barriers to student membership.
Where can members learn more about your committee's DEIA efforts?
Members can learn more about the SLC's DEIA efforts by reaching out to the committee directly. They can also connect with us on Twitter, Facebook and Instagram to see what events we have coming up and how we are promoting DEIA.

Renew Your NATA Membership
Your membership with NATA unlocks access to a variety of member bene­fits in professional growth, advocacy, support and connection, with several benefi­ts extending beyond just one of these categories. Visit the NATA Member Benefits webpage to learn more about what comes with being an NATA member and renew your membership today. The deadline to renew is Dec. 31.
Don't let finances get in the way of a membership – if you are experiencing a financial hardship, contact Member Services at 972.532.8897 or membership@nata.org to see how we can help.