February 27, 2023 by
Lydia Hicks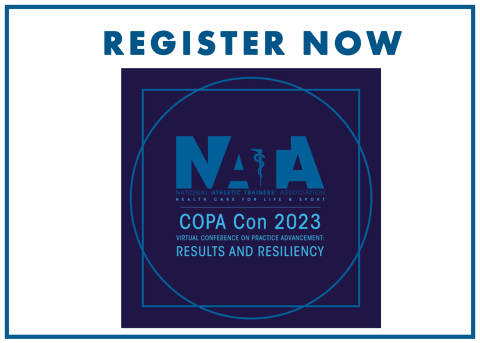 COPA Con, a virtual conference on athletic training practice advancement, is back this year with live educational programming for a variety of settings March 31-April 1 and on-demand access, along with networking opportunities for peer-to-peer discussion, through May 1. Both live and on-demand attendees can earn more than 10 CEUs.
NATA Council on Practice Advancement Chair Karen Fennell, MS, LAT, ATC, said the COPA Con is a direct result of NATA members' feedback requesting content targeted to them for their career advancement.
 "What I mean by 'them' is it's not just people who are in the [emerging] settings," said Fennell, adding that while COPA Con 2023 will focus on achieving "Results and Resiliency" in emerging settings, its programming applies to the broader spectrum of athletic trainers. "It could be targeted content for a collegiate head athletic trainer. It could be for a high school or secondary school athletic trainer. The content itself has a lot of overlapping qualities to it, that it's just not occupational or the industrial athletic trainer; it could be key takeaways that athletic trainers could take back to their secondary school, collegiate or professional sport."
With regard to results, Fennel emphasized the importance of data collection as a way to present the outcomes and efficacy of athletic training.
"We [as ATs] always talk about demonstrating our worth and our value," she said. "We always emphasize that as much as we can. That's great, but data collection is important."
On the resiliency side, Fennell said COPA Con 2023 will focus on how ATs have found new ways to showcase their skill set in a broader variety of settings in light of COVID-19.
"We wanted to talk about the resiliency of ATs during COVID, post-COVID, but also, look at the resiliency of 'I'm really burnt out and I'm going to find a different career path,' and being able to find a home in a variety of practice settings," she said.
Reflecting on past COPA Con events, Fennell said even with a variety of AT settings involved, there are usually common threads that tie them together.
"Whether you are preventing an injury in an occupational setting or whether you are preventing an injury in a professional, collegiate or high school setting – prevention is prevention," she said. "Being able to take those numbers and show the results to your external stakeholders, like directors, president of your hospital, financial officer, etc., [is key] and there are major takeaways that are translatable to other occupational settings within athletic training."
Other benefits of attending COPA Con 2023 are networking and peer-to-peer collaboration within a health care education framework.
 "You asked for it, you've got it," she said. "We hear you and we've presented quality cost-effective continuing education."
COPA Con 2023 Programming
COPA Con 2023 attendees can learn from a diverse line of topics. It will feature educational content applicable to all COPA settings. View the complete COPA Con 2023 Preliminary Program and register now.
NATA members save $300 on registration for COPA Con 2023. Register for COPA Con 2023 by March 18 and you will qualify for the early registration rate, saving $75. To become a member or renew your membership, visit the NATA website.