November 9, 2022 by
Lydia Hicks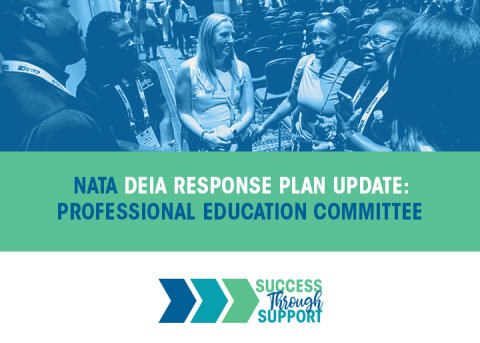 As part of Phase Six of NATA's Diversity, Equity, Inclusion and Access (DEIA) Response Plan, each NATA committee, commission and council was tasked with developing three to five actionable items that support one or more of the six NATA DEIA Commitments.
In this blog post, which is part of an ongoing series highlighting these efforts, NATA Professional Education Committee Chair Michelle L. Odai, PhD, LAT, ATC, outlines the PEC's actionable items, what the committee hopes to achieve and how members can get involved.
 
What are your committee's DEIA actionable items, and why were they selected?
1. To create a template that education programs can use to audit all aspects of their program to ensure compliance with DEIA best practices. Areas to be audited include, but are not limited to: websites/marketing materials, admission processes, policies/procedures and teaching practices. This was selected to assist programs with identifying areas in need of change or modification.
2. To create a bystander intervention training program for faculty, preceptors and students. This was selected to assist program personnel with identifying and addressing bias and discrimination in the didactic and clinical settings.
Tell us about the development process that led your committee to these actionable items.
The committee brainstormed at a couple of different meetings and took consensus on which projects to focus on. Small groups were formed within the committee to begin working on the projects. The committee has six new members who started their terms in June, so an additional discussion will take place this fall to include ideas from new members.
How will the actionable items you've outlined impact NATA's members?
Both projects will provide tangible activities that will increase the member's knowledge, awareness and strategies for improvement. With a focus on educational programs, it will impact students as well, who are the future of our profession.
How do you hope your committee's action items will contribute to NATA's overall efforts to improve DEIA?
The projects will help ensure that educational programs are following best practices within the classroom and clinical settings. They will also allow for greater understanding of potential bias and discrimination and provide action steps to identify, address and prevent them in the future.
Where are you in completing your three to five actionable items?
I believe the audit will be finished this fall. It was the topic of the committee's presentation at the 73rd NATA Clinical Symposia & AT Expo. We are awaiting guidance from the NATA office on moving forward with the bystander training.
How can your fellow NATA members help bring these actionable items to life? 
Members can use the audit to ensure their educational programs and clinical sites follow best practices. Members can participate in the bystander training themselves.

Renew Your NATA Membership
Your membership with NATA unlocks access to a variety of member bene­fits in professional growth, advocacy, support and connection, with several benefi­ts extending beyond just one of these categories. Visit the NATA Member Benefits webpage to learn more about what comes with being an NATA member and renew your membership today. The deadline to renew is Dec. 31.
Don't let finances get in the way of a membership – if you are experiencing a financial hardship, contact Member Services at 972.532.8897 or membership@nata.org to see how we can help.