June 21, 2023 by
Lydia Hicks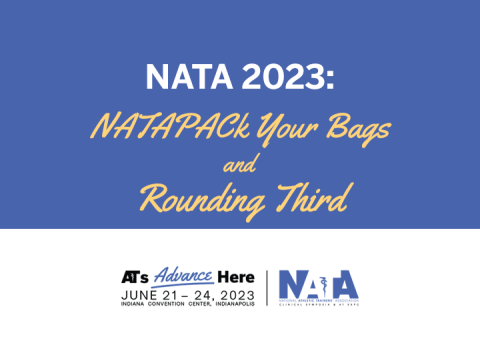 Two new advocacy opportunities await at the 74th NATA Clinical Symposia & AT Expo – NATAPACk Your Bags and Rounding Third, both taking place June 22-24 in the Connect area in Hall I of the Indianapolis Convention Center.
Hosted by the NATAPAC Board of Directors and NATA Government Affairs respectively, NATAPACk Your Bags and Rounding Third are new fundraising initiatives.
Here's more about them and how to participate:
 
NATAPACk Your Bags
Through this fundraising initiative, NATA members donate a hosted experience/activity available exclusively to other NATA members with a NATAPAC contribution. Such experiences/activities may include: hunting/fishing trips, dinners with NATA Hall of Fame members, attendance at sporting events and much more! These unique activities/experiences are only available in person on a first-come, first-served basis and participation is limited to NATA members. Funds raised through this effort are considered a contribution to NATAPAC.
Those wanting to learn more about the NATA Political Action Committee (NATAPAC) can do so by visiting the NATAPAC Kiosk and speaking with a NATAPAC Board member in the Connect area.
Rounding Third
Rounding Third was designed to help expand NATA's advocacy efforts and government affairs initiatives. Items, events and experiences are donated to NATA Government Affairs, which will then offer the items up for silent auction in various venues. Funds raised benefit government affairs advocacy initiatives pertinent to athletic trainers.
Rounding Third participation isn't limited to NATA members, so all NATA 2023 attendees are able to bid. For 2023, silent auction items include signed baseballs, bats, gloves, jerseys and game tickets from Major League Baseball teams and players. Bidding closes at 5 p.m. June 23.