May 16, 2023 by
Lydia Hicks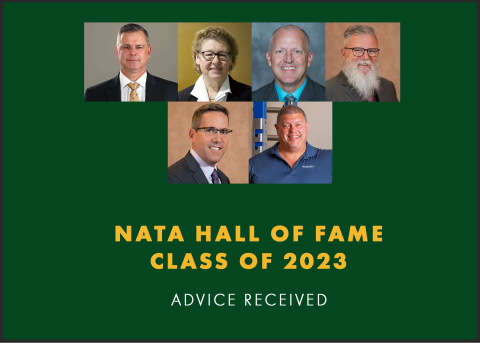 The NATA Hall of Fame is the pinnacle of recognition for members, honoring a select group of athletic trainers who have shaped the athletic training profession and exemplified what it means to live a life of service.
More than a ring, green jacket and plaque on the wall, the NATA Hall of Fame is an honor bestowed on those who have spent countless hours perfecting their skills, mentoring the next generation of ATs and imprinting a lasting impact on the athletic training profession.
The May NATA News featured the class of 2023, highlighting their careers and volunteer achievements, and delves into their journeys as leaders in the profession.
The class of 2023 will be honored and inducted into the NATA Hall of Fame during the 74th NATA Clinical Symposia & AT Expo in Indianapolis.
In this blog, the inductees give insight into the most valuable advice they have received in their AT careers.
 
RICK BURKHOLDER, MS, ATC
My father, an athletic trainer for 60-plus years, told me to "treat the person, not the injury."
LORIN A. CARTWRIGHT, MS, ATC, CAA
Give back to the profession you love.
MARK COBERLEY, MS, LAT, ATC
The image of one projects the image of all. We all represent each other with our actions and professionalism. You never know who is watching and who might make an impact on you and the profession as a whole. Never give anyone a reason to question your professionalism.
TONY FITZPATRICK, MA, LAT, ATC
Advice regarding being an athletic trainer: 1. Take a deep breath and trust the skills I was taught; 2. It's OK to ask for help; and 3. Be prepared for as much as I think I need to be prepared for.
Advice regarding service: To do my homework, come with questions, call others to discuss something before the discussion gets to a formal meeting. A big part of serving is making the time to call others (committee members, other ATs, board members) to have a good frank discussion prior to any meeting. It wasn't that the meeting wasn't important, but often times, issues that were being voted on needed a good solid phone call to truly vet out the issues, to hear other opinions, ideas and suggestions other than my own. Also, simply ask and answer questions ahead of time.
TORY R. LINDLEY, MA, ATC
In my very first athletic training student evaluation, Jeff Monroe wrote: "Don't let your school spirit spirit you away from school. Learn the science of athletic training and stop smelling the roses." I carry that paper evaluation with me to this day and use it as a necessary reminder to be present and not be an impostor in anything you do.
PAUL A. ULLUCCI JR., PhD, DPT, ATC
Keep your head on a swivel and don't worry about the outcome of the game, just the athletes.