August 1, 2023 by
Lydia Hicks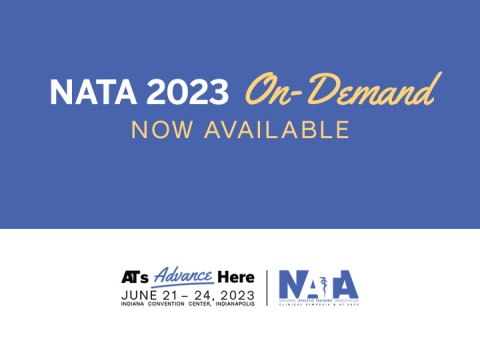 NATA 2023 On-Demand is available to both in-person attendees and on-demand registrants Aug. 1-Oct. 31.
For on-demand-only registrants, NATA 2023 On-Demand offers up to 20 CEUs. Registrants must view sessions in their entirety and complete the session assessments at the end to earn CEUs.
In-person attendees who were not able to earn all 20 CEUs while in Indy can earn their remaining CEUs in the on-demand portal.
NATA Convention Program Committee Chair Michelle Boling, PhD, LAT, ATC, said the portal is also a space for the in-person convention attendee who has earned all 20 CEUs to review what they learned, although more CEUs can't be earned.
"And if at the time when you were in the session, you didn't have the handout for the slides, you actually could go ahead and print those out … and take notes on the slides, because there is a handout library directly within the portal that's accessible to [all registrants]," she said.
Boling said while the on-demand portal has benefited attendees with the flexibility and convenience of recorded content, it also provides viewers the ability to control its closed captioning function by turning it on and off, as needed. The portal also offers registrants many other accessibility features, such as font adjustments, color adjustments, built-in search and more.
There is also a user guide available in the portal for a smooth on-demand experience.
In addition to watching select sessions recorded in Indianapolis, in the NATA 2023 On-Demand portal, registrants can view the NATA Research & Education Foundation Free Communications Program Poster Presentations and access the AT Expo exhibitor list.
Keep reading to learn more about NATA 2023 On-Demand's features.
FREE COMMUNICATIONS PRESENTATIONS
NATA 2023 On-Demand registrants can access the NATA Foundation Free Communications Poster Presentations in the on-demand portal.
"The Free Communications Program remains a unique opportunity to see the latest athletic training evidence capable of advancing both clinical practice and future research," said Free Communications Committee Chair Erik Wikstrom, PhD, ATC.
Wikstrom said this year's Free Communications Program features 14 poster sessions, highlighting 143 abstracts.
RECORDED EDUCATIONAL PROGRAMMING
NATA 2023 On-Demand registrants can continue their lifelong learning with on-demand educational programming, which covers a variety of hot topics in sports medicine. These sessions are categorized into two key themes of Data-Driven Practice and Optimizing Return to Work, Life and Sport.
Here is a peek at some of the sessions that were recorded live at NATA 2023. For a full schedule and more session details, peruse the NATA 2023 On-Demand Program.
Data-Driven Practice
"When the Trust is Broken: How to Repair Patient-Clinician Relationships in Low Socioeconomic Status Communities," presented by Tamerah Hunt, PhD, LAT, ATC, and Melissa Kossman, PhD, ATC
"Examining Ethnic Diversity in Athletic Training: A Critical Look & Conversation," presented by Estefania Zavala, DAT, LAT, ATC, Carla Gilson, MA, LAT, ATC, Mercedes Himmons, PhD, LAT, ATC, Tamesha Logan, MBA, Xavion Santiago, PhD, LAT, ATC, and Rebecca Lopez, PhD, LAT, ATC
"Utilizing Electronic Medical Records To Identify Potential Inequities in Health Care Utilization," presented by Cathleen Brown Crowell, PhD, ATC, and Marc Norcross, PhD, ATC

Optimizing Return to Work, Life and Sport
"Preventing, Managing & Optimizing Bone Health Through Updated Nutrition & Supplement Guidelines To Enhance Returning to Work, Life and Sport," presented by Dawn Weatherwax, RD, CSSD, LD
"Neurodynamic Testing and Neural Mobilization," presented by Nicholas Grahovec, PhD, ATC, CSCS, and Tyler Wood, PhD, ATC
"Checking In: Social, Emotional & Physical Well-Being Matters More Than Ever in Adolescent Athletes," presented by Jessica Wallace, PhD, ATC

Additional Hot Topics
"Looking Beyond the Measures: What Does the Athlete Think?" presented by Evert Verhagen, PhD
"Legal Depositions in Sports Medicine," presented by Stanley Herring, MD, FAMSSM, Kevin Guskiewicz, PhD, ATC, Ron Courson, ATC, PT, NRAEMT, and Frank Chernak
"COVID-19: Understanding and Management of Long COVID Syndrome," presented by Scott Cheatham, PhD, DPT, ATC
AT EXPO EXHIBITOR LISTING
NATA 2023 On-Demand registrants can also enter the AT Expo section and view a list of this year's AT Expo exhibitors.
For more information and to register for NATA 2023 On-Demand, visit the NATA convention website.

STATEMENTS OF CREDIT
NATA provides statements of credit post-event. In November, an email will be sent to all attendees eligible for CEUs, with instructions on how to access and print their Statement of Credit. It is the attendee's responsibility to confirm it's accurate.
Your Statement of Credit will reflect the total number of CEUs earned, up to 20 CEUs. It's the attendee's responsibility to precisely report contact hours and CEUs earned through on-demand educational programming.
If you have a question about your statement, email ki@nata.org.