June 8, 2023 by
Lydia Hicks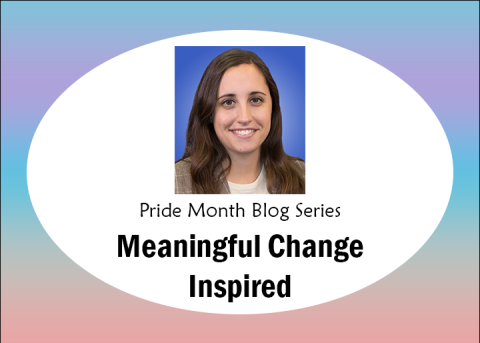 To commemorate Pride Month, throughout June the NATA Now blog is highlighting members of the NATA LGBTQ+ Advisory Committee and their impact on the profession.
With an uncle who practiced sports medicine, Meredith Decker, PhD, LAT, ATC, said she fell in love with athletic training at a very young age.
"I loved getting to experience his job when [my family] would go visit him at the University of Virginia," she said.
Decker said as she embarked on her professional journey, she initially didn't comprehend how much impact serving in the athletic training profession would have on her.
Since her introduction to the profession, the NATA LGBTQ+ Advisory Committee District Six representative has taken on various roles to increase cultural competency surrounding LGBTQIA+ patients and peers. Of these experiences, she said her most cherished has been collaborating with colleagues across the nation as advocates and change agents.
Continue reading to glean from her service experience.
 
What was your first volunteer position within the athletic training profession and why did you get involved?
My first volunteer position was on the Free Communications and Research Committee in District Six. I was eager to get involved in service and I worked with Scott Galloway, MBA, LAT, ATC, at the time, who helped me find a committee in District Six to serve on. (Thanks, Scott!)
Tell us about your current position with the NATA LGBTQ+ Advisory Committee. What do you hope to accomplish in this role?
I have served as the District Six representative and Southwest Athletic Trainers' Association chair for a few years now, and my main goal has been to bring more awareness around inclusivity for LGBTQIA+ patients and colleagues through education and resources. I have been able to work on the committee's social media, town hall and Safe Space Ally Training teams to help achieve these goals. My amazing committee members in District Six have also been outstanding advocates for our efforts in Texas and Arkansas.
How has volunteering helped you grow personally and professionally?
Starting out, I don't think I really understood how much of a personal impact my service in the AT profession would have on me. I used to feel like there was not much I could do to make a change, but my roles in service have really helped to ignite my voice and my advocacy in the athletic training profession and as an active citizen. Of the many ways that I have been impacted professionally, the collaborations with ATs across the country has been my most cherished aspect of service.   
Why is representation in leadership important and how does it impact the profession?
There is a different energy you feel when you see someone, or work alongside someone, from the same marginalized group. It brings you to life and makes you feel like you are not alone. It is so important to continue to facilitate that in athletic training and have our leadership identify more with the makeup of the membership and the patients we serve.
Why should ATs get involved in leadership and service?
Service is a component of our profession that keeps us progressing. Athletic training is a wonderful profession that we need to continue to foster and bring to its potential. There are also a lot of things that we need to improve, and we need new voices to come in and help us make the meaningful changes our profession needs.
What advice do you have for other athletic trainers who want to give back to the profession? 
Don't feel like you must stick to the status quo to be able to serve in a role within the profession. Challenging the status quo, speaking up and having the hard conversations will be what will truly drive our profession forward.