September 15, 2023 by
Lydia Hicks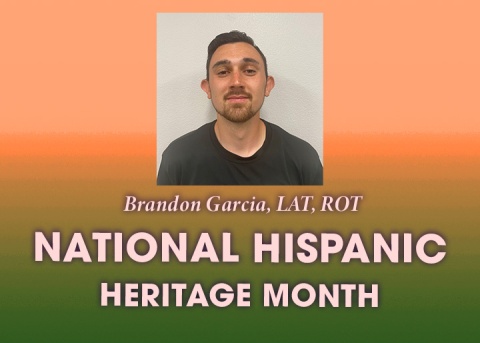 In honor of National Hispanic Heritage Month Sept. 15-Oct. 15, the NATA Now blog is highlighting some of our leaders at the state, district and national levels.

Brandon Garcia, LAT, ROT, has had an interest in athletic training since his sophomore year of high school.
While his passion for medicine and athletics drew him to learn sports medicine through a class in high school, Garcia said his mentor's leadership was what propelled him further into the profession.
"During the class, I enjoyed the topics that were being presented to me and that is when my mentor, Ben Snyder [DAT, LAT, ATC], talked to me about joining his [athletic training student] program at the high school," Garcia said. "I would stay after school and learn about the profession, practical skills and how to provide health care in a low socioeconomic school."
Garcia's experience has opened doors for him, not only as a burgeoning undergraduate and graduate athletic training student, but as an AT in the outreach emerging setting. Accompanying these facets of his career are his previous leadership activities.
These activities encouraged him to give back to the profession. Through his education, Garcia's passion for athletic training has empowered him to serve not only underserved patients and ATs, but those from varying backgrounds, he said.
He gives further insight into his volunteer journey and the impact of his service.
What was your first volunteer position within the athletic training profession and why did you get involved?
My first volunteer position within the athletic training profession was becoming the president of the inaugural Sun City Athletic Trainers' Association student membership. I got involved in this position to help student members and interested students learn about the profession of athletic training. This position allowed me to give back to my community and tell students that athletic training is a very rewarding career. The position also allowed me to network with other athletic trainers and have them present to our members, helping them understand that even though they came from low socioeconomic backgrounds, achieving a degree and career in athletic training is possible.
Tell us about your current position as a Southwest Athletic Trainers' Association Student Leadership and Development Committee member. What do you hope to accomplish in this role?
This past year, I was a SWATA student senator and served as the affiliate for the competency workshop. In this position, I was in touch with the chair of the competency workshop and helped to bridge a gap between the student senator and competency committee. The role allowed me to give a student perspective on what the students would like to be taught at the workshop and any areas of struggle for them. The main goals were to help promote the workshop, have an increase in student attendance and allow students to get a grasp of any topic they may be struggling with.
How has volunteering helped you grow personally and professionally?
Volunteering has helped me grow throughout my time as an athletic training student. On a personal level, volunteering has helped me manage my time better and has helped me grow out of my comfort zone. Professionally, volunteering has helped me meet some mentors who I may not have met if I didn't volunteer. Volunteering has helped me network with athletic trainers across the country who have given me advice and their support.
Why is representation in leadership important and how does it impact the profession?
Representation in leadership is important as it allows someone to impact other lives. People in leadership roles have people who look up to them. They represent the profession and have passion for being a great example. Representation impacts the profession as it allows us to show others who are unfamiliar with what an athletic trainer is and allows us to show that we can provide top-quality health care to different populations. Representation helps to break down barriers and allows today's leaders to show future leaders of the profession that dreams and goals are achievable.
Why should ATs get involved in leadership and service?
Athletic trainers should get involved in leadership and service because it allows the profession to grow. Getting involved can help the community know what an athletic trainer is, provide a student with an opportunity for a mentor and break down barriers. Without any involvement, there will be no change and the profession of athletic training will not be promoted. So, why not volunteer and help be the change you want to see in the profession?
What advice do you have for other athletic trainers who want to give back to the profession? 
The biggest piece of advice I have for other athletic trainers who want to give back to the profession is have passion for what you are doing. If you are going to volunteer, have passion and give it all your effort. The change will only be as great as the amount of effort you put into it.