June 8, 2023 by
Lydia Hicks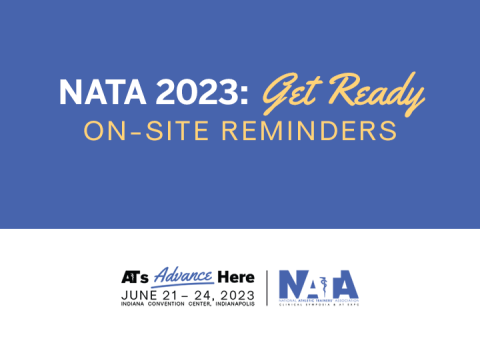 The 74th NATA Clinical Symposia & AT Expo in Indianapolis is right around the corner! We want to ensure attendees are well-equipped to enjoy their convention experience, taking place June 21-24 at the Indiana Convention Center (ICC) in Indianapolis. Read on for everything you need to know about being on-site at NATA 2023.
Also, follow NATA on Facebook, Twitter and Instagram for any need-to-know updates and breaking news. You can also use the #NATA2023 hashtag to share your experience and connect with other attendees.
*NOTE: JW Marriot is a different hotel from Marriott:
Signs for "JW Marriott" represent the JW Marriott Indianapolis 
Signs for "Marriott" refer to the Indianapolis Marriott Downtown
nata 2023 event app
Navigate the 74th NATA Clinical Symposia & AT Expo like a pro with the NATA event mobile app. You can sync the app across all your devices and stay organized with up-to-the-minute exhibitor, session, speaker and on-site event information. You can also use the app to find attendees and connect with your colleagues. Search the App Store (Apple devices) or Google Play for "NATA Conference Events." Read more about the app's features on the convention website. 
grab your badge at express check-in
Upon arrival at NATA 2023, proceed to the registration area in the Hoosier Foyer, ICC, to get your badge and other convention materials before attending educational sessions or events. For your convenience, registration will be open daily June 21-24.
Where: Hoosier Foyer, ICC
When:
7 a.m. to 6:30 p.m. June 21
6:30 a.m. to 5:45 p.m. June 22
7:15 a.m. to 5 p.m. June 23
7:15 a.m. to 1 p.m. June 24

question? get an answer at the NATA Info Counter
The NATA Info Counter is your go-to spot to connect with an NATA office team member who will be able answer – or get an answer – for any question you have throughout the week.
Where: Crossroads Corridor, Level 1, ICC (across from registration)
When:
7 a.m. to 6:30 p.m., June 21
6:30 a.m. to 5:45 p.m. June 22
7:15 a.m. to 5 p.m. June 23
7:15 a.m. to 1 p.m. June 24
For the safety and security of all convention attendees, NATA doesn't offer on-site badge reprints.
NATA 2023 is a Cashless Event
On-site payment options for NATA 2023 are limited to credit/debit cards only. We accept American Express, Discover, MasterCard and Visa.
parking
Parking is available in the garage and surface lots surrounding ICC.
Bring Your Walking Shoes
All official NATA convention hotels are located within walking distance of ICC. You can access ICC at the street level or via climate-controlled hotel/mall skywalks. Scroll down on the "Visit Indy" convention webpage to download a map of the area to access ICC, hotels, restaurants and more. Be sure to check the Indy weather forecast and pack accordingly.
Stock Up at the Ribbon Bar
After you pick up your registration materials, head to the NATA 2023 ribbon bar, across from registration, and add ribbons corresponding to your setting, professional interests, honors, volunteer service and more. This will help you network with other attendees – and show off!
Wi-Fi Available to NATA 2023 Attendees
Wireless internet is complimentary in ICC and available in the food courts, corridors and public spaces for tasks that aren't bandwidth intensive, such as light web browsing and reading email messages.
Special Accommodations
All facilities being utilized for NATA 2023 meet ADA requirements. The online registration process includes an opportunity for registrants to request assistance to be able to fully participate (mobility, hearing, vision, etc.) in official convention events. If special accommodations are requested, NATA staff will contact you for details.
If you need to request special accommodations, or make other updates to your registration record, visit the NATA 2023 registration website and enter the email address and password you used to register in the "Already Registered" section.
Reserved seating at the front and back of all session rooms is available for visually impaired attendees, wheelchair access or anyone who needs it.
Lost and Found
The NATA Info Counter also serves as the Lost and Found Center for NATA 2023. Stop by the counter located on Level 1 in the Crossroads Corridor across from Hall I at ICC to drop off something you've found or to see if your lost item has been turned in.
Safety Reminders
As with any destination, we recommend that conference attendees practice common sense and don't wander into deserted, non-tourist areas of the city. Wear your name badge at all times while in the convention center and remove it when out in public.
Unsecured Items Policy: Personal belongings shouldn't be left unattended anywhere during NATA 2023. Unattended items are subject to removal by security. NATA isn't responsible for unattended items that are destroyed, damaged or stolen.
See Something, Say Something: If you need to report a safety or security risk to NATA staff, visit customer service in the registration area. If you need to report a security risk within ICC, you may use any red phone inside ICC or dial 317-262-3350 from your personal phone to reach ICC security staff.
Smoking Policy: In an effort to create a healthy environment for all guests at ICC, the use of tobacco is strictly prohibited inside the convention center, and within 8 feet of the entry doors. This includes, but isn't limited to, cigarettes, e-cigarettes, all forms of vapor cigarettes, cigars, pipes and oral tobacco. Those who wish to use tobacco may do so a minimum of 8 feet away from the outside entry doors.
If You Need It: First Aid Care
If you're in need of any first aid supplies while in ICC, first aid facilities are staffed by Indiana University Health Services and located in the Crossroads Corridor. For emergencies, contact facility security at 317-262-3350 or by dialing 3350 on any red house phone.
Nursing Stations
The Mother's Room is located in the women's restroom on the first floor of ICC across from the security dispatch and first aid offices along the Crossroads Corridor. The on-site lactation room provides privacy and may be accessed at any time. Each private area has a chair, electrical outlet, dimmable light and side table.
​​​​​​​First-Time Attendees
As a first-time convention attendee, you are embarking on an adventure filled with opportunities to learn and network with your colleagues and friends. Here are some tips and suggestions to help you navigate your first NATA convention:
Before You Go
On-Site
When you arrive, the first thing you will want to do is pick up your convention registration materials at Express Check-In in the Hoosier Foyer. Your registration materials will include your name badge, guest badges (if any) and pre-purchased event tickets. Be sure to have your registration email confirmation and photo ID handy.
Stop by the Ribbon Bar in the Crossroads Corridor to pick up your first-time attendee ribbon.
Take the family or meet up with friends at the NATA 2023 Welcome Reception, held 6 to 7 p.m. June 21 in ICC Hall F.