November 15, 2022 by
Lydia Hicks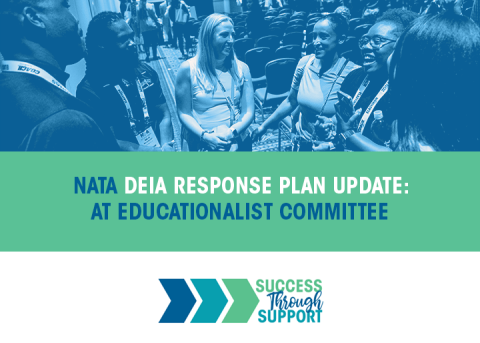 As part of Phase Six of NATA's Diversity, Equity, Inclusion and Access (DEIA) Response Plan, each NATA committee, commission and council was tasked with developing three to five actionable items that support one or more of the six NATA DEIA Commitments.
In this blog post, which is part of an ongoing series highlighting these efforts, NATA AT EducATionalist Community Cabinet Chair Paul Geisler, EdD, ATC, outlines the group's actionable items, what it hopes to achieve and how members can get involved.
 
What are your committee's three to five DEIA actionable items, and why were they selected?
Improve diversity and representation within the professional education programs, in concert with other agencies within NATA, including the NATA DEIA Task Force. The only way to increase our professional demographic diversity is to increase the number of students of color in our professional education programs, a task made more difficult with the move to the Master of Science in athletic training degree. So, concerted effort on program recruitment and professional awareness needs to be implemented throughout the profession.
Tell us about the development process that led your committee to these actionable items
Awareness of demographic breakdown in our professional membership, combined with experience and interest of educators on the cabinet, led to obvious realization of the need for the AT EducATionalist Community to do something directly. This led to the formation of specific interest groups within our community dedicated to working on this complex for/with our members and the association/profession.
How will the actionable items you've outlined impact NATA's members?
Hopefully, these items will increase ethnic and cultural diversity within our professional education programs and, in time, our professional membership.
Where are you in completing your three to five actionable items?
Specific interest groups have been formed and are working on strategies and communications with other agents, internal and external to the association, to help programs implement strategies for the goals intended.
How can your fellow NATA members help bring these actionable items to life? 
Spread the word, help with recruitment and retention in our professional education programs.
Where can members learn more about your committee's DEIA efforts?
The July NATA News included an article about the AT EducATionalist Community and the specific interest groups. Information was also shared on Gather, where members can join the EducATionalist Community.
 
Renew Your NATA Membership
Your membership with NATA unlocks access to a variety of member bene­fits in professional growth, advocacy, support and connection, with several benefi­ts extending beyond just one of these categories. Visit the NATA Member Benefits webpage to learn more about what comes with being an NATA member and renew your membership today. The deadline to renew is Dec. 31.
Don't let finances get in the way of a membership – if you are experiencing a financial hardship, contact Member Services at 972.532.8897 or membership@nata.org to see how we can help.