November 10, 2022 by
Lydia Hicks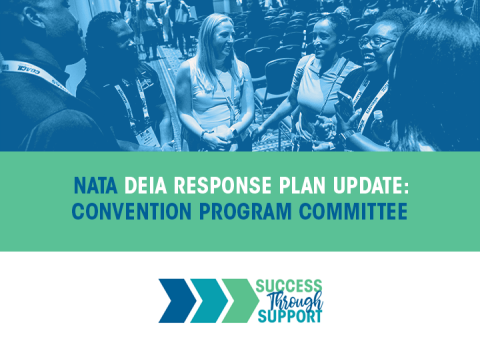 As part of Phase Six of NATA's Diversity, Equity, Inclusion and Access (DEIA) Response Plan, each NATA committee, commission and council was tasked with developing three to five actionable items that support one or more of the six NATA DEIA Commitments.
In this blog post, which is part of an ongoing series highlighting these efforts, NATA Convention Program Committee Chair Michelle Boling, PhD, LAT, ATC, outlines the CPC's actionable items, what the committee hopes to achieve and how members can get involved.
 
What are your committee's three to five DEIA actionable items, and why were they selected?
1. CPC will collaborate with other NATA committees to create a DEIA resource toolkit, which will be provided to speakers for the NATA Clinical Symposia & AT Expo educational sessions. The DEIA resource toolkit will offer speakers resources to ensure the values of diversity, equity, inclusion and access are reflected in the educational sessions.
2. CPC commits to including DEIA as an item for discussion on each meeting agenda to ensure the values of DEIA are embedded in the work of the committee.
3. CPC will provide contemporary educational sessions that incorporate DEIA topics relevant to attendees each year at the annual NATA convention. We will track this information to share annually with the NATA Board of Directors.
4. CPC will implement processes to ensure diversity among speakers selected to present at the NATA convention.
We selected each of the actionable items as we feel these are ways that the CPC's efforts of can directly impact NATA's DEIA commitments.
Tell us about the development process that led your committee to these actionable items.
CPC spent time reviewing each of NATA's DEIA commitments. We then reviewed the purpose of our committee, aligned our purpose with the commitments and discussed the ways that CPC could support the commitments with actionable items.
How will the actionable items you've outlined impact NATA's members?
CPC is committed to offering quality educational programming annually at the NATA convention. We will continue to include programming that addresses current DEIA topics from a variety of speakers. We will also work with speakers to ensure the values of DEIA are reflected in their educational sessions.
How do you hope your committee's actionable items will contribute to NATA's overall efforts to improve DEIA?We hope that, by offering quality educational sessions annually, from a diverse network of speakers addressing DEIA-related topics, all attendees will have the opportunity to expand their knowledge. Therefore, they can see that NATA is truly working hard to improve DEIA across the profession.
Where are you in completing your three to five actionable items?
All of our actionable items are currently being addressed. Most of the items will be ongoing initiatives for our committee, so there is no true completion date.
How can your fellow NATA members help bring these actionable items to life? 
NATA members can submit session proposals addressing DEIA-relevant topics each year for the NATA convention.
Where can members learn more about your committee's DEIA efforts?
Members can learn more about the CPC's efforts on the committee's webpage. We also hope NATA members will see, firsthand, our efforts when they attend educational sessions offered at the NATA convention.
 
Renew Your NATA Membership
Your membership with NATA unlocks access to a variety of member bene­fits in professional growth, advocacy, support and connection, with several benefi­ts extending beyond just one of these categories. Visit the NATA Member Benefits webpage to learn more about what comes with being an NATA member and renew your membership today. The deadline to renew is Dec. 31.
Don't let finances get in the way of a membership – if you are experiencing a financial hardship, contact Member Services at 972.532.8897 or membership@nata.org to see how we can help.