November 1, 2023 by
Lydia Hicks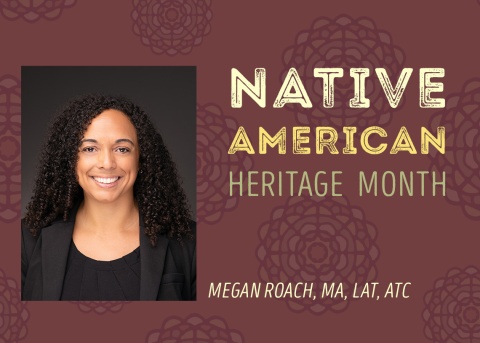 In honor of National Native American Heritage Month in November, the NATA Now blog is highlighting some of NATA's Native/Indigenous American members and their impact on the athletic training profession.

Megan Roach, MA, LAT, ATC, thought she wanted to pursue physical therapy until she encountered athletic training – and loved it.
Roach said her interest in the profession was fueled by her experience with her professors during an "Introduction to Athletic Training" course at Western Carolina University.
"That class and Dr. Jay Scifers changed my mind, and from there, I was all in," she said. "Dr. Jay Scifers opened my eyes to a career field where I could bring my love for sports and helping others together. I am forever grateful to Dr. Scifers and Dr. Jill Manners for the impact they have had on my career and life."
Influenced by such leadership, Roach's impact on the profession has ranged from her professional work in the secondary school setting to her involvement in the NATA Connection and Engagement Committee and the NATA Research & Education Foundation Nominating Committee.
Here's further insight into Roach's appreciation for the profession.
 
What was your first volunteer position within the athletic training profession and why did you get involved?
My first volunteer position was on the NATA Ethnic Diversity Advisory Committee as the District Three representative. I got involved in volunteering to give back to the profession that has provided me with several opportunities. I had the opportunity to be a voice for an underrepresented group – Native Americans. At the time I joined NATA during my undergraduate studies, I didn't know of any other Native American athletic trainers.
Tell us about your current position as NATA Connection and Engagement Committee District Nine representative. What do you hope to accomplish in this role?
CEC is a newer committee and it's been a fun experience thus far, collaborating with other athletic trainers. We have hosted a few Meet and Greet sessions to get the opportunity to engage with our membership. The biggest thing I want to accomplish is to be the link for our membership to all the resources NATA has to offer and to hopefully get more members involved in volunteering.
How has volunteering helped you grow personally and professionally?
Volunteering at the district and national level opened new opportunities within the profession. I have met and worked with so many amazing colleagues across the country. I've had the opportunity to serve on work groups and collaborate with other athletic trainers to help elevate the profession.
Why is representation in leadership important and how does it impact the profession?
Representation in leadership is important for those athletic trainers coming into the profession to visibly see there are people like them representing our profession. I feel representation makes us a stronger and more effective organization.
Why should ATs get involved in leadership and service?
To give back to the profession and to lend your voice and thoughts to help our profession continue to grow.
What advice do you have for other athletic trainers who want to give back to the profession?  
The best advice I can give is don't be afraid to speak up. You never know when your ideas could make an impact. So, go get on Gather and find your opportunity to get involved or reach out to your state level representatives.