November 7, 2022 by
Lydia Hicks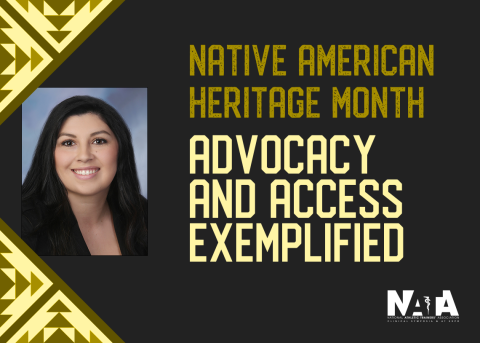 Commemorating National Native American Heritage Month in November, the NATA Now blog is highlighting some of NATA's Native/Indigenous American athletic training leaders and their impact on the profession.

Growing up on a small reservation in Montana, Matea Barber, MS, LAT, ATC, and her classmates at Hot Springs High School didn't have access to an athletic trainer.
So when her college professor approached her with the idea of the profession as a career option, Barber had no clue what it would entail, she said. However, her love for sports and health care inspired her to obtain a bachelor's degree in health and human performance, followed by a master's degree in athletic training from Montana State University.
"I didn't think twice," she said. "I got into the program and am so thankful every day to give back to the small schools around Montana."
These schools are not the only beneficiaries of Barber's leadership and service. Her orthopedics work in the secondary school setting, along with her advocacy activities as Montana Athletic Trainers' Association (MTATA) Public Relations Committee chair and MTATA Secondary Schools Committee member, have helped to advance the profession in many ways.
Read on to learn more about Barber's impact.

What was your first volunteer position within the athletic training profession and why did you get involved?
I first got involved in the MTATA Secondary Schools Committee. I got involved to help inform high schools around the state about the importance of having access to athletic trainers.  
Tell us about your current position as MTATA Public Relations Committee chair and what you hope to accomplish in this role.
I was nervous about taking on the role, but I am so happy I did. Our hopes are to increase our presence across all social media platforms. We also have a goal to make our profession better known across the state within our communities. We have done so by hosting pint nights. Hosted by local athletic trainers, these events help inform communities of who we are and what we do. 
Why do you give back to the profession?
The reason I give back to my profession is to inspire others to pursue their dreams – whatever they may be. I remind them that their dreams may change, but to always make sure they pursue what makes them happy. As chair of the public relations committee, I have enjoyed spreading awareness about the profession online. But as a secondary school athletic trainer, I get to teach and educate high school athletes what it is I do as an athletic trainer. I have recently found out that two previous athletes in my care also decided to go into the athletic training profession. That, right there, is the reason why I love doing what I do. Knowing that I played a hand in helping inspire them to pursue athletic training is the best feeling I could ask for. 
Why is representation in leadership important and how does it impact the profession?
Representation allows for us to continue to move forward and strive for our goals. In our profession, we have come so far into becoming health care professionals. Having diverse representation makes sure we continue to have input from all different pathways.
Why should ATs get involved in leadership and service?
Leadership is a great way to help further our profession. We need ATs who can lead the next generation onto to our next steps. 
What advice do you have for other athletic trainers who want to give back to the profession?  
Take the leap into leadership. I was scared that I would not do a good job. I soon realized how much it taught me as a professional, but also how much I like to give back. 

Renew Your NATA Membership
Your membership with NATA unlocks access to a variety of member bene­fits in professional growth, advocacy, support and connection, with several benefi­ts extending beyond just one of these categories. Visit the NATA Member Benefits webpage to learn more about what comes with being an NATA member and renew your membership today. The deadline to renew is Dec. 31.
Don't let finances get in the way of a membership – if you are experiencing a financial hardship, contact Member Services at 972.532.8897 or membership@nata.org to see how we can help.