November 20, 2023 by
Kristin Carroll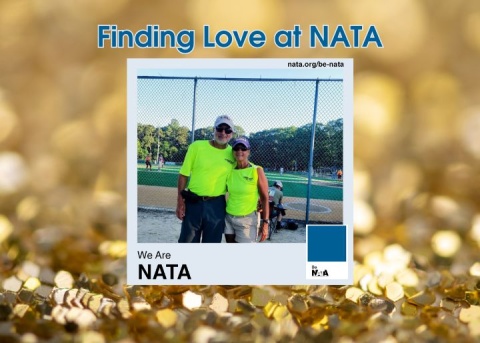 Athletic training is a profession built on relationships. Just as important as the relationships ATs build with their patients are the ones they build with each other. NATA is often a conduit for these relationships, providing members with opportunities for collaboration, connection and a sense of belonging. This Be NATA blog series will highlight various AT relationships and the role NATA played in these connections.
Sheri Zappala, AT Ret., and Rick Zappala, AT Ret., first met in 1985 while Sheri was an athletic training student at the University of Delaware for the men's basketball team, which was facing off against Hofstra University, where Rick was head athletic trainer. Sheri said she was instantly drawn to Rick, but it would take several years for the two to connect on a deeper level.
In 1989, the two met again at the Eastern Athletic Trainers' Association annual meeting. Sheri was expecting to finish graduate school that December and was looking for a job in the field.
"We were in the hall area, and Rick approached me and introduced himself. Obviously, he forgot who I was," Sheri said. "He said, 'I have a job for you. My friend is looking for an assistant down at Catholic University. Here's his name and number.' Lo and behold, I got the job."
Hofstra University and Catholic University were in the same conference at the time; Rick and Sheri became "instant friends" when the two played each other that year.
"We would get together every NATA [convention]," Sheri said. "We'd get together, we would always hang out together, we'd go out to dinner, we'd go dancing."
If this sounds like love is blooming, you would be right. But Rick and Sheri were both in other relationships at the time. Fast forward to 1997, and those relationships have ended. At NATA 1997 in Salt Lake City, Rick asked Sheri to come up to New York for the July Fourth weekend.
"She goes, 'That's the last place I'll ever go. Why don't you come visit my family in Delaware?'" Rick said.
That was their first date, which lasted five days. Rick met Sheri's entire family and told her he loved her at a Beach Boys concert.
"I went back to work, and my coworkers asked about my weekend," Rick said. "I said I was going to marry her."
Eight months later, Rick proposed on the Villanova basketball court, where Sheri was currently working, after a game. They were married 11 months after their first date.
Sheri stepped away from full-time athletic training after the birth of their daughter but taught first aid and injury control at Adelphi University for 19 years, where she would bring Rick in to lecture on concussion management, and she became an NCAA and high school basketball official. She also did per diam work, sometimes alongside Rick at Port Washington High School, where he worked for 20 years before retiring in 2022.
"She would cover games for me if I had two sports at once," Rick said. "The school was fine with that. The kids always got a big kick out of Mrs. Z coming to work."
While the two have leaned on each other for advice and understanding during their long careers, they've also maintained hobbies outside of the athletic training profession. Rick is an avid surf fisherman and Sheri loves to start her day with pickleball.
The two have also been involved at almost every level of NATA. Rick served terms as president of the New York State Athletic Trainers' Association and EATA and is currently on the NATA Committee on Professional Ethics. Sheri served on an early version of the Women's Athletic Training Committee. Most recently she held a term at the New York state girls' basketball rules interpreter.
The Zappalas attribute their relationship to NATA and the connection they initially formed back in 1989, but NATA didn't just bring the two together as husband and wife. Rick counts NATA President-Elect AJ Duffy III, MS, ATC, PT, as a close friend; Duffy's wife, Monica, sang in the couple's wedding. Sheri formed a connection with several women in the profession who called themselves "The Big East Babes," and said she still could pick up the phone to call any of those women for advice or just to chat.
"The value of NATA is that you're a part of something bigger that makes you better, not just professionally, but personally," Rick said. "That's really an important thing for me."
"The other thing about NATA is it is a brotherhood, a sisterhood," Sheri said. "Wherever I went, whatever school I went to during my travels as an NCAA basketball official, I always felt like I could walk into the athletic training facility and introduce myself as an athletic trainer. There is just an instant camaraderie."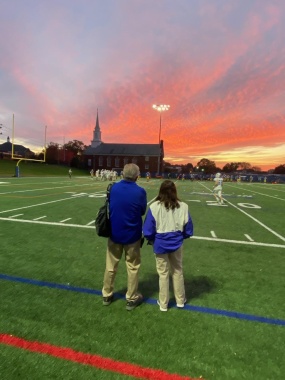 Be NATA
No matter your setting, you have a home within NATA. Your membership opens the door to problem-solving resources and connects you to our global athletic training community. Be NATA and join or renew your NATA membership by Dec. 31. Don't let finances get in the way of membership. Contact Member Services through email or by calling 972-532-8897 to learn more about how we can help.