November 21, 2023 by
Kristin Carroll
By the NATA COPA Public Safety Committee
In the November NATA News, p. 33, the NATA COPA Public Safety Committee reviewed the advantages of police, fire and public safety departments having athletic trainers on-site to help tactical athletes return to work faster following an injury. This blog series is an extension of that article, highlighting three ATs employed in emergency services departments around the country. These blogs will highlight how the on-site athletic trainer model works in departments of different sizes and budgets. This will demonstrate how the model is implemented in real-world settings, its effectiveness and adaptability across different organizational contexts, giving a clear understanding of its advantages, challenges and results. Today's blog highlights Sean Higgs, MS, ATC, PTA, who works with the Los Angeles Fire Department.
In Los Angeles, where emergency services respond to more than 1,500 calls daily, physical well-being and injury prevention among public safety personnel can't be overstated.
Sean Higgs, MS, ATC, PTA, is an independent contractor and athletic trainer for the Los Angeles Fire Department's (LAFD) Injury Prevention Unit. With an extensive background in sports medicine, his role is pivotal in ensuring the health and readiness of the uniformed fire personnel. LAFD has more than 3,500 uniformed fire personnel stationed across 106 fire stations. The department's operational demands are as rigorous as they are diverse, with firefighters responding to hundreds of calls each day. Higgs provides his expertise to support these professionals, ensuring their well-being remains intact.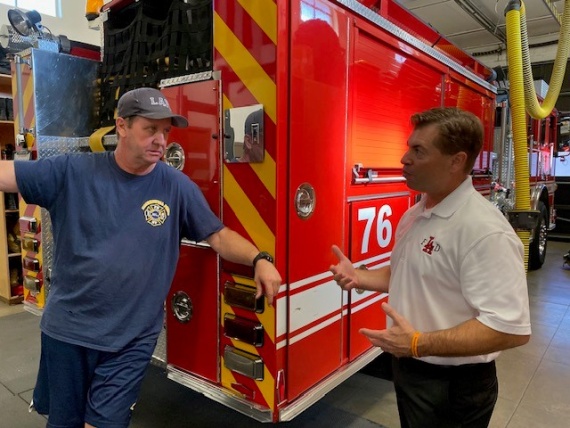 Higgs' regular duties include the evaluation of approximately 40 new injuries each month, with an average of 35 follow-up visits in the same period. However, the significance of his work transcends these statistics. Over the past two and a half years, he has prevented an estimated $598,000 in workers' compensation costs, underscoring his role in safeguarding both the physical health of personnel and the financial health of the department. Moreover, his interventions at the recruitment level have translated to approximately $500,000 in savings in workers' compensation claims and lost investment in recruits who drop out due to injury. He ensures that these individuals are equipped to withstand the physical demands of the rigorous training regimen, helping LAFD maintain a consistent inflow of capable recruits.
His daily routine focuses on enhancing the physical well-being of LAFD personnel. He starts his day at 6:30 a.m. with appointments and drop-ins. He conducts scheduled visits to fire stations to assess, educate and develop tailored exercise programs. Once a week, he supports recruits and staff with mobility screenings and fitness tests at the drill tower. Higgs also creates educational content and exercise plans to empower fire personnel to manage their own health. Administrative tasks complement his hands-on care, and he wraps up around 2 p.m. He also conducts telehealth appointments as necessary.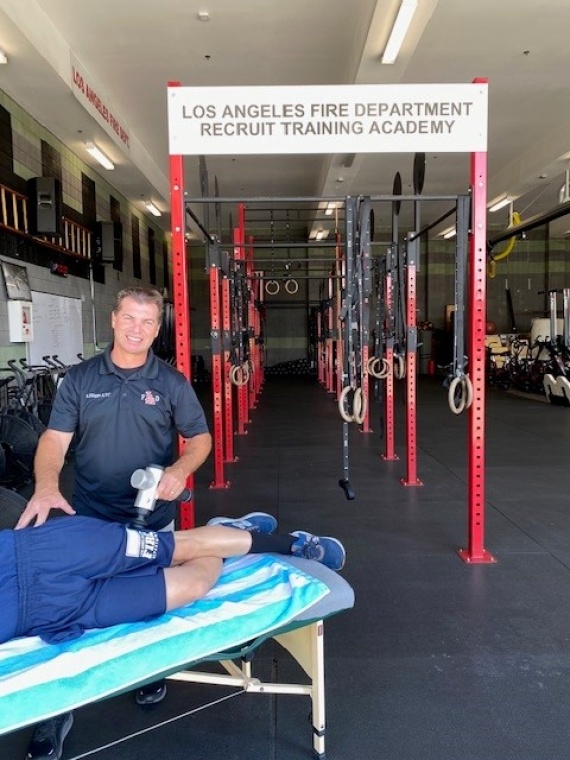 For Higgs, his affinity for the public safety sector arises from his direct impact on community servants. Assisting dedicated individuals in sustaining their fitness and overcoming injuries brings him immense satisfaction, he said, adding that he is fueled by their commitment to staying on duty, which expedites recovery under his guidance. The distinctive injuries encountered in this field continuously invigorate his expertise and maintain his engagement.
A testament to Higgs' expertise comes from a firefighter who, with his assistance, overcame an elbow overuse injury. This firefighter's commitment to his role included intensive skills practice on his days off. Higgs' strategic approach, combining techniques such as heat therapy, massage and kinesiotaping, was pivotal in enabling this firefighter to pass the rigorous engineer (driver) test. This story reflects the impact that an AT can have, transforming potential setbacks into success stories through skillful intervention.
As this story highlights, officers and firefighters are well-equipped to help others, but they often neglect caring for themselves. Entrusted to protect and serve, they're known for their ability to ignore pain and push through injuries. Such resiliency becomes a kind of code, one the athletic training model seeks to dismantle. Getting an injured tactical athlete back to the job quickly and safely means the world to the individual, especially one whose career is simply an extension of their being. Imagine adopting a model capable of delivering that kind of result in a repeatable, sustainable fashion. The benefits for public safety organizations are numerous.