April 27, 2015 by
JordanG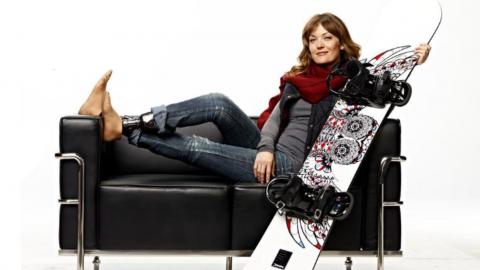 We are thrilled to announce our 2015 Johnson & Johnson Keynote Speaker is Amy Purdy, a professional snowboarder, actress, dancer and
New York Times
best-selling author, who overcame the loss of both legs to become a world class snowboarder.
Amy Purdy's story is nothing short of remarkable. She was 19 when she began experiencing flu-like symptoms and was rushed to the hospital in a state of septic shock. She experienced respiratory and multiple organ failure, which caused her to lose circulation to her extremities. When she entered into the hospital she was put on life support and placed into a coma. Doctors gave her less than a 2 percent chance of survival.
After multiple blood transfusions and the removal of her ruptured spleen, doctors diagnosed Amy with meningococcal meningitis. The lack of circulation forced doctors to amputate her legs below the knee. She later received a donated kidney from her father a week before her 21st birthday.
Just three months after her kidney transplant, Amy medaled in three events at the USASA National Snowboarding Championship. She is currently one of the top ranked adaptive snowboarders in the world and was the 2014 Paralympic bronze medalist. She is the only double-leg amputee competing at the world-class level. Purdy has major skills off the snow as well - she was the season 18 runner-up on Dancing with the Stars and is a New York Times best-selling author. In the fall of 2014, Amy joined her lifelong idol Oprah Winfrey and fellow speakers Deepak Chopra, Elizabeth Gilbert, IyanlaVanzant, Rob Bell and Mark Nepoon on a remarkable trip across the country as part of Oprah's "The Life You Want Weekend" tour.
Make plans to join us
for Purdy's motivational keynote address in St. Louis!  
Who:
Amy Purdy
What:
Johnson & Johnson Keynote Presentation
When:
4-4:45 p.m. Thursday, June 25 (J&J Day)
Where:
Americas Center Convention Complex, St. Louis, Missouri
How:
Register for the 66th NATA Clinical Symposia & AT Expo at
convention.nata.org
.
Look for a full profile of Amy Purdy in your June
NATA News
.
UPDATE:
We've posted
another blog post
detailing the various prosthetics Amy uses for her active lifestyle, including snowboarding and ballroom dancing.
Our 2015 Keynote Speaker is brought to you by NATA Founding Sponsor Johnson & Johnson.

Posted by NATA Communications Manager Jordan Grantham (jordang@nata.org)