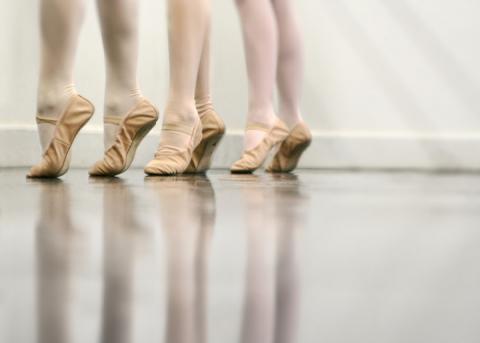 By Amanda Donahue MS, ATC, NATA COPA Performing Arts Workgroup Member
Retention is a term upper administration within academia use frequently, but may be less common in athletic training facility conversations. Will students return the following year? What are the employers of the college doing to increase retention of the students? Is the college meeting its retention goals? All of these questions contributing to the larger question of, "How much money will the college bring in to support itself and its students?" A strong argument can be made that increased retention may result from employing an athletic trainer for any performing arts collegiate program, and possibly a new way for ATs to demonstrate their value.
Dialog between performing arts ATs and academic administration will increase due to the direct involvement of ATs within an academic program. In the world of performing arts collegiate settings, dance classes are no longer an after-school activity for students. Students have made the decision to invest and enter into a type of academia where their physical bodies are their primary instrument to produce graded work, along with their minds. They have chosen a path that may not have set limits on the amount, frequency or length of time they must rehearse or practice. Physical participation in dance technique classes encompass a large component of their grade. Injuries may lead to decreased participation, which may lead to a lowering of their grade, or in worst case scenario, a withdrawal from the course due to their inability to partake in class fully and receive a fair grade. All of this leading to obvious fact an athletic trainer is needed.
The large and highly developed sports medicine health care model utilized by athletics is easily adaptable to other areas of the college/university such as the performing arts. An athletic training facility for student performers' health care needs can not only benefit individual students, but also would enhance the university's reputation for excellence. Parents of perspective students are comforted by having a licensed health care professional available to their children directly on campus. Having regular access to athletic trainers may be foreign to performers and their parents and may be the final factor to tip the scale in favor of selecting their program compared to another performing arts program without an AT.
Involvement in accepted student days or new student orientation are prime locations for ATs to market their position within a program and demonstrate the college's investment toward the health of its students. Currently, a handful of performing arts programs employ ATs full time, such as Dean College, Ohio University, Indiana University and University of North Carolina School of the Arts, to name a few. The potential for job growth and creation within the collegiate performing arts setting is abundant and should be pursued.
Internships for performing arts students interested in sports medicine is another avenue for ATs to increase retention. Exposing students to the world of athletic training may help culture future ATs in the field, and is a fantastic way to increase exposure and sense of community involvement within the college. Considerations to incorporate pre-requisite courses needed for entry level master's degree programs in athletic training within the college may also increase revenue, and retention of performing art students. A college may increase its marketability if they are able to provide students with both a performing arts education and courses preparing them for the graduate level. 
Why is understanding retention important for ATs in the collegiate setting? In one word, support. Without the support and connection with upper administration on an academic level, performing arts AT positions will not survive. Respecting the value in how colleges and universities view retention is key. Attend academic award ceremonies for students, become involved outside the clinic, embrace academia and immerse yourself in the culture. Demonstrate your value, show your worth and capitalize on what ATs can do best. Build relationships and network!