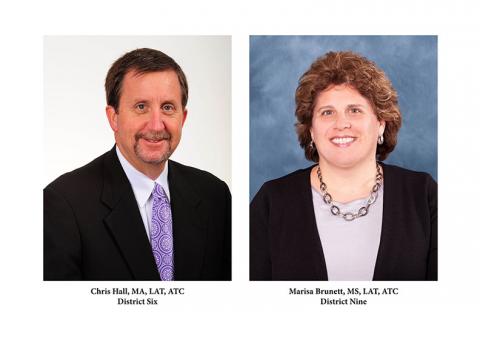 Chris Hall, MA, AT, LAT, and Marisa Brunett, Marisa Brunett, MS, LAT, ATC, are beginning their terms on the NATA Board of Directors today. Hall, the manager of business development for Ben Hogan Sports Medicine in Texas, is taking over for outgoing District Six Director Kathy Dieringer, EdD, ATC, LAT, while Brunett, the director of outpatient and community services for Nirvana Sports Medicine & Rehabilitation Clinics in Florida, takes the reigns from outgoing District Nine Director MaryBeth Horodyski, EdD, ATC, FNATA.
Hall said the importance of giving back to the profession was instilled in him as a young professional. He has devoted countless hours to volunteering on a local, regional, district and national level. He has spent the past year shadowing Dieringer as she finished up her term on the Board and said he learned quite a bit as a "rookie."
"I want to be able to continue to learn how our profession and organization are developing to meet the needs of the membership and the changes that are developing with the profession," Hall said. "It's [about]  what "we" as the board of directors can accomplish together. Along the way, I anticipate that I will be able to listen, learn and voice my concerns so the members' rights and responsibilities will be protected as we move forward, together."
He said he's looking forward to the decisions and discussions awaiting him as a board member. "The only way we can be successful is to pull from the energy and wisdom of those around us to meet the issues head on," Hall said.
As a former chair of the NATA Public Relations Committee, Brunett had a front row seat to some very important developments within the association and the athletic training profession. When her tenure as chair was over, she still wanted to contribute on a national level.
"We have such great momentum in the secondary schools setting, youth sports safety, governmental affairs, public relations, education and overall "branding" of our profession, to name a few key areas, and I'm committed to continue with the hard work and dedication of our past boards, committees and staff on behalf of athletic trainers in every setting," Brunett said.
A lifelong volunteer, Brunett knows firsthand the importance of getting involved. "Volunteerism and involvement helps expand your professional network with colleagues from various backgrounds, settings and with different areas of expertise." Brunett said. "Serving the association allows you to share in each other's experiences, successes and ideas to further progress the future of our profession."