January 31, 2017 by
JordanG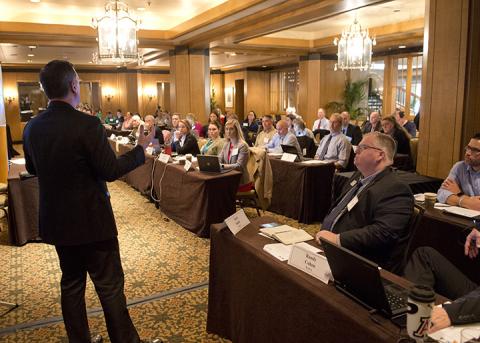 The National Athletic Trainers' Association (NATA) and National Collegiate Athletic Association (NCAA) hosted an interassociation summit Jan. 25-26 to enhance the organization and administration of health care services for intercollegiate student-athletes.
Experts in sports medicine, athletics administration and risk management convened in Dallas to discuss and identify best practices in infrastructure, administrative services and the provision of sports medicine services at the collegiate level.
The meeting, co-chaired by Dr. Brian Hainline, NCAA chief medical officer, and Jim Thornton, MA, ATC, CES, NATA immediate past president, addressed several critical issues related to the delivery of athletics health care for college athletes, including the following:
The development of standards of care that are consistent with evolving interassociation recommendations and NCAA legislation.
Processes for identifying student-athlete health care needs.
Appropriate medical providers needed for an institution to provide quality health care.
Administrative and organizational implications of ensuring independent medical care, including medical hierarchy and administrative and legal reporting relationships.
Summit participants established a writing group to develop a consensus statement recommending athletics health care services at all levels (DI, DII, DIII, NAIA, NJCAA). The statement also aims to include educational strategies and best practices for intercollegiate coaches and athletics administrators.
"We are proud to partner with the NATA in bringing together sports medicine organizations and stakeholders from across disciplines and divisions to support the health and safety of college athletes,"  said Hainline. "Importantly, the ideas shared here will help set the standard of care that assures that primary athletics health care providers have autonomous oversight over the delivery of medical care for student-athletes."
"Health care is ever-changing, and the ultimate goal of the summit is to ensure that the highest level of health care is provided to college athletes. We are proud to have had associations represented from all spectrums of athlete care – from sports medicine to risk management. This collaborative work helps ensure that standards and guidelines adopted are holistic in consideration and practical to support implementation," said Thornton.
Once complete, the statement will be published in the Journal of Athletic Training (JAT).
Organizations Represented
American College of Sports Medicine (ACSM)
American Medical Society for Sports Medicine (AMSSM)
American Orthopaedic Society for Sports Medicine (AOSSM)
American Osteopathic Academy of Sports Medicine (AOASM)
American Psychological Association (Div. 47)
Association for Applied Sport Psychology (AASP)
College Athletic Trainers' Society (CATS)
Collegiate & Professional Sports Dietitians Association (CPSDA)
Collegiate Strength and Conditioning Coaches Association (CSCCA)
Datalys
National Association of Collegiate Directors of Athletics (NACDA)
National Association of Intercollegiate Athletics (NAIA)
National Athletic Trainers' Association (NATA)
National Collegiate Athletic Association (NCAA)
NCAA Committee on Competitive Safeguards and Medical Aspects of Sports (CSMAS)
NCAA Division I Strategic Vision and Planning Committee
NCAA Division III Management Council
NCAA Divisions I, II and III Student-Athlete Advisory Committees (SAAC)
National Strength and Conditioning Association (NSCA)
University Risk Management and Insurance Association (URMIA)