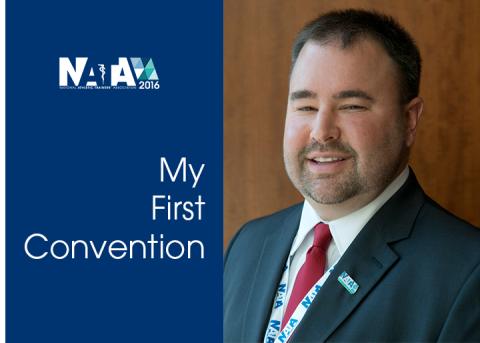 Andy Carter, MS, ATC, the senior associate athletic trainer at the College of William & Mary, traveled from Williamsburg, Virginia to attend NATA 2016 in Baltimore. As a member of the NATA College/University Athletic Trainers' Committee, Carter was part of the group of athletic trainers who traveled to Washington, DC on Wednesday to advocate for the profession. He took a minute to tell us about his experiences at NATA conventions and what he recommends for first timers.
When did you attend your first NATA convention?  I attended my first NATA convention as a graduate assistant athletic trainer in 1999 in Kansas City. 
What was memorable about your first convention?  Walking around the convention center with my colleagues, I was amazed at how interconnected athletic trainers are.  At every turn, my colleagues were catching up with friends and classmates or discussing issues with their peers.
What do you look forward to the most at the NATA convention?  As a member of the College and University Athletic Trainers' Committee, I look forward to the opportunity we have to meet and work on solutions to enhance the practice of athletic trainers in my setting.
What are you most looking forward to this year and why?  I was really excited to be a part of Capitol Hill Day.  This was my first experience on the Hill advocating for our profession, and it was a great time.
Of the NATA conventions you've attended, which has been your favorite and why?  My favorite convention was Las Vegas.  It was the first convention that I was a speaker.  Also, later in the week, my wife flew out with my three-year-old son and nine-month-old son for a few days. My oldest son still talks about the trip.
Can you give an example of something you've taken away from the NATA convention and used in your job setting?  There are countless things that I've taken back to my own practice, whether it's a new technique, innovative product, or just a different way of doing something.  More importantly, I always leave the meeting energized about what we do every day.
What advice would you give convention newcomers, particularly students?  Make a plan for what you want to accomplish.  The meeting is so big and there are so many options, you have to be organized in your approach.  The meeting app really helps to keep you on track.