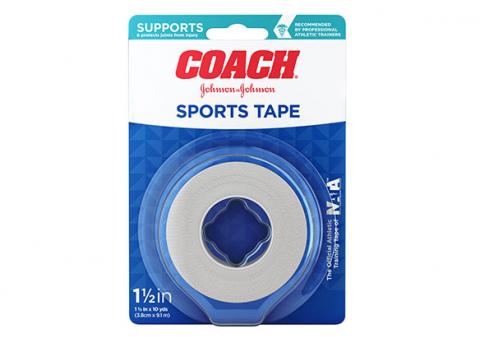 By Beth Sitzler
The next time you're perusing the aisles of your favorite retail store to refill your supply of Johnson & Johnson Coach Brand tape, be sure to check the packaging – you may see a familiar sight.
At the beginning of the summer, J&J added the NATA logo to its Coach Brand tape, a marketing idea that was in the works for two or three years, said Jack Weakley of J&J.
"To get a marketing idea off the ground is a big deal," Weakley said. "I think J&J recognized the fact that NATA is an important piece of the medical profession. And for us to recognize that on our packaging, I think, is a great tribute to NATA and a great tribute to the recognition NATA has received from the medical community and from moms and dads."
"Including NATA's logo on Johnson & Johnson packaging is an enormous win for both NATA and the athletic training profession," said NATA Associate Executive Director Rachael Oats, CAE. "While it certainly enhances our external branding initiatives, more importantly, it publicly ties athletic trainers to a 130-year-old company whose products are trusted by millions of Americans." 
Weakley said the placement of the NATA logo on the tape's packaging also shows just how far the athletic training profession has come in the eyes of the public.
"When I started, people didn't know what an athletic trainer was," he said. "That's not the case today. The academic rigor one has to go through to become an athletic trainer has certainly advanced the profession.
"From J&J standpoint, we hope it's a good marketing program and encourages people to buy product because it's used by the foremost authority in sports medicine."