April 30, 2018 by
JordanG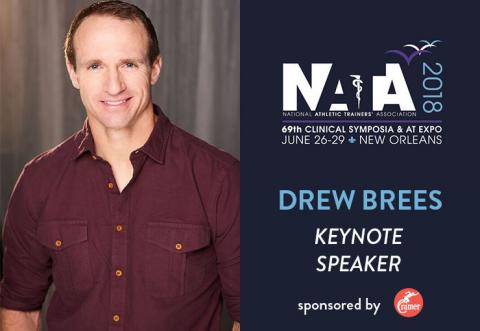 New Orleans' own Drew Brees, an elite quarterback entering his 18th year in the NFL, will headline the NATA Clinical Symposia & AT Expo in NOLA June 28 as the NATA Keynote Speaker sponsored by Cramer. Read the June NATA News for our cover story about Brees.
"Eight seconds was all it took to change my life forever." Those are the words Brees used to open his 2011 memoir Coming Back Stronger. It was Dec. 31, 2005, and Brees and his San Diego Chargers were facing off against the Denver Broncos. The Chargers had already been eliminated from playoff contention, but Brees wanted to finish out the season with his best effort to show the Chargers he deserved to continue leading the team into the future.
Broncos linebacker John Lynch broke through on the blitz and stripped the ball as Brees was pulling it back to throw. As Brees dove to recover his own fumble, his throwing arm was twisted awkwardly underneath 330-pound Broncos defensive tackle Gerard Warren.
"There was a signal that went off to every part of my body telling me that something was off. Way off," he described it. And he was right. James Collins, ATC, head athletic trainer for the Chargers and president of the Professional Football Athletic Trainers' Society, was with Brees on the sideline as he was informed by Dr. David Chao that he had severely dislocated his shoulder.
In the following days, an MRI and more evaluations confirmed a 360-degree tear of the labrum and a torn rotator cuff. Dr. James Andrews performed surgery on Brees' shoulder four days after the injury and described it to Sports Illustrated as "one of the most unique injuries of any athlete I've treated."
Andrews and two other surgeons needed 11 surgical anchors to repair the labrum (three or four is common), and they also repaired the rotator cuff during the 90-minute arthroscopic procedure. Andrews told Sports Illustrated: "I was just hoping to give him a functional shoulder. An average athlete would not recover from this injury."
As Brees stated in his book, there was a chance he would never play in the NFL again.
The Resurgence
If you have followed his career, you know Brees did play again and is still excelling at the quarterback position 13 years later. That devastating shoulder injury did, in fact, change the course of his career: Instead of returning to the Chargers, he signed with the New Orleans Saints in 2006 as the city was still reeling from Hurricane Katrina.
What happened from there has the makings of a Hollywood movie. Brees endured arduous rehabilitation on his shoulder and made his way back on the field, earning the starting job with the Saints. His personal resurgence coincided with a city on the mend, and he became a pillar in the Gulf South community. Four years later, Brees was named MVP of Super Bowl XLIV as he led the Saints to a 31-17 victory. He passed for 5,000 yards for five straight seasons; no other NFL quarterback has done that more than once. He's the NFL's all-time most accurate passer, and at age 39, Brees just re-signed with the Saints for a two-year deal. He's a big part of the veteran group of NFL quarterbacks who are rewriting the script on how long quarterbacks can play in the NFL at an elite level.
Along the way he and his wife, Brittany, have grown their family to include three sons and one daughter, inspiring Brees and his family to support charitable efforts for children in the New Orleans area and beyond. Since creating the Brees Dream Foundation in 2003, the Foundation has contributed more than $33 million to improve the quality of life for cancer patients and to support families and children in need.
In the spirit of providing more opportunities for youth, one of his most recent ventures is the creation of Football 'N' America (FNA), a youth flag football league Brees started in Louisiana that has since expanded to California and Tennessee. Brees himself didn't play tackle football until he reached Austin (Texas) Westlake High School, but he honed his skills on the flag football field. His sons, Baylen, Bowen and Callen, all participate in FNA, which promises "a safe, positive, competitive and family-friendly environment to learn the game the right way and have fun doing it." It's just one way Brees is supporting youth athlete safety while still advocating for the sport he loves.
A Conversation with Drew
All of these experiences and more will be part of the discussion as Brees sits down with a moderator for a live interview in front of all convention attendees during the 2018 NATA Keynote Presentation sponsored by Cramer. Join us at 4:15 p.m. June 28 to hear Drew speak about how his life experiences have taught him how to overcome adversity and achieve success. Register now for the NATA 69th Annual Clinical Symposia & AT Expo.