March 15, 2016 by
JordanG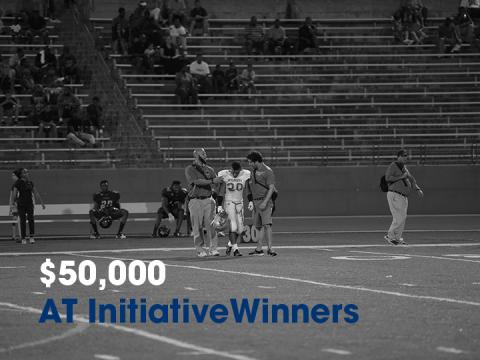 During today's Youth Sports Safety Summit in Washington, DC, we joined with the NFL Foundation, Gatorade and the Professional Football Athletic Trainers Society (PFATS) to announce the winners of the Athletic Trainer Initiative, a national grant contest to expand access to athletic trainers in underserved high schools and improve youth athlete safety. The fifteen winning schools each received $50,000 to develop athletic training programs that will provide nearly 5,000 student athletes with consistent access to this valuable resource.
The winners of the national grant contest are:
Alden-Conger Public School (Alden, MN)
Attica Central School (Attica, NY)
California Lutheran High School (Wildomar, CA)
Canyon Ridge High School (Twin Falls, ID)
Carlisle High School (Henderson, TX)
John Muir High School (Pasadena, CA)
Lutheran High School (Chula Vista, CA)
Marist High School (Bayonne, NJ)
Mount St. Michael Academy (Bronx, NY)
Orrick R-XI High School (Orrick, MO)
Pleasant Valley High School (Chico, CA)
St. Anthony Village High School (Minneapolis, MN)
St. Thomas More High School (Rapid City, SD)
Walpole High School (Walpole, MA)
William V. Fisher Catholic High School (Lancaster, OH)
Ten additional high schools will receive an athletic safety presentation given by a local athletic trainer and a safety kit, which includes a Hydration Starter Kit from Gatorade and educational materials.
"A top priority of the National Athletic Trainers' Association is the health and safety of the high school athlete," said NATA President Scott Sailor, EdD, ATC. "Through our partnership with the NFL, Gatorade and Professional Football Athletic Trainers Society, more students will be protected with the best possible safety measures in place."
The grant contest, which launched in October, is an extension of the partners' athletic training outreach program. The partners have committed more than $3 million to help fund athletic trainers in communities nationwide. To date, the outreach program has impacted an estimated 160,000 student athletes across more than 670 schools.
More Information:
Read the full press release, which contains more details about each of the winning schools.
Look for more coverage of these schools in upcoming editions of the NATA News, your award-winning membership magazine.
Photo by Renee Fernandes/NATA