August 29, 2017 by
JordanG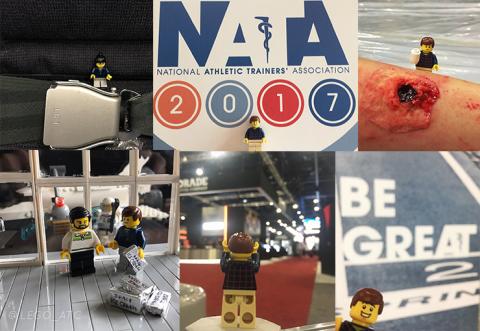 This social media sensation experienced his first NATA convention in Houston and sat down with the NATA News all about his memorable experience. You can follow the LEGO AT's hilarious adventures on Twitter (@LEGO_­ATC), Facebook (@LEGOATC), Instagram (@LEGO_ATC) and Tumblr (LEGOATC.tumblr.com).
Note: An excerpt of this was printed in the August/September NATA News, and this is the full interview.
1. Tell us about your experience traveling to Houston. I flew to Houston. I was a little worried about sneaking in a friend's bag because my shape is pretty distinctive in those X-ray machines. I've also been mistaken for a child's toy before and ended up completely missing my flight. Not to mention that out-of-pocket travel means I get a really roomy seat on the plane.
2. What was your favorite part of NATA 2017? Convention was the best kind of overwhelming. I loved seeing so many people that share my passion for athletic training and talking to people from different backgrounds and settings. There were so many great educational sessions that I felt like I needed a second head to absorb all the information.
3. What was the biggest challenge of being the only LEGO attendee at NATA 2017? Avoiding being stepped on was a pretty big concern for me. Getting from one place to another could get pretty exhausting, but I was usually able to hop on a friend's shoulder to get around and stay on time. I think next time I might just break down my golf cart and assemble it when I get there to help me get around and be a little bit safer.
4. What did you do for fun when you weren't at an educational session? There was so much to explore in Houston, and I tried to see as much as I could. I also love trying out the local food when I go somewhere new, and the Tex-Mex in Houston was amazing. The convention also gave me a chance to do a lot of networking and catch up with a bunch of my friends and colleagues from around the country.
5. Were you able to participate in any of the learning labs or hands-on activities? Absolutely! As one of the only LEGO ATs out there, I did as much as I could to learn new techniques and adapt them to my unique setting. My goal isn't just to improve my skills, but to share what I've learned and help my LEGO colleagues become great health care professionals.
6. Did you go to the AT Expo? What was your favorite part?  It was great visiting the AT expo and seeing all the latest products. With free samples that are bigger than I am, my athletic training facility will be stocked for a while.
7. Did you go to the NATA Foundation's Wild West Casino Night? How long did you ride the bull?  Indeed I did! I try to participate in anything that will support the profession of athletic training. It was a blast wearing my cowboy hat all night, but by the end I was ready to put my hair back on. Trying to hang on to a mechanical bull without knees was tough for me, but I thought Carolyn Peters from District Eight did a great job! I bumped into her later at the Board meeting and she let me take a picture with her FWATA Hall of Fame ring. So cool!
8. Did you get a chance to visit the NASA athletic trainers in Houston? I loved being able to visit the Johnson Space Center. The ATs at NASA were gracious enough to host me during my trip. They do a stellar job (pun intended) with our astronauts, and it was a pleasure to talk with them about what they do. I also really love space ice cream and they let me have a bunch of it while I was there.
9. We heard you were the star of a calendar that raised $450 for the NATA Political Action Committee and $450 for the NATA Research & Education Foundation. How does it feel to be a famous model? Why did you choose to support those causes? I wouldn't call myself a model exactly. I just like making people laugh and finding the fun in everyday situations. I love supporting anything that supports the profession of athletic training. The NATA Foundation supports research that drives the profession forward and scholarships that promote lifelong learning, both of which help enhance clinical practice. The NATA PAC works hard to advocate for the profession with lawmakers so other people and LEGOs know what an exciting profession this is and how important we are to the health care team.
10. There aren't many LEGO people working in athletic training. What advice do you have for other LEGO men and women who are interested in becoming ATs? I would say my biggest piece of advice would be to stay flexible and be confident in what you do. Be prepared to wear many hats (but probably the same kind of khaki pants) every day, and just because you have claw hands doesn't mean you can't get the job done. Most importantly, be happy. Every day I go to work is an adventure, and I truly love what I do!