May 4, 2021 by
Elizabeth Quinn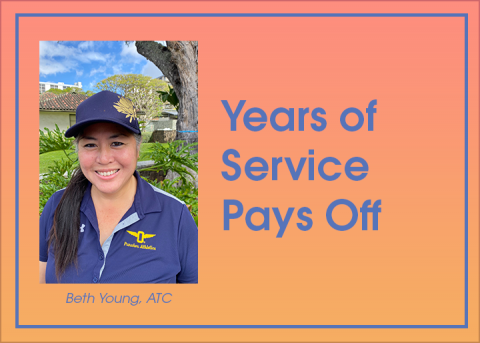 May is Asian/Pacific American Heritage Month. Throughout the month, the NATA Now blog will highlight some of NATA's Asian American and Pacific Islander committee members in a series that discusses the importance of service and giving back to the profession.
Far West Athletic Trainers' Association (FWATA) Hawaii representative, FWATA Service Award recipient, FWATA Most Distinguished Award recipient, NATA Service Award recipient, Hawaii Athletic Trainers' Association president – the list goes on for this service-driven athletic trainer.
As a member of NATA for more than 30 years, Beth Young, ATC, member of the NATA Honors and Awards Committee's NATA Athletic Trainer Service Award Subcommittee, said it was instilled in her at an early age to involve herself in volunteering and service work.
"In high school, my parents, teachers and coaches encouraged me to make a difference in my community by doing service projects," she said. "After I became a certified athletic trainer, I continued to serve on various state, district and national committees to give back to the profession."
It was also in high school where she began her interest with athletic training.
"My family loved going to the University of Hawaii-Manoaʻs football games since I was 7 years old," Young said. "My family would watch the game, and I was fascinated when players were injured and watched as the support staff, who I later learned were called athletic trainers, went onto the field and tended to the players. While in high school, I watched a post-University of Hawaii-Manoa game show and learned more about the athletic training profession and have been fascinated with the profession ever since."
She ended up studying at the University of Hawaii-Manoa where she would go on to work in physical therapy clinics. Young is the current head athletic trainer of Punahou School and has been working there since 1991.
Young has also been a member of the Honors and Awards Committee since December 2017. Since she started mid-term, Young wasn't able to shadow her predecessor, but then-NATA Service Award Committee Chair Robert Nevil, LAT, PT, ATC, gave her a "gentle crash course of the honors and awards program and procedures," she said.
After years of volunteering, Young still enjoys giving back to the profession for a multitude of reasons.
"There are many benefits of volunteering including meeting people of diverse cultures," she said. "I enjoy sharing my knowledge of the Asian and Pacific Island cultures with other colleagues and learning about theirs. I would encourage all ATs to join a committee or volunteer. This may open new opportunities and add to his or her list of skills."
If one is new to volunteering, Young also offers some advice before jumping in the deep end.
"You can start by volunteering with a group of friends for an event that interests all of you," she said. "Once you have confidence, try volunteering on your own. Don't be intimidated; just try. You may find enjoyment in giving selflessly.
"Our profession needs to grow and get better, but this can only happen if we give back to the profession by sharing ideas and improving the overall health care system. Helen Keller said it best, 'Alone we can do so little; together we can do so much.'"
For more information about volunteering with NATA, visit Gather. Under the Participate tab, you can find information about the volunteer opportunities, including those with NATA's various committees. Learn more about all the committees NATA to see if there is one that fits your interest.