September 1, 2020 by
Elizabeth Quinn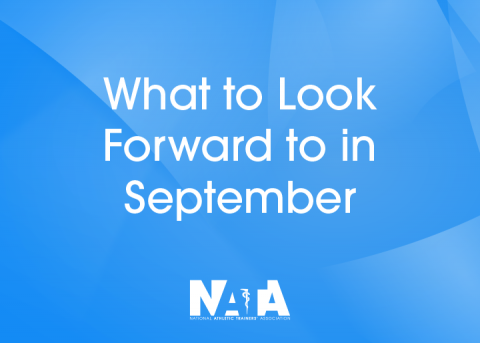 There is a lot happening at NATA! Stay up to date on what's to come each month in advocacy, engagement and development in this new NATA Now blog series. Check out what's in store for September!
Advocacy
After months of hard work, the NATA Third Party Reimbursement Initiative team is pleased to announce that the newly formatted Third Party Reimbursement page is now live on the NATA website. Visitors to the page can learn more about the basics of third party reimbursement, find information on the best practices for billing and browse through other relevant topics. Visit the new page to learn more about NATA's third party reimbursement efforts.
The ATs Care Commission and National Federation of State High School Associations (NFHS), along with the Sports Medicine Advisory Committee (SMAC), collaborated on including information about accessing ATs Care after a catastrophic incident in the NFHS Post Event Toolkit. The purpose of this toolkit is to provide a framework in dealing with the administrative, technical and emotional burden surrounding a catastrophic or near catastrophic event critical events.
Engagement
Gather continues to be the hub for ATs to discuss the latest topics. Recently, members have started a conversation about "Returning Positive COVID Athletic Back to Participation." Visit Gather to engage in more of the latest discussions.
The August/September NATA News is out now. This issue takes a look at the 2020 NATA Virtual Clinical Symposia & AT Expo as well as discuss returning to school and collegiate athletics in the midst of a pandemic.
The fall issue of Sports Medicine Legal Digest will be out in September. Topics covered in this issue include "The Relationship of State Practice Act and Scope of Practice" and a column from the NATA Professional Responsibility in Athletic Training Committee on whether ATs possess liability in relation to COVID-19.
The Journal of Athletic Training has a special issue on training workload and recovery out in September. This issue will include current concepts and original research articles on these important clinical topics.
Development