September 27, 2021 by
Elizabeth Quinn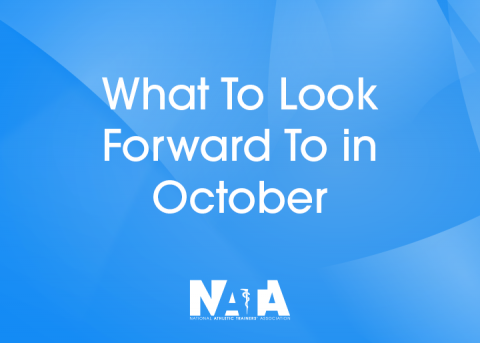 There is a lot happening at NATA! Stay up to date on what's to come each month in advocacy, engagement and development in this NATA Now blog series. Check out what is in store for October, and follow our communication channels throughout the month for more information.
Advocacy
A tip from the NATA Government Affairs Department for October: Deliver prepackaged Halloween goodies and "thank you for your service" cards to your legislators' district offices. For more advocacy tips and information, visit the NATA advocacy webpage.
In the October NATA News, the At Your Own Risk Value of the Athletic Trainer Series focuses the public safety setting. This handout series, created by At Your Own Risk, NATA's public facing initiative, highlights the important work ATs do in their respective setting and can be used to educate members of the public.
Engagement
Development
Through NATA Education Encore: Top Sessions from NATA's Virtual Events!, athletic trainers can earn CEUs from some of the most popular sessions held during the 2020 and 2021 NATA Virtual Clinical Symposia & AT Expo, 2021 Virtual Athletic Training Educators' Conference and NATA COPA Con 2021. Learn the latest in sports medicine and athletic training from high-quality speakers and earn up to 16.5 CEUs. Registration will be open Oct. 1-Nov. 30, and the event ends Dec. 31. For more information, check the NATA events webpage in the coming days.
The NATA Ethnic Diversity Advisory Committee offers Diversity Enhancement Grants of up to $5,000 to educational institutions to support the advancement of diversity within the athletic training profession. Grant applications are currently being accepted for the 2021 grant cycle and are due Oct. 1. For more information, including requirements and the grant application, visit the Diversity Enhancement Grant webpage.
Each year, the NATA Research & Education Foundation recognizes those who excel in areas of research. Nominations are due Oct. 1 for the following2022 research awards: Medal for Distinguished Athletic Training Research, New Investigator Award and the David H. Perrin Doctoral Dissertation Award. Nominations should be emailed to the NATA Foundation.
The NATA Foundation Free Communications Committee will pilot test reviewing and accepting a limited number of critically appraised topic abstracts. The deadline call for abstracts for the 2022 NATA Clinical Symposia & AT Expo is Nov. 1. The mission of the NATA Foundation Free Communications Program is to advance the discovery, dissemination and application of scientific knowledge in athletic training domains through written and oral forums.
The NATA Foundation is seeking to fill open positions on its board of directors with terms beginning June 2022. The application packet and details are on the NATA Foundation's social media channels (Facebook, Instagram and Twitter) and posted on the NATA Foundation website, and will close Oct. 5. The current openings are:

District Two chair
District Four chair
District Six chair

The NATA Foundation depends on various committees to ensure that the mission of the organization is carried out. There are multiple committees seeking members, and the information is posted. Find the information, and the list of openings, on the NATA Foundation's website.

Educational Resources Committee member (term beginning fall 2021)
Free Communications Committee member (term beginning June 2022)
Pronouncements Committee member (term beginning June 2022)
Student Writing Committee chair (term start June 2022)
Student Writing Committee members (multiple vacancies, term start June 2022)

The NATA Council on Practice Advancement has multiple committees with open representative positions that members can apply for on Gather. For more information about requirements for these openings, visit Gather and click on the Participate tab. The following committees have openings:

Community Outreach Committee
Occupational Needs Committee
Physician Practice Committee
Public Safety Committee
Analytics and Outcomes Committee
Rehabilitation Committee