September 28, 2020 by
Elizabeth Quinn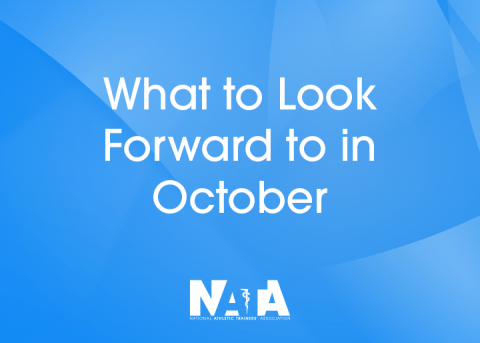 There is a lot happening at NATA! Stay up to date on what's to come each month in advocacy, engagement and development in this new NATA Now blog series.
While members can renew their NATA membership for 2021 at any time, membership renewal season officially begins Oct. 1. Renew your NATA membership before Dec. 31 to take advantage of valuable, member-only benefits that assist with professional growth, connection, support and advocacy. Stay tuned throughout the fall to see how NATA is celebrating and supporting its members. Learn more and renew on the NATA website.
Check out what else is in store for October, and follow our communication channels throughout the month for more information!
Advocacy
NATA is hosting the second annual Youth Sport Specialization Awareness Week from Oct. 19-23. As the pioneer of this important week, NATA strives to raise awareness of what sport specialization is, the risks associated with it and the ATs role in providing a safer approach to youth sports. Read more about Youth Sports Specialization Awareness Week on the NATA Now blog.
The ATs Care Commission and National Federation of State High School Associations (NFHS), along with the Sports Medicine Advisory Committee, collaborated on including information about accessing ATs Care after a catastrophic incident in the NFHS Post Event Toolkit. The purpose of this toolkit is to provide a framework in dealing with the administrative, technical and emotional burden surrounding a catastrophic or near catastrophic event critical events.
NATA is looking for athletic trainers to feature in our marketing and communications efforts. We know that you perform so many tasks and duties as part of your every day job, especially now in the midst of the COVID-19 pandemic. Help us share what you do on a daily basis by submitting your photos to be featured in our #ATsinAction campaign. ATs in Action authentically depicts ATs doing what you do best – providing exceptional health care to a diverse patient population in a variety of settings. We are actively seeking diversity in athletic trainers, patients, settings and activities, as well as photos that properly illustrate social distancing and PPE usage. Help us tell your story. Show us how you impact health care by contributing your images today.
Engagement
Development