October 25, 2021 by
Elizabeth Quinn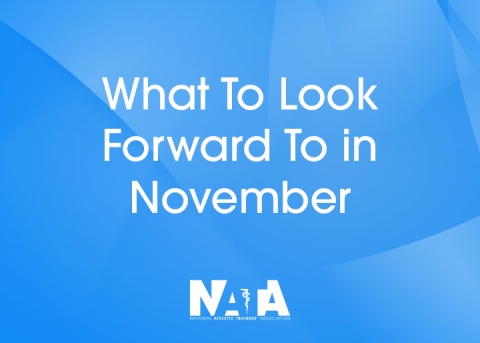 There is a lot happening at NATA! Stay up to date on what's to come each month in advocacy, engagement and development in this NATA Now blog series. Check out what is in store for November, and follow our communication channels throughout the month for more information.
Don't forget – it's member renewal season! NATA is working every day to ensure you have the advocacy, professional growth, connection and support needed to keep athletic training essential to health care. By being an NATA member, you are investing in yourself, your profession and your future. Visit the NATA Member Benefits webpage to learn more about what comes with being an NATA member and renew your membership today to avoid a lapse in your member benefits. The deadline to renew is Dec. 31. Don't let money get in the way of investing in yourself and your profession. Contact Member Services at 800.879.6282 or membership@nata.org to see how we can help.
Advocacy
November is all about advocacy at NATA! The November NATA News is dedicated to different aspects of advocacy and how they all work together on behalf of each AT and the entire athletic training profession. Read the magazine to learn more about NATA's efforts to assist state associations' legislative efforts, the importance of third party reimbursement, the resources NATA has to help with your self-advocacy and how NATA is advocating for you through our media relations. You can also learn more throughout the month. Stay tuned to our communication channels and visit the NATA advocacy webpage throughout November as we celebrate Advocacy Month.
A tip from the NATA Government Affairs Department for November: Write letters to your legislators letting them know you look forward to working with them in the coming year. For more advocacy tips and information, visit the NATA advocacy webpage.
The November NATA News features the last handout in the Value of the Athletic Trainer Series, created by At Your Own Risk. This handout focuses the secondary school setting and can be used to educate members of the public.
Engagement
Development
Through NATA Education Encore: Top Sessions from NATA's Virtual Events, athletic trainers can earn CEUs from some of the most popular sessions held during the 2020 and 2021 NATA Virtual Clinical Symposia & AT Expo, 2021 Virtual Athletic Training Educators' Conference and NATA COPA Con 2021. Learn the latest in sports medicine and athletic training from high-quality speakers and earn up to 16.5 CEUs, including 5 EBP CEUs. Registration closed Nov. 30, and the event ends Dec. 31. For more information, check the NATA events webpage. In addition to Education Encore, NATA is offering another opportunity to attend some of the great forums held during the 2021 NATA Virtual Clinical Symposia & Expo. These Encore Forums are live and will not be available on-demand afterward. Attendees can earn 1 Category A CEU at each forum. View the Encore Forums schedule and register now in the NATA Professional Development Center.
Don't forget that 2021 is a reporting year! Visit the NATA Professional Development Center to earn CEUs this reporting year and beyond. Although the reporting year deadline is Dec. 31, the PDC is open year-round and offers a range of courses on topics you encounter in your everyday practice. A professional development FAQ resource has been added to answer questions on topics related CEU reporting and the PDC.
The NATA Research & Education Foundation Scholarship Program is one of the organization's most highly regarded programs. Through this program, which is managed by the Scholarship Committee, the NATA Foundation awards undergraduate, master's and doctoral scholarships. Scholarship applications will be accepted Nov. 1 through Jan. 15, 2022.
The NATA State Association Advisory Committee is hosting a Korey Stringer Institute webinar at 7:30 p.m. CST Nov. 10. The webinar will cover why state leaders should partner with KSI and how the Athletic Training Locations and Services Project and the Team Up For Sports Safety initiative can help build relationships for your state association within the sports medicine and legislative arenas. This webinar is for state leaders only. If you're a state leader and would like to register, contact Senior Government Affairs Coordinator Madison Sequenzia.
The NATA Foundation Free Communications Committee will pilot test reviewing and accepting a limited number of critically appraised topic abstracts. The deadline call for abstracts for the 2022 NATA Clinical Symposia & AT Expo is Nov. 1. The mission of the NATA Foundation Free Communications Program is to advance the discovery, dissemination and application of scientific knowledge in athletic training domains through written and oral forums.