September 8, 2021 by
Elizabeth Quinn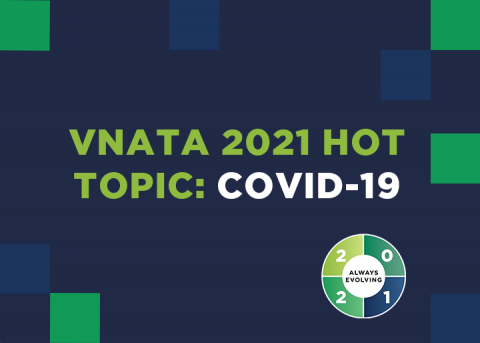 The 2021 NATA Virtual Clinical Symposia & AT Expo is far from over. The on-demand educational programming is available to attendees through Sept. 30, providing an extended time for athletic trainers to learn and earn CEUs.
COVID-19 highlighted the way athletic trainers were seen in health care, with many being front-line workers. Additionally, as return to school and play began, it was up to ATs to help facilitate the safest route for patients and athletes to come back. COVID-19 is an imperative topic for ATs to stay abreast on, and VNATA 2021 provides multiple development opportunities to ensure best practices.
Below is a selection of sessions examining COVID-19. You can find a list of all sessions related to COVID-19, and other topics, on VNATA 2021's schedule webpage.
"Global Pandemic COVID-19: Mental Health Resources for Front-Line Health Care Workers," presented by Donita Valentine, DAT, ATC, SFMA, and James "Bubba" Wilson, LAT, ATC, CCISM. This presentation focuses on defining the meaning of group/peer support, explaining the benefit of group/peer support during a pandemic and how to devise a plan or access to group/peer support.
"Infection Control in Interscholastic Athletic Health Care Post COVID-19: 'Lessons Learned: Policy Implementation,'" presented by James Zachazewski, ATC, PT, DPT, and Michael Belanger, ATC, PT, MSPT. This presentation discusses the key factors and challenges to successful implementation of policies and procedures regarding management of COVID-19 that include communication with the key stakeholders, managing the evolving federal and state guidelines, fundamental education needed to break the chain of infection and managing the work flow of the athletic health care center.
"The Global Challenges of COVID-19: Opportunities for Prioritizing Psychological Resources and Recovery Methods," presented by Tadhg MacIntyre, PhD, AASP Fellow. This session discusses an evidence-based account of the benefits of emphasizing a recovery mindset and the future potential of this approach to the management of more predictable seasonal challenges.
It's a Reporting Year
2021 is a reporting year for athletic trainers, and NATA is here to help. To ensure you earned CEUs after attending a session during VNATA 2021, allow pop-ups and redirects to prevent the device from blocking the assessments. In order to access the assessment, you must watch each session in its entirety. All assessments must be completed by Sept. 30 in order for the CEUs to be counted.
You can check your transcript in the VNATA 2021 platform by going to Account and clicking on "Request New Certificate." A link to access one's statement of credit will be sent to the email address used for your VNATA 2021 login by mid-October. Contact knowledgeinitiatives@nata.org if you doesn't receive the email or have questions about the CEU/statement of credit process.
There's still time to register! Visit the VNATA 2021 website and click on the register tab for more information.