March 23, 2020 by
Elizabeth Quinn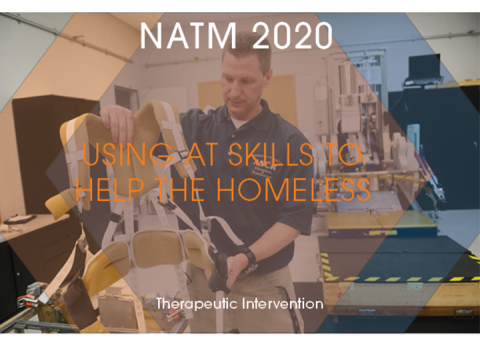 Editor's note: In honor of National Athletic Training Month, NATA is conducting a twice-weekly blog series throughout March that showcases how ATs use the five domains of athletic training to improve the health and well-being and their patients. This blog post highlights domain four, Therapeutic Intervention, and how members are embodying this year's NATM theme, "ATs Impact Health Care Through Action." 
It's 50 blocks in downtown Los Angeles, scattered with tarps, tents and trash. It's somewhat of a sanctuary for many people who experiencing homelessness LA, where they are able to live within a community and be in proximity to shelters and nonprofit organizations. It's a hub marked by a painted mural that reads, "Skid Row City Limit. Population: Too many."
Almost 60,000 people are experiencing homelessness in LA, according to NPR correspondent Pam Fessler. In Skid Row alone, it's nearly immeasurable as to how many people use the nearly 0.4-square-mile area as people frequently come and go. One thing is certain, though: People who are experiencing homelessness need access to health care.
Sean Rogers, DAT, ATC, assistant professor of athletic training at California State University Northridge (CSUN), started a pilot program in the spring semester of 2019 that provided workshops to the Downtown Women's Center, an organization that serves women who experiencing homelessness through housing, wellness and employment assistance and advocacy.
Although the center has a local clinic on site that staffs nurse practitioners, physician assistants and, occasionally, physicians, the clinic wasn't covering all the problems these women were having, Rogers said.
"One of the big areas that they were lacking in coverage was pain management – the chronic pain and different musculoskeletal problems – because the clinic there can only deal with more general medical issues or acute trauma," Rogers said. "Some of those longer-term, more chronic conditions that are more related to urbanomics – being on the concrete, poor posture, having to carry all belongings multiple miles each day – were something that a lot of the participants, or women who are experiencing homelessness at the Downtown Women's Center, were really requesting quite often and were hoping to get resources for."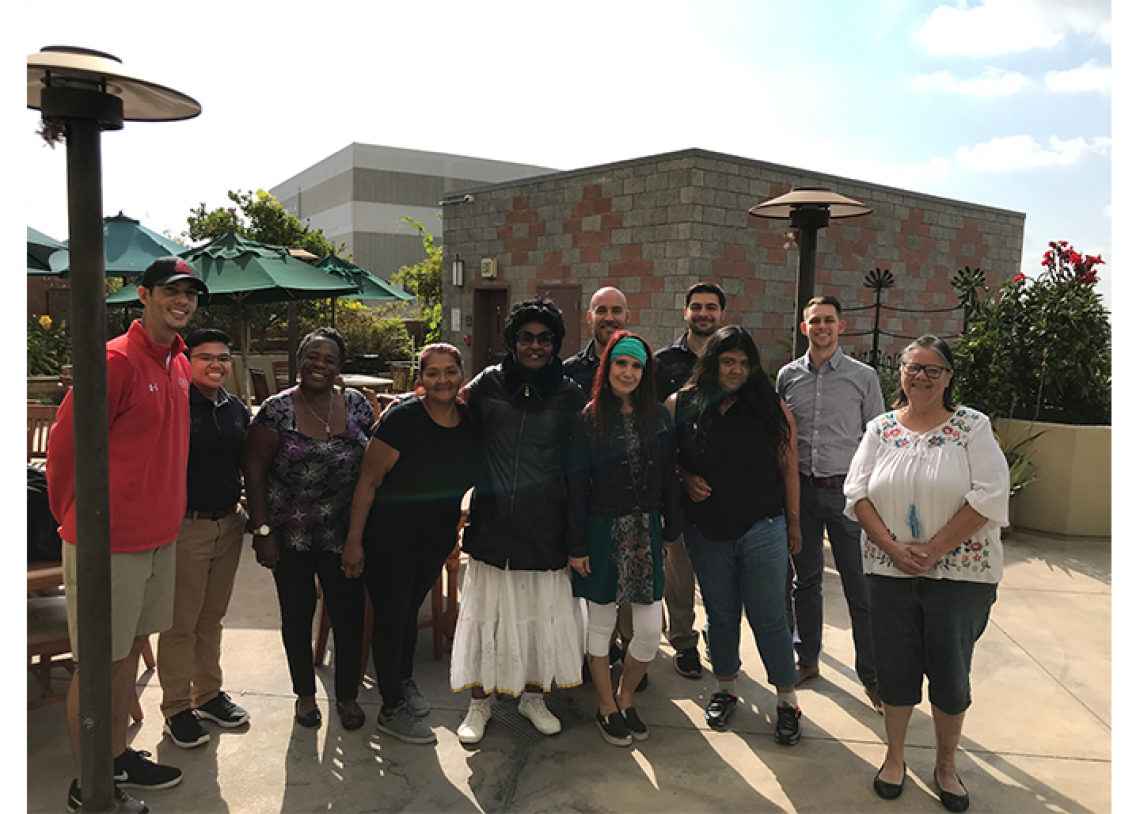 Over the course of 12 weeks, Rogers, along with a team of athletic training students, visited the center on three separate occasions to give hour-long presentations about the health care and well-being as well as hold demonstrations and answer questions.
At each workshop, there could be anywhere from 10 to 20 women who were experiencing homelessness. Since these workshops were held at the Downtown Women's Center, only women and transgender women are invited to the center.
"We would meet as groups, and we would use the information the workers at the Downtown Women's Center provided us and prioritize the conditions/issues that were mentioned most often," said Artturi Simila, athletic training student at CSUN, who participated in workshops in the spring and fall 2019. "Since a few of us did a workshop earlier in the spring of 2019, we were able to provide insight on what worked the first time we went there and what didn't. We wanted to keep the lecture portion of the workshop very minimal and have the women move around, be active and try out different types of stretches, mobility exercises and self-massage techniques that they could utilize for certain conditions, such as rolling a Wiffle ball under the foot for plantar fasciitis. At the end of the workshop, we would have 10 to 15 minutes for an open Q&A for the women to ask us questions."
The first workshop in the spring of 2019 focused on the ankles, feet, knees and lower body pain; the second focused on lower back pain; and the final workshop focused on neck, should, arms, wrists and upper body pain. These workshop topics were selected because they needed to find a way to address the body as a whole working with common injuries the population experiences, so the workshops were broken up in three segments focusing on specific areas each time. Rogers said they were working with patients who don't have access to a lot of resources, so it was then up to the students to come up with solutions to the injuries depending on their workshop's topic.
"Working with the homeless is a population athletic trainers aren't used to working with, and you have to start thinking outside of the box when trying to figure out the root problems for the conditions that the homeless are facing," Simila said. "Also, when trying to come up with the best exercises or recommendations to help with the acute or chronic conditions, you have to remember that you are not in your clinical setting and you don't have the privilege of using the equipment you typically would to treat your patient. So, you have to consider what kind of resources are available for the homeless to use when they are out on the streets."
In Her Shoes
Substance abuse is common for those experiencing homelessness because of the vicious cycle where people who are homeless get injured and never learn how to properly care for said injury, so they often turn to opioids as a coping mechanism for physical and physiological trauma, Rogers said.
"It creates this very negative cycle," said Rogers adding that many things can lead to homelessness, including mental health issues, job and economic interventions as well as untreated injuries that lead to drug use.  
While opioids may appear to get someone through the day with minimal pain, they don't fully heal the issue at hand. Because of the pain they experience is never resolve, it can be difficult to get and maintain a job or seek housing, Rogers said.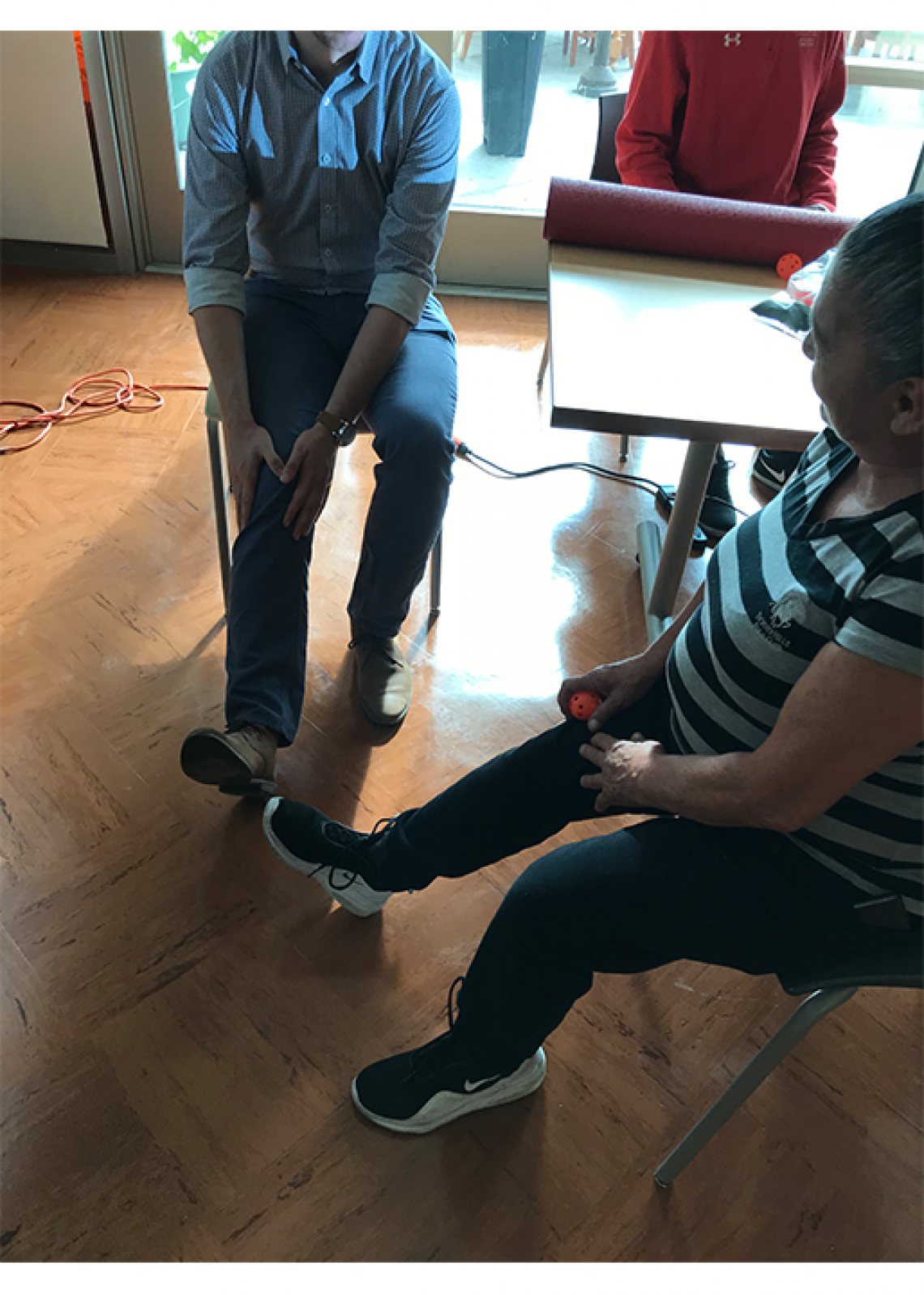 The Downtown Women's Center provided Rogers and his students a health care peer leader, Denise Smith, who helped connect them to women in need. Smith has been a leader with the center since 2014. Prior to working with the center, Smith was on Skid Row struggling to overcome her addiction to crack cocaine, which she started using after becoming addicted to prescription pain medicine. Through the services the center provided, Smith was able to turn her life around, overcoming her addiction and securing a house and job. Now, she works with Rogers and the students to encourage women who are experiencing homelessness to attend the workshops.
"[The students] go over the information and give women hope that they don't have to be addicted to pain pills," Smith said.
A large aspect of the workshops emphasize ways to manage pain without the needs of prescriptions or drugs. Students provide stretching and exercises that can alleviate pain naturally.
During the workshops, students hand out books to further explain some of the muscles, ligaments, etc., and how to care for them. They also simplify the terminology so everyone is able to understand.
From Head to Toe
Following the success of the first semester of workshops, Rogers has continued to integrate the volunteer opportunity into his course.
"[These workshops are] completely unfunded," Rogers said. "There is no specific funding stream that is associated with this yet. Looking at our future plans, we will probably apply for some grants to try and get a clinic up and going there, but students were expected to travel [to the Downtown Women's Center] during the class week, so they couldn't be reimbursed for gas cost. Although the university supports our athletic training program and buys us teaching supplies, we aren't given supplies specifically to use at the Downtown Women's Center, so we bring some teaching supplies down there with us."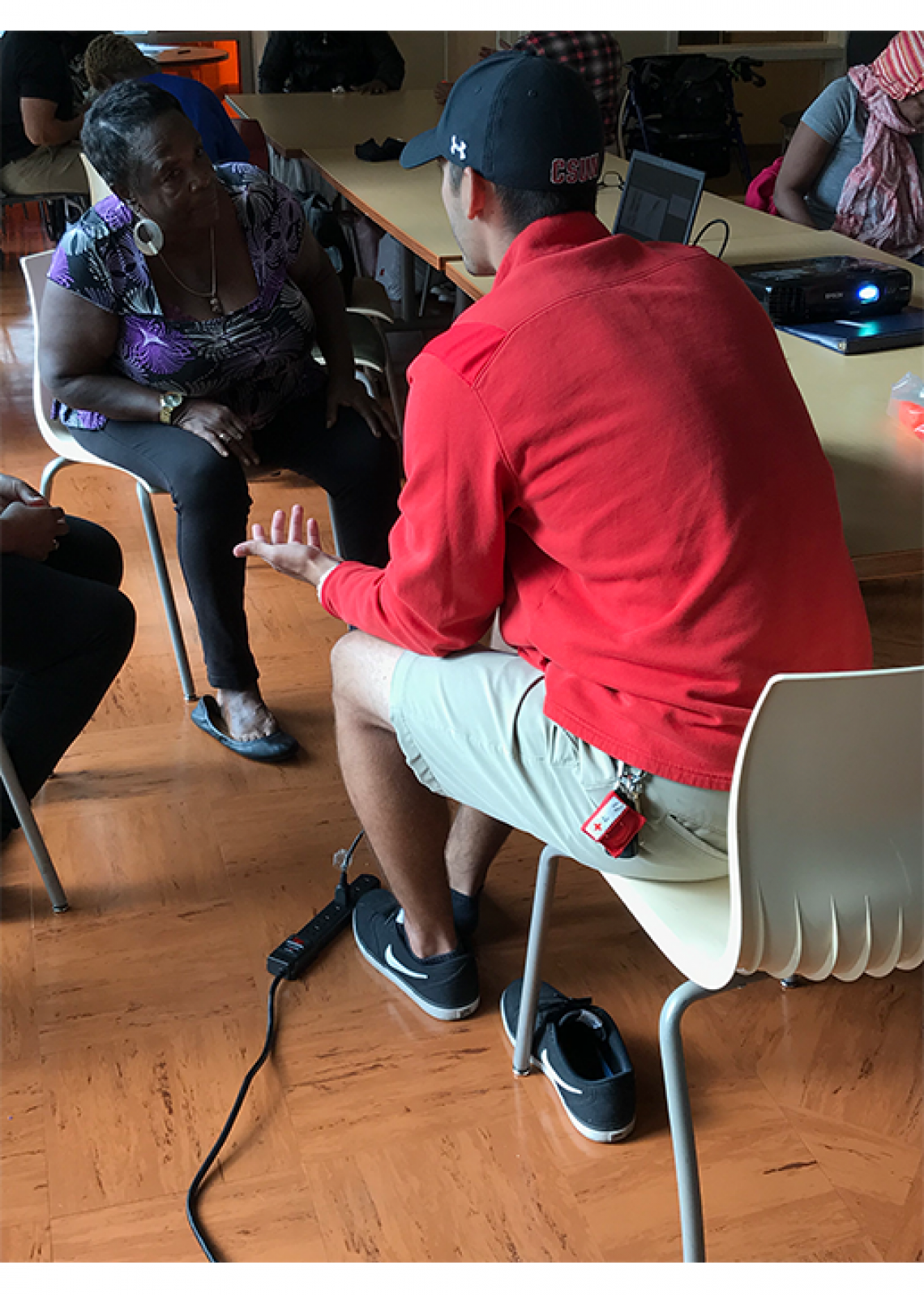 During the first curriculum-integrated visits to the center during the fall 2019 semester, the topics of the workshops changed to include lifting techniques (for bags, boxes and belongings), sleep postures and managing chronic pain without opioids. Rogers said he plans to keep the six workshops, including the three topics from the spring 2019 workshops, so they rotate topics throughout the year.
"One thing I'm passionate about is helping underserved populations," Rogers said. "One thing we see with these underserved populations is that they fall into gaps with health care coverage and health education in which no one is truly willing to help them, especially with the population who are experiencing homelessness."
Since the programs launch, 75 to 100 people experiencing homelessness have attended the workshops, and 22 CSUN athletic training students have been involved over the past year.
"The field of athletic training is advancing rapidly and new opportunities are opening up in non-traditional settings for athletic trainers, and working with the homeless population is something athletic trainers should look into as a possible new job setting," Simila said.
"Athletic trainers have such a high level of diverse skills to work with," Rogers said. "Working with underserved populations like this really is important and has such a large impact on the well-being of others. We can really impact the lives of individuals experiencing homelessness through the Downtown Women's Center."
Rogers has asked that if there are any other athletic trainers who have experience with community-based health interventions to reach out to him and connect. Rogers can be found on Gather. While at the moment there isn't anything set up to collect donations or materials, it is a possibility in the future as CSUN works with the Downtown Women's Center to introduce athletic training services to their existing clinic.
To get started in your community, locate a local shelter and ask about the possibility of holding informational workshops about caring for injuries that are specific those experiencing homelessness. Be sure to work with a liaison at the shelter to ensure the presentations properly address the concerns of this population.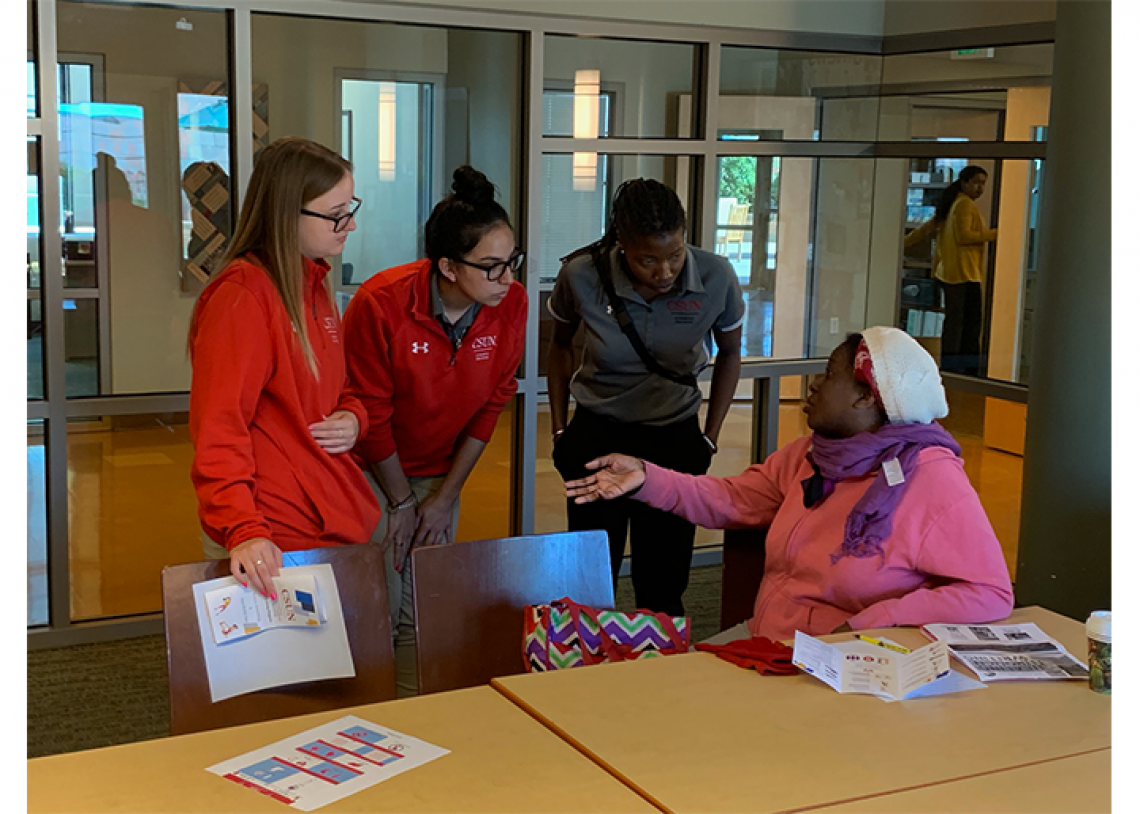 Continuing Education Opportunities
Log into the NATA Professional Development Center, and search for the following courses that relate to domain four, Therapeutic Intervention. You can also explore upcoming webinars to earn additional CEUs within the PDC.
Hip Injuries: Parallels in Manual Therapy for Dancers and Athletes