October 5, 2021 by
Elizabeth Quinn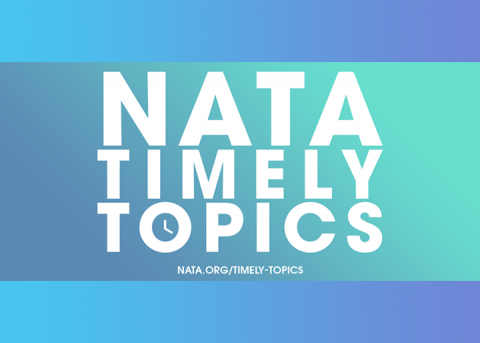 The next NATA Timely Topics Series is at 11 a.m. CDT Oct. 12. This month's series, which is hosted by NATA President Kathy Dieringer, EdD, LAT, ATC, includes one event: "The AT and Mental Health, Fueled by Gatorade Performance Partner" presented by Bhrett McCabe, PhD. The event is free for NATA members and $45 for nonmembers.
McCabe will cover mental health tips for athletic trainers as well as their athletes.
"For so long, mental health has been a taboo topic," he said. "Over the past five years, our society has more openly talked about the ups and downs of mental health and associated suffering. Mental health is not a back-room conversation, and seeking help should never be shamed. Instead, we need to bring it to the forefront.
"In today's society, nearly 50 percent [of people] are suffering from mental health impairments, whether it be short-term stress, depressed mood or even anxiety. Impaired mental health has significant consequences for our organizational effectiveness, societal cohesion and health care costs, so it is important that everyone, every organization and team bring mental health to the forefront. The first step is accepting it and seeking help. If people are not ashamed, they can pay attention to what they are feeling in order to seek help or find peace."
In McCabe's talk, he will offer solutions to discover immediate, actionable skills to boost effectiveness at work and in personal lives.
"Anytime you can discuss strategies to help us all cope with the challenges and uncertainty we have in our world today that is important," he said. "I am fortunate enough to spend a significant amount of time around high performers, competitive teams and hall-of-fame coaches, and the lessons I have learned from them have given me a platform to share many beneficial strategies every one of us can use.
"As an organization, investing in your team demonstrates a level of care and support that few companies actually do. For many, it is simply a link on the company website behind the firewall. Bringing teams together to collectively learn and share experiences benefits the individual contributors which in turn makes us all better."
McCabe will also speak about the stress and uncertainty the past year and a half has brought us, sharing tips to help transition effectively into a new normal.
"The stresses of 2020 and 2021 are legitimate and significant, but are manageable," McCabe said. "Stress impacts every one of us in our own way. Learning to manage stress and effectively cope with its impact can protect us from the long-term consequences of stress. The ultimate goal is to empower each attendee to shift their mindset into growth and purpose to begin building better strategies in their lives."
Register for the series and learn more about previous Timely Topics Series.
About the Sponsor: Gatorade, a founding strategic partner, is a proud sponsor of NATA. Gatorade offers a range of sports fuel products backed by years of scientific research, developed in collaboration with the world's greatest athletes and designed to improve athletic performance. Gatorade's portfolio is designed to meet the fueling needs of all athletes, and the addition of Muscle Milk to the Gatorade family only strengthens its product roster. Gatorade's Recovery products – bars, protein powder and shakes – help athletes rebuild muscles after athletic activity while Muscle Milk products help athletes maximize their strength. To learn more about Gatorade's full product portfolio or to find your local Gatorade representative, visit the Gatorade Performance Partner website.