July 14, 2020 by
Elizabeth Quinn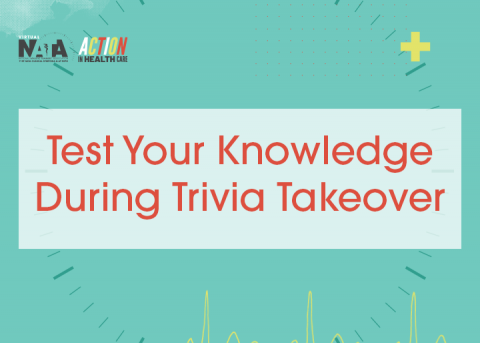 Are you ready to test your knowledge? It's student against student as participants across the country play each other in a friendly Kahoot competition during the 2020 NATA Virtual Clinical Symposia & AT Expo. Join, compete or just watch the action in the NATA Student Leadership Committee's Trivia Takeover at 3 p.m. CDT Wednesday, July 15.
"The Trivia Takeover is an opportunity for students to brush up on their athletic training knowledge in a fun atmosphere," said Victoria Simpson, MS, SLC District Three representative. "Students who attend will not only be challenged mentally by our questions, but they will have an opportunity to interact with other students across the nation as they compete for prizes during each of the two rounds of competition."
The real-time trivia game will cover various topics that are found on the Board of Certification Inc. exam, Simpson said. Although the trivia is geared toward students, everyone is welcome to join in the fun.
"This event isn't just for students who plan on taking the BOC next year," she said. "We developed the Kahoot so students have the chance to test their previous knowledge as well as gain some new information in a fun format. We have questions that cater to those planning on taking the BOC next year and to our first-year students."
Students from campuses across the nation are encouraged to join not only in the trivia takeover, but also share on their personal social media accounts that they have joined the Trivia Takeover. Be sure to follow the SLC on Facebook, Twitter and Instagram for more updates on everything the SLC is working on, including what other students across the U.S. are doing.
Don't forget that registration for VNATA 2020 is free for NATA student members (noncertified), so this is a great opportunity to continue learning for your athletic training career. Students have until Sept. 10 to register and watch all sessions on demand. The SLC will be in attendance for all athletic training student sessions, which are being held in Room 3 throughout the live portion of VNATA 2020 July 13-16.
"We look forward to interacting with our peers in the chat portion of each session, as well as on our social media platforms during the 2020 VNATA convention," Simpson said.