March 4, 2021 by
Elizabeth Quinn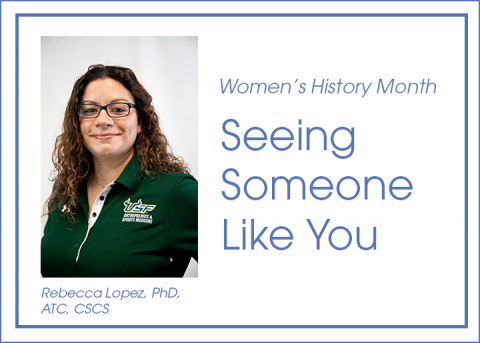 The March NATA News features an article about women in leadership and how to address barriers and challenges to becoming a leader. In honor of Women's History Month this March, NATA would like to keep this conversation going through a monthlong blog series highlighting our female leaders. Each blog will feature a different NATA council or committee chair, who will share insights into their leadership journey and what they've learned along the way.
In this blog, Rebecca Lopez, PhD, ATC, CSCS, chair of the NATA LGBTQ+ Advisory Committee, shares the changes she has seen in the profession in regards to women in leadership and how she hopes her position allows others to feel represented.
Rebecca Lopez, PhD, ATC, CSCS (she/her)
NATA LGBTQ+ Advisory Committee Chair
Associate Professor, Athletic Training, University of South Florida's Morsani College of Medicine
What inspired you to take on a leadership position? Were you personally attracted to this role for any reason?
I have always wanted to be more involved at the national level. When I was asked to be on this committee, it was so exciting for me. In the first couple of years, I saw all of the great work we were doing as a committee. I was certainly attracted to take on this leadership position because I wanted to continue the positive trajectory of the LGBTQ+ Advisory Committee. I felt  – and still feel – strongly that this committee was a long time coming, and it was extremely important for me to be part of the progress to help athletic training be more inclusive for patients and athletic trainers in the LGBTQIA+ community.
What has been the most rewarding part of being a woman in a leadership position?
For me, visibility matters. For a long time, leadership positions in the profession have been male dominated. I've been a member of the NATA for nearly 24 years, so when I was a young athletic trainer, there were not that many women in leadership roles to look up to. I have definitely seen a big change in recent years, so being a Latinx, LGBTQIA+ woman in a leadership position is so important to me. The rewarding part for me is knowing younger athletic trainers are able to see the diversity in our leadership and realize that any one of them can be a leader in our profession.
Do you think it's important for more women to take leadership positions in athletic training? Why or why not?
Yes, it is important for women to take leadership positions in athletic training, but more importantly, I think it is imperative for leadership positions in athletic training, and any organization or association, to be inclusive to all. There should be diversity within a leadership team, meaning there should be individuals of various gender identities and sexual orientations, of various races, ethnicities and religions, individuals with disabilities, etc. Representation matters, so leaders should be representative of the organization's membership so everyone has a seat at the table. Members should be able to look at the leaders of their organization and see themselves represented.
If younger you was looking at yourself now, what do you think they'd say? Would they have believed you'd become such a successful woman?
I was so shy as a young professional. I worked hard and I wanted to succeed, but I would look up to those in leadership roles and think, "Nah, that's not me." Younger me looking at myself now would be quite surprised. I was successful in my role when I started out as a young clinician, but I don't think I would have believed I could succeed or advance beyond that. Younger me would not have believed that I would be successful in more leadership type roles, such as a program director or chair of a national committee.
The good thing about having good mentors when you're younger is that when there's a timid, younger person who may not see their own potential, their mentors will usually encourage them to continue to grow outside of their comfort zones. Good mentors try to convince you of your potential, even when you don't see it. You just have to believe them.
What advice would you give to women who want to take on leadership roles but worry about not having the time or finding work-life balance?
I have learned that in order to take on a new role, you need to let something go. It's important to realize that the "something" that has to go may not be exclusive to work. It can be a hobby you will no longer have time for, it can mean less family time or it may be another committee or assignment/role you have at work. You have to find that balance, so if you are adding a new responsibility or leadership role to your plate, you have to ask yourself:
Which other thing in my life would have to go in order for me to do this?, and
Which is the better option? Stepping into this new role or keeping things as they are?