April 28, 2021 by
Elizabeth Quinn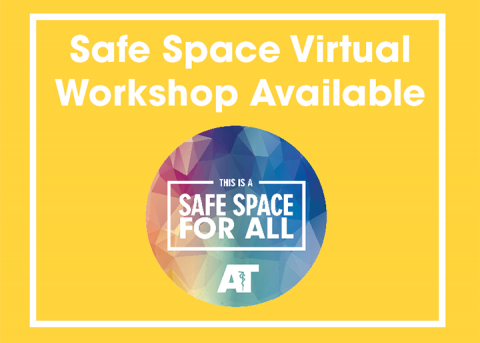 A new virtual workshop targeted toward athletic trainers who are interested in understanding the health care needs and disparities of LGBTQIA+ patients is available starting April 28 in the NATA Professional Development Center.
This educational opportunity, led by Pat Aronson, PhD, LAT, ATC, Emma Nye, DAT, LAT, ATC, Rebecca Lopez, PhD, ATC, CSCS, and Sean Rogers, DAT, ATC, is the first digital badge, which is an indicator of accomplishment or skill that can be displayed, accessed and verified online, program on the PDC and is a virtual version of the LGBTQ+ Advisory Committee's in-person workshop. The virtual workshop, "Safe Space Ally Training for Athletic Trainers," was created for athletic trainers to be culturally competent and inclusive to the LGBTQIA+ community while providing exceptional health care. There can be a bias toward the LGBTQIA+ community, whether conscious or unconscious, that creates a hostile or unsafe environment for patients in the LGBTQIA+ community.
Because of microaggressions toward the LGBTQIA+ community, it is important for ATs to take the psychosocial needs of the patient into consideration, including the importance of being inclusive, using appropriate pronouns, etc., to ensure they are delivering patient-centered care.
The workshop aims to provide context for the LGBTQIA+ community, especially athletes who are transgender. The evidence-based best practices presented in the virtual workshop will assist ATs in providing equitable health care, build an inclusive environment in their clinics and classrooms and provide the proper referrals related to the health care of the LGBTQIA+ patient.
Throughout the workshop, attendees will discuss the definition of a safe space, terminology related to the LGBTQIA+ community, how to examine one's own biases, health care concerns for the LGBTQIA+ population, how to create an inclusive athletic training environment and more.
The workshop is $37.50 for members and $62.50 for nonmembers and can be accessed anywhere, anytime. Members can also use their free CEU credits, earned from being an NATA member, to attend the workshop. Attendees who complete the course can earn up to 2.25 CEUs and have the option to have a Safe Space sticker mailed to them.