June 26, 2020 by
Elizabeth Quinn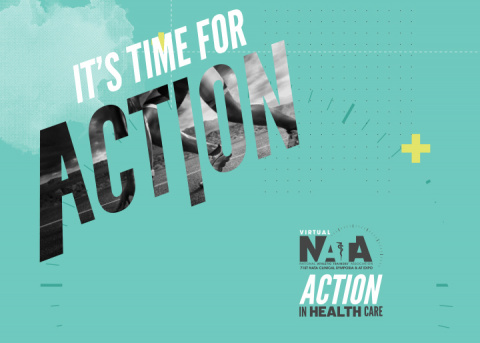 Registration for the 2020 NATA Virtual Clinical Symposia & AT Expo is open. Register now to attend the premier educational event for athletic trainers, athletic therapists, sport rehabilitators and other similar health care providers around the globe. Learn from an esteemed lineup of thought leaders and see the latest in product, research and clinical development live July 13-16 and on-demand through Sept. 10.
The VNATA 2020 registration fee for current professional members is $99. Current professional members who have prepaid their 2021 NATA dues will save an additional $50 and pay $49 for registration. Retired members and student members (noncertified) will be able to register for VNATA 2020 for free. Visit the NATA convention website to register and learn more about all pricing options for members and nonmembers.
Share That You're Attending VNATA 2020
After you've registered for VNATA 2020, don't forget to download and share the VNATA 2020 social media badge. Use the social media badge on Facebook, Twitter, Instagram and LinkedIn to let your friends and network know that you're attending VNATA 2020. See who else will be attending and invite a friend!
Use the VNATA 2020 Preliminary Program, Schedule at a Glance
The 2020 NATA Virtual Clinical Symposia & AT Expo Preliminary Program and Schedule at a Glance are available now on the convention website. Use these resources to help plan what sessions and activities you will attend during the live portion of VNATA 2020 July 13-16 and which ones you'll attend on-demand through Sept. 10. Educational sessions will cover a range of topics, domains and themes. Attendees have the opportunity to earn up to 25 CEUs, including 5 EBP CEUs.
Visit the Virtual AT Expo Exhibit Hall
Upon entering the virtual AT Expo, you can browse more than 100 companies showcasing their products and services. Click on a company's logo to enter their booth to view demonstrations, videos, pictures and product catalogs. You can have a real-time chat with exhibitors during the live portion of virtual convention. The virtual AT Expo will be open 24/7 for the full 60 days of the on-demand convention. Be sure to visit all exhibitors to support the companies that are supporting the profession.
Connect With Your AT Community
VNATA 2020 is a great way to stay connected to the athletic training community from the comfort of home. There will be plenty of opportunities to interact virtually with fellow VNATA 2020 attendees. Attend a VNATA Chat at the end of the day to listen and participate in a moderated, peer-to-peer discussion. Each of the first three days of VNATA 2020 will feature a slate of VNATA Chats that cover a range of topics – from the impact of COVID-19 to cultural competency. The NATA Ethnic Diversity Advisory Committee, NATA LGBTQ+ Advisory Committee and AT EducATionalist Cabinet will also hold town halls during VNATA 2020 – a great opportunity for attendees to learn more about these groups and receive updates on their projects. Attendees can close out the day by attending one of the VNATA 2020 virtual happy hours. Use this time to meet new people and catch up with friends.
Learn more about what VNATA 2020 has to offer by visiting the convention website. Do you have a question or concern? Visit the Frequently Asked Question section for more information or to contact us.