March 11, 2021 by
Elizabeth Quinn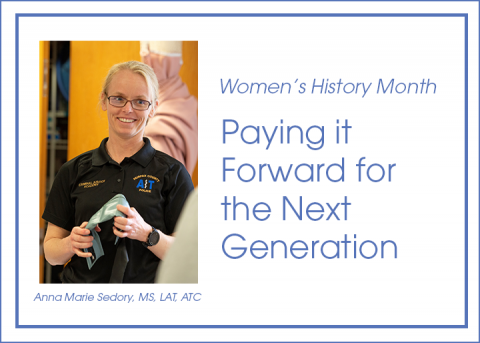 The March NATA News features an article about women in leadership and how to address barriers and challenges to becoming a leader. In honor of Women's History Month this March, NATA would like to keep this conversation going through a monthlong blog series highlighting our female leaders. Each blog will feature a different NATA council or committee chair, who will share insights into their leadership journey and what they've learned along the way.
In this blog, Anna Marie Sedory, MS, LAT, ATC, chair of the NATA Government Affairs Committee, shares how she grew up volunteering, as it's a part of the athletic training culture, and how volunteering is a group effort allowing you to build friendships while doing good work.
Anna Marie Sedory, MS, LAT, ATC
NATA Government Affairs Committee Chair
Director of Injury Care and Prevention at Fairfax County Police Department and Criminal Justice Academy
What inspired you to take on a leadership position? Were you personally attracted to this role for any reasons?
My undergraduate, graduate school and colleague mentors all served as volunteers for the Board of Certification Inc., NATA, California Athletic Trainers' Association (CATA) and Far West Athletic Trainers' Association (FWATA). Volunteering was an integral part of the culture as I "grew up" in athletic training. Sara Williamson, MS, ATC, was the FWATA Women in Athletic Training Committee chair and let me have my first-ever volunteer position after passing the BOC exam. Her patience and encouragement made it easier for me to try new roles as I progressed into other CATA roles.
When Mike West, MEd, ATC, CSCS, first renewed the efforts for licensure as president of CATA, I had just returned to the state as a young professional and was eager to start my certified volunteer journey. He really made it clear how state association leadership and legislative advocacy were fundamental to daily athletic training practice.
Even though I never thought I'd be NATA Government Affairs Committee chair, Mike West and Mike Chisar, MPT, ATC, recently retired CATA GAC chair, both played a big role in my continued GAC involvement at the state, district and national level.
Do you think it's important for more women to take leadership positions in athletic training?
Athletic trainers should pursue leadership positions because they feel like they have something to contribute to the profession in a specific area. It's important that NATA, district and state associations have as broad a representation across people groups, settings and geographic regions as possible. It's important for current and future professionals as well as our patient populations.
How does your position give strength and representation to other women interested in governmental affairs?
I really hope that seeing an "ordinary" clinical athletic trainer getting involved in governmental affairs gives other "ordinary" athletic trainers the courage to get involved in legislative advocacy. The idea that I've never been a lobbyist or a legislator shows other ATs that you don't need that kind of experience to make a significant difference for our patients or the profession. Our state practice acts affect our jobs and the services we can offer in material ways. Governmental affairs and legislative advocacy are an "all hands on deck" project regardless of the motivating factor.
How do you manage to balance work, life and volunteer leadership positions?
One day at a time! In all seriousness, I have a relatively uncomplicated life. I try to keep an organized calendar, practice loose meal planning and communicate clearly with the people who depend on me when my bandwidth (ability to dedicate time, effort, energy to a project) is restricted. Even though it's often initial instinct, it's important not to disappear when you feel overwhelmed. Volunteering is not a solo sport – let someone know you're struggling so the work can continue even if you need to step back.
What advice would you give to women who want to take on leadership roles but worry about not having the time or finding that balance?
I'm always surprised at how little time volunteer work takes. Most volunteer work is committee based, meaning you'll have a team. Start with a committee or work group in an area of particular interest and see how it fits into your life. Don't feel like you have to say "yes" to everything – too many of us take on too many positions at the same time – and don't be afraid to share the load.