June 8, 2021 by
Elizabeth Quinn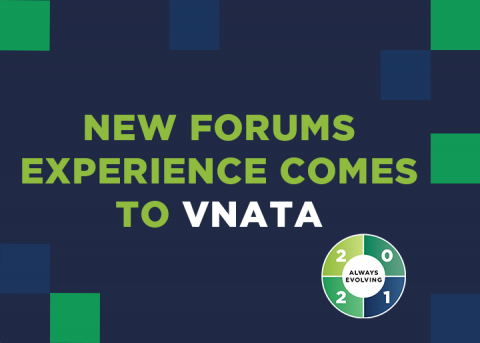 The NATA Clinical Symposia & AT Expo is the premier event for athletic trainers. More than 10,000 attendees took advantage of the 2020 NATA Virtual Clinical Symposia & AT Expo and we are excited to build on that success and create another engaging, educational opportunity for the athletic training community with VNATA 2021, which offers the robust content and engagement experiences attendees have come to expect from NATA.
The 2021 NATA Virtual Clinical Symposia & AT Expo will offer a new feature for attendees: forums. These forums will be held from 5 to 6 p.m. CDT June 22 and 23 and 1 to 2 p.m. June 24. The six forums will provide a space for live discussions with peers. Attendees can earn 1 Category A CEU during each forum. Forums are limited to 49 attendees and are first come, first served.
Here's a look at the six forums that will be offered during VNATA 2021:
Using Cognitive Loading To Enhance Ankle Sprain Rehabilitation
This forum, led by Christopher Burcal, PhD, ATC, and Terry Grindstaff, PhD, PT, ATC, will focus on how ankle sprains are the most common musculoskeletal injury sustained during sport and physical activity. Forum attendees will learn about key factors that providers should consider when integrating cognitive loading into ankle sprain rehabilitation, opportunities within their organization that could be refined to better incorporate cognitive loading activities and cognitive loading tasks that could be used during rehabilitation.
Creating Credibility With a Quality Patient Report: Communicating With EMS Providers To Improve Interprofessional Relationships
This forum, led by Edward Strapp, ATC, NRP, FP-C, and Darryl Conway, MA, AT, ATC, will focus on how an athletic trainer's words and actions during an emergency event are, unfortunately, the first interactions with many local EMS providers. Attendees will walk away with knowledge of critical components to an effective patient transfer of care report, the importance of creating credibility with actions and words and critical elements to creating quality inter-professional relationships.
An Update on Therapeutic Modalities: How Should They be Used?
This forum, led by Lisa Jutte, PhD, ATC, and Blaine Long, PhD, AT, ATC, will focus on how the use of therapeutic modalities should complement the healing process and be dependent upon a clinician's therapeutic treatment goals. Without a complete understanding of the healing process, the impact therapeutic modalities have on patients can be misused or ignored, hindering treatment outcomes. This forum will address common therapeutic modalities used in clinical practice in order to grasp a better understanding of how they influence the healing process.
Heat Stroke Management: Overcoming Barriers to Cool First, Transport Second
This forum, led by Rebecca Lopez, PhD, LAT, ATC, and Samantha Scarneo-Miller, PhD, LAT, ATC, will focus on how ATs and other clinicians aren't utilizing best practices (i.e., cool first, transport second) for the prehospital treatment of exertional heat stroke (EHS). Inadequate cooling or a delay in treatment can lead to a fatal EHS. The purpose of this forum is to discuss facilitators and barriers to cooling first, transporting second. Attendees can expect to learn the literature on common facilitators and barriers to cool first, transport second for the management of exertional heat stroke, the knowledge and behaviors of clinicians as it relates to performing cool first, transport second and strategies to overcome challenges faced for the implementation of this best practice in their clinical setting.
Prevention & Treatment Strategies So You Don't get Hamstrung by Hamstring Injuries
This forum, led by Brandon Schmitt, DPT, ATC, and Takumi Fukunaga, DPT, SCS, ATC, CSCS, will focus on how hamstring injuries are among the most common soft tissue injuries in sports. Further hamstring injuries have a high recurrence rate of nearly one in three in some sports. This forum will focus on best practices for prevention programs to reduce the rate of hamstring injuries and treatment strategies to minimize risk of reinjury while returning athletes to participation efficiently.
Emergency Medical Services at Action Sport Events
This forum, led by Christina Saffran, MS, ATC, and Michael McKenney, MS, AT, CSCS, will focus on how non-traditional sports (i.e., action sports) have become more popular. Forum attendees will learn the members and their roles of action sports medicine team, procedures associated with the implementation of an emergency action plan at an action sport event and the role of an event athletic trainer from that of a team or individual sports medicine provider.
Learn More
Read more about forums and other educational opportunities in the preliminary program on the VNATA 2021 Education page.
Be sure to register for VNATA 2021 before June 21 to take advantage of early pricing. The registration fee for current professional members is $179. Current professional members can save an additional $50 by pre-paying their 2022 NATA dues. Retired and honorary members can register for VNATA 2021 for free.
Non-certified athletic training student members can register for VNATA 2021 for $49 and will be able to attend the Athletic Training Student Seminar and ATSS Career Panel as well as engage with peers and future colleagues.
Stay Connected
For the latest convention information and news, visit the VNATA 2021 website and follow us on Facebook and Twitter. These platforms will feature the latest convention information, assisting you as you plan your VNATA 2021 experience ahead of time.