May 10, 2021 by
Elizabeth Quinn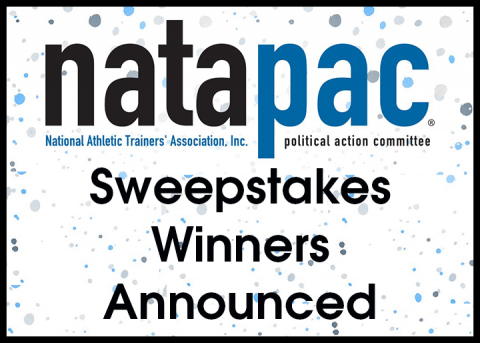 The NATA Political Action Committee (NATAPAC) held its inaugural sweepstakes in April. Members purchased tickets for a chance to win one of three prizes. On May 3, winners were drawn, and the sweepstakes awarded three members:
Jennifer Brodeur, MS, ATC, CES, of District One, who won the Apple iPad
Kerry Waple, MEd, ATC, CSCS, of District Five, who won the Apple Watch
Chris Schommer, MEd, ATC, of District Four, who won a $500 Amazon gift card
"The NATAPAC exists to be the voice of the athletic training profession, seeking better working conditions, fair access and the right to practice for all athletic trainers across America, and it can accomplish its mission by supporting Congressional members who believe in these goals," said NATAPAC Chair B.J. Maack, LAT, ATC, CSCS. "Having a strong and healthy PAC fund allows us to expand the reach of the profession.
"This inaugural sweepstakes was a huge success, especially in lieu of not being able to host our annual NATAPAC Breakfast, and will help us do even more for the athletic training profession. Kudos to Madison Sequenzia of the NATA office for her work on this. Congrats to Kerry, Jennifer and Chris for their sweepstakes win!"
Maack would like to thank everyone who supported and continues to support NATAPAC, and everyone who participated in the first NATAPAC sweepstakes to make it a success.
Established in 2005, NATAPAC works on behalf of all athletic trainers to enhance health care for both athletic trainers and those who receive care. NATAPAC will work to effect change by supporting federal candidates for public office who will work on issues of value to certified athletic trainers and help strengthen the profession. 
NATAPAC is a federal political action committee that provides campaign contributions to approved federal candidates on behalf of NATA. NATAPAC will give primarily to candidates for the U.S. Senate or House of Representatives. It is a nonpartisan group, is a separately incorporated organization, and is governed by the NATAPAC Board of Directors. For more information on NATAPAC, visit the NATAPAC website.