April 12, 2021 by
Elizabeth Quinn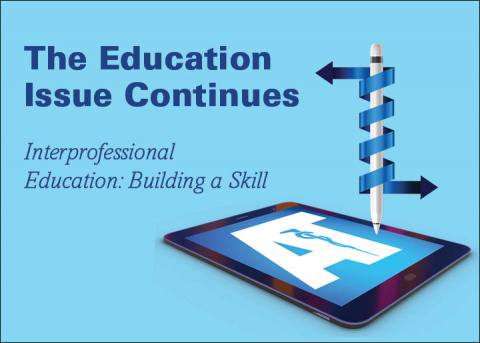 In 2019, the NATA Education Advancement Committee, under the NATA Executive Council for Education, created the Continuing Professional Development in Educational Scholarship Grant to help a researcher gain a new skill or collaborate with a partner in order to move their research agenda forward. The goal of the grant is to expand the number of individuals performing the educational research needed to move the profession forward.
The first recipient of the grant was Jordan Hamson-Utley, PhD, LAT, ATC, dean of health sciences at Grayson College in Denison, Texas. Hamson-Utley recently finished her professional development in 2020, as the grant recipient has one year to spend the grant and write a two-page report on how the grant was used to support professional development and its outcome.
As Hamson-Utley applied for the grant, she focused on interprofessional education (IPE), which she described as learning with, about and from different health care professions, whether pre- or post-license. She gave the IPE example of athletic training students and paramedic students discussing emergency transfer of a patient to the emergency room.
IPE allows for building professional ethics, standardized communication, team work, rules and responsibilities and scope of practice to provide the best possible patient care, Hamson-Utley said. IPE also breaks down profession-specific barriers, she said.
To craft her IPE skill, Hamson-Utley said in her application that she would use the grant funding to pay for the Nexus Summit, an interprofessional conference focused on building clinicians and educators readiness to provide team-based health care.
One aspect of the application is a letter of support from a mentor or colleague who would attest to the applicant's character and that the money used would help the applicant gain the specified skill. This forced Hamson-Utley to go out of her comfort zone, she said, to reach out to the director and co-chair of Nexus, Barbara Brandt, PhD, FNAP.
"In pursuit of the grant, it made me reach out to [Barbara] and get time with her," Hamson-Utley said. "I wouldn't have done that otherwise. It encourages us to get outside of our comfort zone, outside of our field of education. [I was able to] meet her at the conference, connect with her as a mentor, maintain contact with her and bounce ideas off of her. She has been a listening post for me as far as where to go next and how to pay it forward in athletic training."
During Nexus, Hamson-Utley was able to expand her network and make connections across a multitude of professions all in the name of IPE.
"I think the best aspect of that conference is that everyone was a community and family of educators," she said. "This is a very narrow niche. It was interprofessional education and practice only, and those interested in that alone. [The sessions] focused specifically on IPE, and it was a deep dive each day. It wasn't just a couple of talks over three days. It was very intensive and one talk built on another over the three days."
The sessions were intentionally crafted for attendees to follow a course once they start and take a deep dive into a specific pathway, Hamson-Utley said. This prompted the same people show up to the same talks, allowing for more network building, she said.
"The best thing [about the experience] was seeing colleagues [at Nexus]," Hamson-Utley said. "I'm on a research team that includes members from multiple universities, and this conference allowed for a face-to-face meeting with the team. While we work with each other, we never get see to each other, and the grant afforded the opportunity to bring a connectedness, like glue, to that collaboration. This grant has fostered a lifelong relationship."
Hamson-Utley has been in higher education for 23 years. Although she is not new to the practice, she indicated that IPE is a growth zone for the profession of athletic training, which is why she decided to apply for the grant. It gives seasoned educators the opportunity to try something new outside of their comfort zone, she said.
"I encourage others who are in higher education to try something new," Hamson-Utley said. "Don't discourage yourself. I encourage seasoned educators to apply if they are driving toward innovation. Lots of educators have been in this field for a while and are just now shifting toward teaching that aligns with contemporary health care practices."
In March, the National Academy of Practice (NAP) unveiled that it will now include the Athletic Training Academy, Hamson-Utley said.
"Our field is moving to partner with other professions and learn with, about and from each other," she said. "It doesn't stop in the classroom. It continues with us, practicing clinicians.
"Go to conferences outside your comfort zone. As ATs, we have very little time. And for many, the one conference we attend is the NATA Clinical Symposia & AT Expo. [That means] there might be a second conference to pick. Let's get out of our comfort zone and use grants to go to niche conferences that stand to impact change in our educational pathway."
Be on the lookout for information regarding the grant in 2022 on NATA's social media, including Facebook, Twitter and Instagram.
The EAC also offers NATA members the 2021 Virtual NATA Education Research Series, which will go until May 6. Each week will focus on a different topic and will be on-demand for a limited time. Attendees can earn up to 2 Category A CEUs by participating in the 2021 Virtual NATA Education Researchers Series. For more information, visit the NATA website.