February 1, 2021 by
Elizabeth Quinn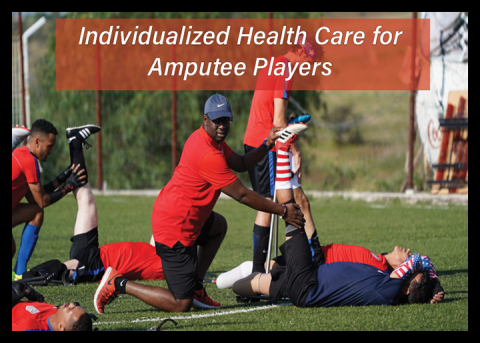 In honor of Black History Month, NATA is conducting a weekly blog series throughout February that showcases Black athletic trainers who work with elite patient populations. This blog highlights James Pierre-Glaude, DPT, ATC, CSCS, who works with the men's U.S. Amputee Soccer Team.
James Pierre-Glaude, DPT, ATC, CSCS, wears many hats, one being the physical therapist and athletic trainer for the men's U.S. Amputee Soccer Team as well as the secretary and treasurer for the American Amputee Soccer Association. He is also the clinical assistant professor at Stony Brook University and runs a clinic in New York. Pierre-Glaude isn't an amputee himself, so how did he get involved with this elite patient population?
"One of my previous physical therapist instructors … works with patients with limb differences – evaluates them and makes prosthetics," Pierre-Glaude said. "He started volunteering with the U.S. Soccer Amputee Team, and three years later, he became head coach. In 2014, the team was ready to go to the Amputee Soccer World Cup in Mexico, and he needed someone short term to help with that trip. It would be 18 days in Mexico, and he need someone with experience with amputees and could tend to injuries and prevent them. He asked me because he knew I was an AT and I was teaching in the athletic training program at the time, [and I had experience working with] patients with amputations in the outpatient orthopedic. I had a great experience [with the team], and then the team asked me to consider staying with them for more than the trip while we were in Mexico."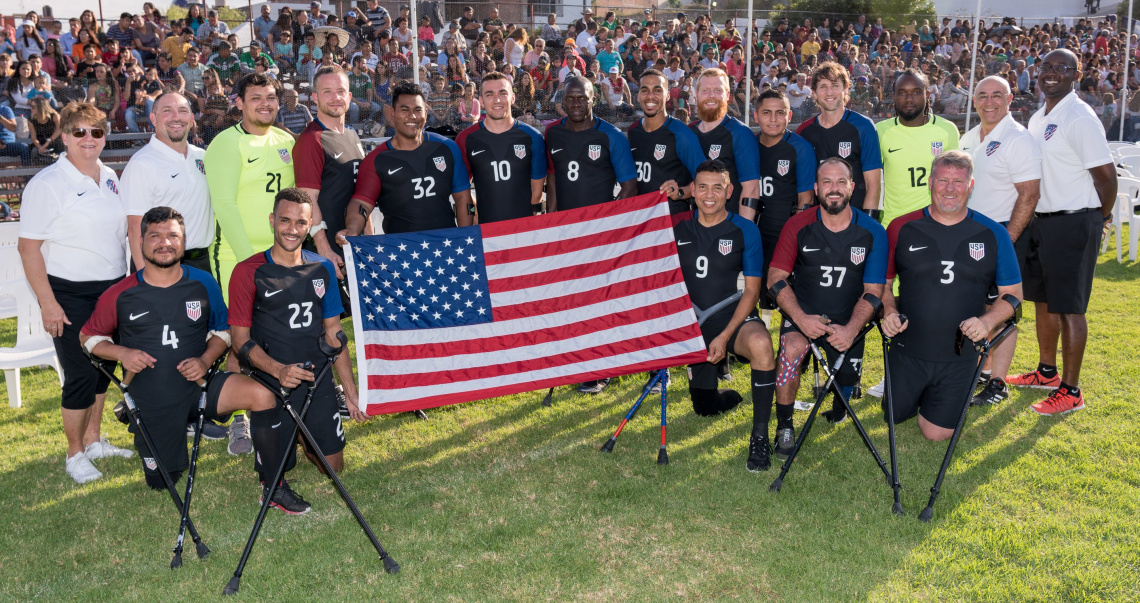 During his time in Mexico, Pierre-Glaude noticed out of the nearly 25 other countries attending the Amputee Soccer World Cup, no other country had an AT, or "anything that resembled anything close" to an AT. They would have physicians, but they would just do a spray and stretch, he said.
"Being a part of the team has helped me to market the profession to individuals who didn't even know it existed, domestically and internationally," Pierre-Glaude said. "Whenever we play another team, I've had coaches and players come up to me to ask who I am, what I do, what my education looks like, etc. I never thought that would be part of that. You never see yourself as a walking billboard, but you do when you're in a domain that doesn't see a lot of you. I think this will help the profession, as small as it may be, because if they come to the states, they may ask for an AT to be a part of the event in the future."
Finding Solutions When Caring for Long-Distance Athletes
Since these players are on a national team, they are located all around the U.S. Although Pierre-Glaude is in New York, he has players in Texas, for example, who he needs to connect with if they get hurt. By utilizing phone calls and Zoom, Pierre-Glaude is able to consult players and refer them to other health care professionals or start them on at-home exercises.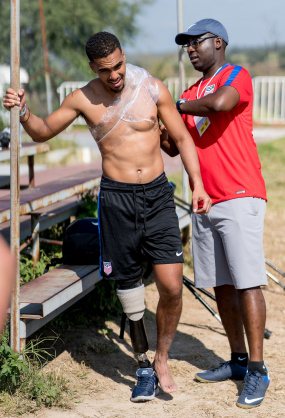 When the players aren't competing internationally, Pierre-Glaude also sends them training videos and stretches, so when they all do meet up, everyone is on the same page for warm ups and cool downs, he said.
"During the game, I tape; I stretch," Pierre-Glaude said. "We recently added a massage therapist to help out for our training camps and international competitions. I'm involved in equipment, too, because the players use different crutches. Their crutch tips break frequently, so I help fix that. The main injuries are upper extremities because most players don't use crutches for daily use, so shoulders, wrists, elbows, etc., [get hurt]. I'm [usually] on the sideline, but if we are hosting [a tournament], I will help both teams because they usually don't have access to a medical provider."
One of Pierre-Glaude's favorite parts of his job, however, has nothing to do with the competitions or training: It's being able to share the sport with people who never thought they would be able to play ever again or, for some, for their first time. Watching the players with upper or lower extremity amputations see someone else who looks like them on the other teams competing at a high level, doing headers or talking about soccer is the best part, he said.
"[It proves that] no matter your physical ability or condition, there is a way to stay active, when allowed," he said.
Learning Along the Way
When Pierre-Glaude first joined the team, he had misconceptions about his patients, but as he worked, he discovered more about the players.
"Many of the athletes play other sports," he said. "Many of them are more athletic and fit than me. We have some who have ran marathons on crutches. We have triathletes. We have a cross country skier who was part of the Paralympics and another who was a sled hockey gold medalist in South Korea for the Paralympics.
"I push them as hard as they allow. There's no pity. Yes, they are an amputee, but they understand and are looking for that push. [Working with them was] a huge wake up call."
Pierre-Glaude often hears stories of how his players are treated by other health care providers, from a medical provider focusing solely on the disability to a medical provider not acknowledging it's there – two polar approaches.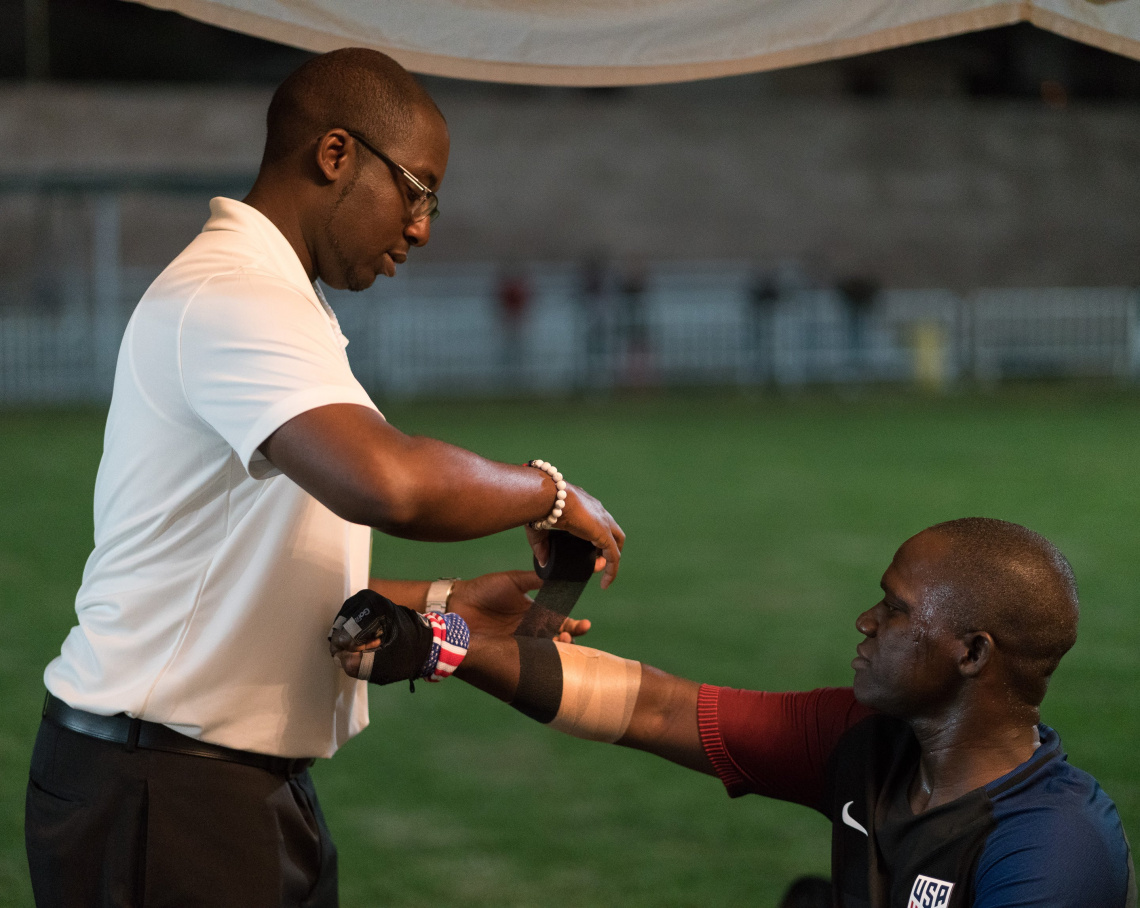 "[Cultural competency] definitely affects [my patient care] because just hearing their stories outside of being a soccer player, you hear their frustrations about going to the doctor or speaking to a medical provider and all they see is this disability – where they can't move on beyond the fact that they are someone who is an amputee," Pierre-Glaude said. "Other end of the spectrum is where they interact with a medical provider who doesn't even acknowledge their disability. You need to find that balance [between the two]."
This person is an amputee, but there are other parts that make them whole: where are they from, what do they do, what is their history interacting with another medical provider, etc. ATs should take all that in when interacting with a patient with an amputation, Pierre-Glaude said.  
"You can't treat them all the same," he said. "If you're interested in working with a special group of individuals, get to know them first. Take the sport out of it. Get to know what makes that group go. Connection outside the sport makes it 10 times easier to be trusted and accepted with the patient population, and it helps when evaluating them. A lot of the hurdles that you may have to go through are minimized because they trust you."
For more information about cultural competency, visit the NATA cultural competence webpage. There you can find resources such as working with patients of different religions, race and ethnicities, sexualities, abilities and more.
Photo credits to Carl Calabria