March 16, 2020 by
Elizabeth Quinn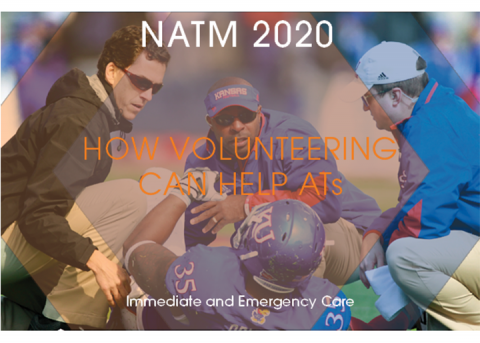 Editor's note: In honor of National Athletic Training Month, NATA is conducting a twice-weekly blog series throughout March that showcases how ATs use the five domains of athletic training to improve the health and well-being and their patients. This blog post highlights domain three, Immediate and Emergency Care, and how members are embodying this year's NATM theme, "ATs Impact Health Care Through Action." 
Within one hour of an incident, firefighters and EMTs are expected to get patients to the hospital and seen by a doctor. It is during this time, known to the medical community as the "golden hour," in which the patient has the highest likelihood to survive their injuries. This hour includes getting the call, arriving on the scene, assessing the situation and transporting the patient. Imagine if athletic trainers were able to use their health care skills to aide in these fragile and often intense circumstances? That's just one benefit of ATs volunteering with emergency services.
Four ATs – Jim Thornton, MA, LAT, ATC, PES, CES, active member, captain of fire police and secretary treasurer with Clarion Fire & Hose Company No. 1 as well as secretary treasurer for the Fire Relief Association; Mike Chesterfield, MBRT, LAT, ATC, active member and captain with Clarion Fire & Hose Company No. 1; Tierra Shope, LAT, ATC, EMT and active member with Curwensville Rescue Hose & Ladder Company and Swift Water Rescue Team; Rich Herron, LAT, ATC, MS, CES, PES, active member with Clarion Fire & Hose Company No. 1 – are using their athletic training skill set to give back to their community by volunteering with their local fire departments. They explain how volunteering has not only helped their professional career, but has allowed them to advocate for the profession.
Why did everyone, as athletic trainers, choose to volunteer with fire departments, and how long have you been a volunteer?
Jim Thornton: I've probably been in the company the longest. I've been with the company for 26 years. I think the main reason I got involved was because we often get so busy in our jobs that we forget there's a community that we are a part of as well. It was a way to serve and be involved, and we are saving people's lives and properties. In fact, the object of the company is "it shall be the extinguishment of fires, rescue and protection of life and property."
Mike Chesterfield: I'm third generation firefighter. My late-grandfather was chief of his department in West Wyoming, Pennsylvania. My father is the assistant chief of his fire department in Kingston, Pennsylvania. I've been doing this now for 20 years. It's instilled in my blood. Giving back to community has always been an important thing to me as well. Helping others is kind of why we are all in this profession as athletic trainers. It started for me as a life guard when I was 16, and I started with the fire department around the same time. I got involved and kept progressing through the ranks and, now, it's helped me keep the fire department on the right path in becoming a bigger, better and stronger force not only in our community, but our entire county. That's something I'm very proud of.
Rich Herron: I've been an active member now for four years. I got involved thanks to Mike and Jim. I'm very thankful for them. I chose to do it so I could do something for the community.
Tierra Shope: I've been in it for four years now. I got started with EMS. I decided to take a course because I thought it would help my athletic training career. My fiancé and friends are all firefighters at my company, so they got me involved and, from there, it just became very addictive. I ended up on the fire side and the water rescue side. Helping out the community is the biggest part of it.
How do your athletic training skills overlap with these emergency services?
Thornton: You know what's really cool is when we go to a scene, if there's a medical issue going on at the scene, the other firefighters know what we do for our professional lives and they immediately try to get us on site as quickly as possible because they know we can provide care until ambulance or medics arrive. It crosses over very well. The cool thing is we've been able to educate members in the fire company and the community about what an athletic trainer is and what we do. They ask us about our profession on a regular basis.
Shope: I guess for me, it really helped out in the opposite direction. When I became an EMT, I was a sophomore in my athletic training program, so that summer I worked as an EMT and got experience dealing with emergency situations. When I came back to school that fall for my junior year, Mike was actually my preceptor, and he told me that I stood out as calm and collected compared to those who didn't have that experience. It came from being an EMT and having to make difficult decisions, and being able to stay calm during very stressful situations.
Chesterfield: By profession and by creature of habit, athletic trainers are problem-solvers, and this crosses over very well with being a firefighter. People turn to us during an emergency as athletic trainers, and it's the same way as a firefighter. Every emergency is different just like every injury is different. It allows us to be problem-solvers and use critical thinking. It goes hand in hand. It's clearly evident, as Jim said, when the spaghetti hits the fan, it is often us that are looked to for resolving problems.
Favorite memory or thing about volunteering?
Chesterfield: Everybody you run into or work with is from a different walk of life. You have a team: an athletic trainer alongside a mechanic alongside a retired gentleman or a custodian. Everyone is from a different walk and, in the end, we are all better for that. Everyone has a different skill set outside of the fire department. When you put it all together, it really does create this massive toolbox of knowledge and skills that make the whole thing work.
Thornton: If I can think of a favorite memory, one of them is when we attend the funeral of one of the members of the company. We go to the funeral home as a group, and there is a moment when we say a prayer and then our County Dispatch will set off our pager and siren tones as a final call for the individual who has passed. Then they announce the final call of the individual. It has a real impact on the family and on the people who are there. It shows an enormous amount of respect for the individual and the members of the fire company. It's a brother and sisterhood. It truly is.
Chesterfield: You can't break that bond you create. It is different from anything I've been through in my life. When you get on the scene of a call, everyone has each other's back no matter what.
Thornton: Heck, you're fighting a fire! You literally have each other's backs. You better trust the person you are walking into a fire with to make sure you get out and what has to be done gets done. There's an enormous amount of respect among the members of the company.
Shope: For me, I will say it is receiving the letter or the call or running into someone in public and them thanking you. Sometimes you become numb to the situation, and I see so many patients. Later down the road, I may not remember someone, but they will come up to me and say, "Oh my gosh, thank you so much for taking care of my kids. They were in that car accident and you took care of them." It's just very humbling and rewarding when you get recognized for that, especially because you don't expect to be because it's just your job – it's what you do.
Herron: Being able to be there and help somebody out who might be experiencing their worst day in life is very rewarding.
Would you recommend other ATs to volunteer? And what would you say to those who are worried they don't have time to volunteer?
Thornton: It's all about commitment. You might have a long day in the athletic training facility, but people have accidents and fires and stuff happens at night and all times of day. It's a way to service the community. I know you're talking to the former president of NATA, but my opinion is if athletic trainers were more involved in their community, individually – we have 45,000 members out there – more people would know what an athletic trainer does. More people would respond to, and perhaps be more likely to help school boards put athletic trainers in high schools, etc.
Chesterfield: It's always easy to keep the covers on at 2 o'clock in the morning and stay nice and warm in bed, but my wife said it best to me one day. She can be the only one who can get mad at me because I get up from dinners, I leave her on the walk with the kids alone, and at the same time, she says, "I can get mad, but I will never stop you because if you were out of town, and something happened to me, I know the guys in the fire company are going to come." We, as athletic trainers, have skill sets that are already instilled in us, and we are there to help. It takes a certain type of personality to do this.
You don't have to always be the person running into the fire. You can drive the truck, help with rescue, be an EMT, run the administrative side of things, fundraising – there's so much more that you can do with a fire department than just the title of a firefighter. There's a lot that goes on behind the scenes to run a department. Financially, it a huge undertaking.
Thornton: Not everyone has to be a member of a fire department either. Community service is the bottom line. Maybe you are a member of a fire company or you're on a city or town council or whatever. Sometimes a fire company just needs someone to cook spaghetti.
Shope: Volunteering will make you a better athletic trainer in the long run. Working in those emergency situations and working with people from all walks of life – because you see all kinds of people – can help you as an AT.
How would someone go about getting involved with a fire department?
Thornton: Just knock on the door. Perfect example of it, we had just come back from a call, and we were hanging outside. It's Mike and I and the chief, and three students who are in ROTC had just come from the 9/11 memorial, and they came by and said, "Hey, what do you have to do to be a member of the fire company?" Our chief said, "Fill out an application." All three of those kids are now members of the fire company and going through training.
Chesterfield: We will have gained nine new members by the end of this month, and that's just from people saying, "Hey, what do I have to do to be a firefighter?" Simply just ask the question. Knock on the door. It's a national crisis that fire departments, rescue and EMS are all in need of good people and good members. You look at the statistics here in Pennsylvania, back in the early '70s, there were 300,000 volunteer firefighters, and now it's around 38,000. Both numbers are viewed similarly across the country. It's not just here in Pennsylvania.
Shope: It's the same thing at my company. We are staffed 24 hours, so you can literally walk in whenever if you want to come and talk about it.
Thornton: It can be a little intimidating when people see the fire trucks parked there and the ambulances, but a volunteer company, I'm going to say, 90-some-odd percent – if not 100 percent – if you knock on the door and say, "Hey, I want to be involved in your company somehow," there isn't anybody who is going to turn a valid volunteer away.
To find a fire department in your area, visit the U.S. Fire Administration website.
Continuing Education Opportunities
Log into the NATA Professional Development Center, and search for the following courses that relate to domain three, Immediate and Emergency Care. You can also explore upcoming webinars to earn additional CEUs within the PDC.
Lead Them to Water but Don't Force Them to Drink!: Recommendations to Prevent Hyponatremia