October 21, 2020 by
Elizabeth Quinn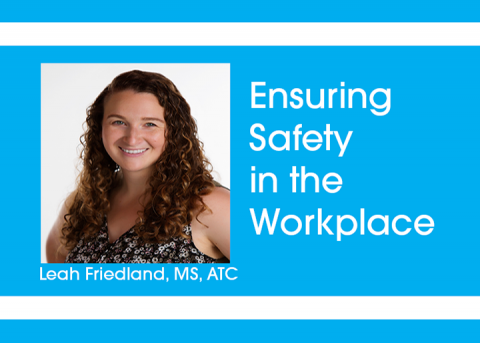 The athletic training profession equips ATs with a diverse set of skills that allows them to work throughout health care. While some athletic trainers work directly with patients and athletes in the clinical setting, others can be found in hospital administration and occupational health.
Leah Friedland, MS, ATC, is the program leader for Workforce Health and Safety at Northwestern Medicine Hospital.
"On a weekly basis, various members of these departments will round to clinical, nonclinical or ancillary areas of the hospital to survey the environment," Friedland said. "As part of my role as program leader for Workforce Health and Safety, my colleague and I complete the Safety Survey of Environment of Care rounds. There are also representatives from infection prevention, pharmacy, facilities, environmental services, etc., who have their own surveys to complete. We're looking to ensure that the area is safe for both staff and patients based on regulations set forth by the Joint Commission."
Friedland's typical day, since the start of the COVID-19 pandemic, alternates her working from home and going into the office. Near the start of the pandemic, Friedland and her team helped organize and facilitate respiratory mask fit testing for their front-line staff to ensure they were all properly equipped with the correct N-95 respirators, she said. Since then, the team moved remotely until recently gradually returning to work with strict guidelines.
Most of Friedland's work is on the computer while collaborating with other departments and exploring different safety initiatives, she said.
"I do a lot of data analysis and subsequent presentations to leadership," Friedland said. "Additionally, I occasionally go to the hospital for Environment of Care rounds or to meet with department managers as needed. Some of my larger upcoming projects include expanding the Environment of Care rounds to the outpatient ambulatory areas and working with surgical services to reduce needle sticks in the operating rooms."
"Our goal is to help prevent and manage occupational injuries and create a safe working environment for employees. The incidents in a hospital setting are more likely to be needle sticks than ankle sprains, and while we don't evaluate or treat any of them, we do evaluate trends and make recommendations to mitigate future events. Although it isn't clinical, you can certainly see the parallels between workplace safety and athletic training."
Friedland finds similarities between athletic training and workplace safety and said the skills from the athletic training profession help her thrive in her job.
"Many skills that I developed in athletic training have been essential to my role at Northwestern, including critical thinking, flexibility to adapt to changing environments and the ability to work with other disciplines and specialties," she said. "In my previous role, I would collect data from daily injury logs, clinical notes or injury rates to help guide clinical decisions or recommend changes. Currently, I still look at injury data to help drive initiatives, but the injuries and requests for change are both different."
"The skills and work ethic of an athletic trainer are invaluable in this role."