April 1, 2020 by
Elizabeth Quinn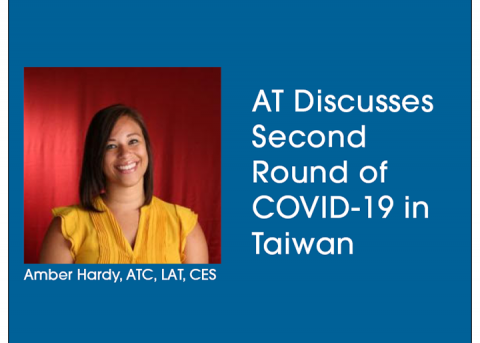 During the COVID-19 pandemic, athletic trainers have stepped up to help their local health care systems in multiple ways, including screening, telemedicine and infrastructure. NATA will share what athletic trainers everywhere are doing to care for their patients, communities and themselves during this time.
When COVID-19 first hit Asia earlier in the year, countries had to halt daily life and required citizens to go into quarantine. After weeks of self-isolating, the numbers of those affected began to decrease. Recently, after COVID-19 cases began to pop up again throughout Asia, many are facing another round of quarantining.
Amber Hardy, ATC, LAT, CES, is an international athletic trainer and head AT with the Taipei American School in Taipei, Taiwan. Hardy, having already been through the experience, said she is preparing for the next round of quarantine. Schools moved online March 30; competitive sports ended early; and the government updated its safety measures for COVID-19.
"We are in a very unique situation here in Taiwan as the government did such an amazing job containing the virus, but then it got worse when the schools shut down worldwide and people returned to Taiwan," Hardy said.
The new guidelines for public health and safety issued by the Taiwanese government lists criteria of who is and isn't allowed back on campus for 14 days, including restricting those who have recently traveled outside of the country or have come in contact with someone who has recently traveled outside of the country or has contracted COVID-19.
"We have been informed by the government that we cannot leave Taiwan until May 29," Hardy said. "We are all hoping this date does not change because we will not be able to go back home to see our families over the summer. Some families have already been affected due to flights being cancelled – our New Zealand families aren't able to go home this summer – and having to home quarantine, which limits your time back home."
During the first self-isolation and online learning, ATs were contacting athletes who were receiving treatment through email to discuss their programs and how they could continue at home on their own, Hardy said. Additionally, Hardy enacted a cleaning policy for athletes and coaches following the first round of COVID-19 that required all athletes and coaches to wash their hands before and after practice and/or game as well as cleaning all equipment after each use with a bleach-water solution.
Hardy said before campus closed March 30, she volunteered to conduct temperature screening at the entrance of her campus.
"There were several volunteers needed because every person entering campus needed to be screened," she said, adding that the school provided her one mask a day during screening and that as a Taiwan resident, she is allowed to purchase two masks per week with the possibility of this increasing in the upcoming weeks. "If an individual had a temp 37.5 and above, they were escorted to the quarantine room and evaluated by a nurse to determine if they could stay on campus or be sent home. Most restaurants, stores, spas and other businesses are doing temperature screenings and requiring to wash hands with alcohol before entering."
Within the past month, the school also integrated Zoom into learning, allowing for students to have virtual face-to-face interactions. Hardy said many students have missed having one-on-one interaction and have enjoyed this type of virtual interaction instead of only communicating through email.
While Hardy has been in contact with athletes who were receiving treatment and rehabilitation to ensure they continue their programs on their own at home, she is also looking at how she can help students and faculty as they transition back to online learning.
 "I am considering developing a Zoom video or PowerPoint presentation to educate on proper posture and computer breaks during these times," she said. "The administration liked this idea and is happy to move forward with it. This week [March 30], I put together a brief announcement on Instagram and Facebook about posture and the 20-20-20 rule to reduce digital eye strain for students."
Since Hardy has been through the pandemic once before, she has some advice for ATs who are going through this for the first time.
"Offer your assistance and support whenever and wherever you can," she said. "Encourage cleaning crews to use a bleach solution for all surfaces in every area. This is only if some places are still functioning. Once they do open back up, a proper disinfection will be needed. I recommend reaching out to your athletes who were receiving treatment before closures so they don't lose their progress, and so they know you still care.
As an international athletic trainer, Hardy said is hard being far away from family and friends during this difficult time, adding that staying connecting through avenues like FaceTime and other video chat apps has been a lifesaver.
"The international ATs stay connected through our group chat, and we have been able to support each other as we have all gone through different situations during this time," she said. "I have shared documents from my school with other ATs because the government in Taiwan took extra precautions that saved much of the chaos, and I wanted other ATs to be able to share that info with their schools. We have communicated about updating and improving our different policies as well."
Hardy said athletic trainers everywhere should lean on their support system to get each other through this unprecedented time.
"Checking in on your family and friends virtually makes people feel loved and cared for so do it with all your loved ones," she said. "Everyone is struggling in one way or another, so we need to be there for each other in every way possible. … Be the support system that we already are as ATs. So many people are affected and will continue to be so do what you can when you can."
 Another piece of advice from Hardy: "Encourage your family and friends to stay at home because that truly is how we can contain this virus. Taiwan is living proof that it works."