November 1, 2021 by
Elizabeth Quinn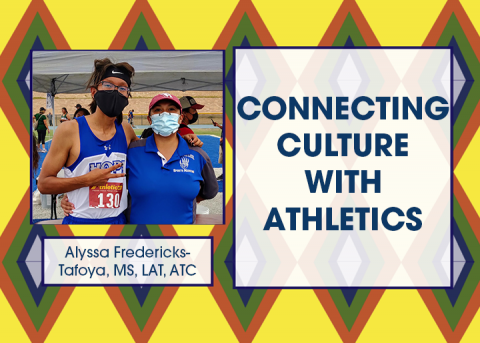 In honor of National Native American Heritage Month in November, the NATA Now blog will highlight some of NATA's Native/Indigenous members and their impact on the athletic training profession.
At Hopi Junior/Senior High School, a school on the Hopi Reservation, 99 percent of the students, staff and faculty are Native/Indigenous, and the Native/Indigenous culture is built into the school. For example, athletic trainers work with the Hopi Tribe's traditional medicine men/women to incorporate traditional treatments into their patient care.
Alyssa Fredericks-Tafoya, MS, LAT, ATC, NATA Ethnic Diversity Advisory Committee District Seven representative and Arizona Athletic Trainer's Association's Secondary School Setting Committee member, has been the part-time AT for Hopi Junior/Senior High School for the past five years. The near 400-student school, with around 225 student athletes, has football, baseball, track and field, "the basic sports," Fredericks-Tafoya said, all which she provides health care to.
"I was born and raised on the Hopi Reservation," she said. "We are still very fortunate to live on the land that we are ancestrally tied to and where we can still practice our traditional ceremonies."
When Fredericks-Tafoya first started working at the school, the coaches were unfamiliar with athletic training and an athletic trainer's skill set; however, the athletic director was a strong advocate for having Fredericks-Tafoya, and ATs in general, cover school sports, she said.
When teams are visiting, Fredericks-Tafoya provides care to them as well because the closest school is an hour away; their furthest competitor is three and a half hours away. In fact, from one side of the Hopi Reservation to the other, it takes an hour and a half – in good weather. And if there is a significant injury, it can take ambulances anywhere from 30 minutes to an hour to arrive.
"We don't have a lot of infrastructure in terms of parks or where youth can have spaces to play, so that's where athletics in junior high and high school and elementary school come in; it's where they can participate and support," Fredericks-Tafoya said. "For my high school, we're known for running, so not only are we known for running, but also there is cultural significance to that. That's something that is part of our culture. It's just trying to tie in cultural teachings with athletics."
Learning, Unlearning, Relearning
During Fredericks-Tafoya' freshman year in high school, she broke her ankle and went to the reservation's traditional medicine man and the Indian Health Service (IHS) clinic where she was put in a cast for a month. She said she wasn't given a lot of instructions other than to come back in a month when she was better.
"Luckily, I healed enough to participate with the last half with track and win the 4x800 that year," Fredericks-Tafoya said. "My running gait was terrible, though. My senior year, I didn't train much during the summer season, so I hurt a lot during cross country. That's when I was introduced to an AT and worked on stretching and flexibility – all the things I didn't have a clue about. Later that year, I had a class we were able to [learn sports medicine] and that clicked for me: 'Hey, I like doing sports, and this has a lot of medical aspects.' It was really something I was interested in, and this is how I decided what I want to do."
Although there was a $10,000 academic scholarship lined up for Fredericks-Tafoya at Northern Arizona University, a trip to Fort Lewis College in Colorado changed her mind. She was excited to go somewhere she didn't know a lot of people; plus, Colorado is gorgeous, she said.
"I grew up in predominately Native American area, solely," Fredericks-Tafoya said. "When I went to Fort Lewis College, I went through culture shock, even though I was ready for the experience. I'd never seen so many blonde-haired, blue-eyed people. It was a culture shock. Then I went to grad school [at A.T. Still University], and there's no one who looks like me. For better or worse, it's almost like I was expected to be the only person who looks like me.
"When you're able to go to a conference and see someone you know is Native American, it's exciting because it's not something you see. That's something I really want to change – not only with the sports medicine club I started at my high school, but also the Native AT group."
Fredericks-Tafoya and Muriel Tsosie, LAT, ATC, an AT who is from the neighboring Navajo Tribe and live on the Navajo Reservation, Navajo Reservation, started the Native Athletic Trainers group to give support and guidance to not only other Native/Indigenous ATs, but also early professional ATs or athletic training students to let them know they aren't alone, Fredericks-Tafoya said.
"It's a lot of feeling alone of feeling you can't ask for help and you have to work 10 times harder to succeed," Fredericks-Tafoya said about being the only Native/Indigenous AT in her athletic training programs. "There are some cultural aspects we deal with that aren't natural to us that we have to learn in the modern world. In college, when I do my performance evaluation, it talked about my assertiveness. [Some cultures of Native/Indigenous people are] not shy, but we're observant, and we don't talk a whole lot until we're asked. Even something like looking someone in the eye is not something we do culturally.
"Some things were common in the modern world, but some things we had to learn how to do."
Building With a Foundation
Although Hopi Junior/Senior High School had an AT in the past, when Fredericks-Tafoya started, she was the first AT hired in a few years, so many staff and faculty were unaware of the health care athletic trainers could provide.
Fredericks-Tafoya went through the "growing pains," as she calls them, of finding resources, working with the local IHS clinics, educating others and advocating for herself as a medical professional that can help student athletes.
"Being from the Hopi Reservation, when I came home from college, it took a year to relearn some things I forgot and just trying to get out of habits from living in the city with resources to coming back home [where resources weren't as abundant]," she said. "Every injury has to go through the ER and IHS clinic. I'm constantly working with parents, grandparents and guardians because sometimes the primary caregiver is working. I'm working around things I didn't have to deal with when living in the city.
"At the same time, it's been very rewarding because I'm able to see my niece and nephew go through high school and compete and see them graduate. I get to see lots of family members compete and reconnect with my community again. A lot of classmates I work with, I see their kids now. I tie that in quickly because I understand the cultural significance of what we go through and the ceremonies we're still doing."
In 2020, during the COVID-19 pandemic, Fredericks-Tafoya received a Get Game Ready grant from the Shaquille O'Neal Foundation for her school. It was a $20,000 grant that allowed Fredericks-Tafoya to buy essential equipment, such as personal protective equipment (PPE) that was a necessity during this time.
Hopi Junior/Senior High School didn't have sports during the pandemic, and most tribal reservations shut down completely. Fredericks-Tafoya said it was a big bummer but was an opportunity to provide during a new situation and prepare for when sports returned.
Being on the reservation, resources and supplies, such as PPE, can take extra time and is already scarce. Getting the masks, gloves and sanitizing equipment was crucial to athletics and keeping the students safe.
"Everything takes a lot longer to get [because the mail takes longer to get to the reservation], but it really shows that being active before we start sports again can be really helpful," she said.