November 10, 2020 by
Elizabeth Quinn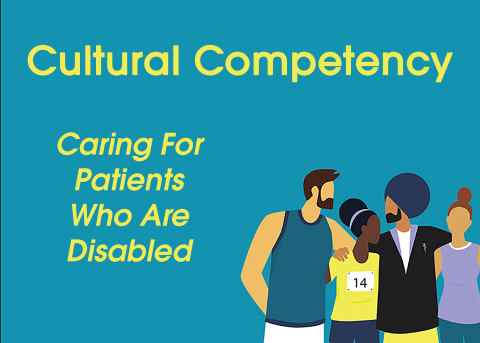 In the November NATA News, NATA Ethnic Diversity Advisory Committee Chair Kysha Harriell, PhD, LAT, ATC, wrote an article about why words matter when working with patients who have a disability. In continuation of the topic, Kevin M. Conley, PhD, ATC, spoke with NATA about his firsthand experience treating patients with disabilities.
As the associate dean for undergraduate studies and School of Health and Rehabilitation Sciences chair at the University of Pittsburgh, Conley teaches a lower extremity assessment course as well as serve on several committees on the school and university levels.
"My regular involvement with people with disabilities includes volunteering with Special Olympics at the local level," Conley said. "I typically take part in two to three events per year, one of which, a basketball tournament, we host at the University of Pittsburgh. Along with athletic training students, we provide first responder coverage for these events, which also includes a soccer/bocce tournament and a summer games event, which centers on track and field competitions."
Read on to learn more about working, treating and speaking to patients with disabilities.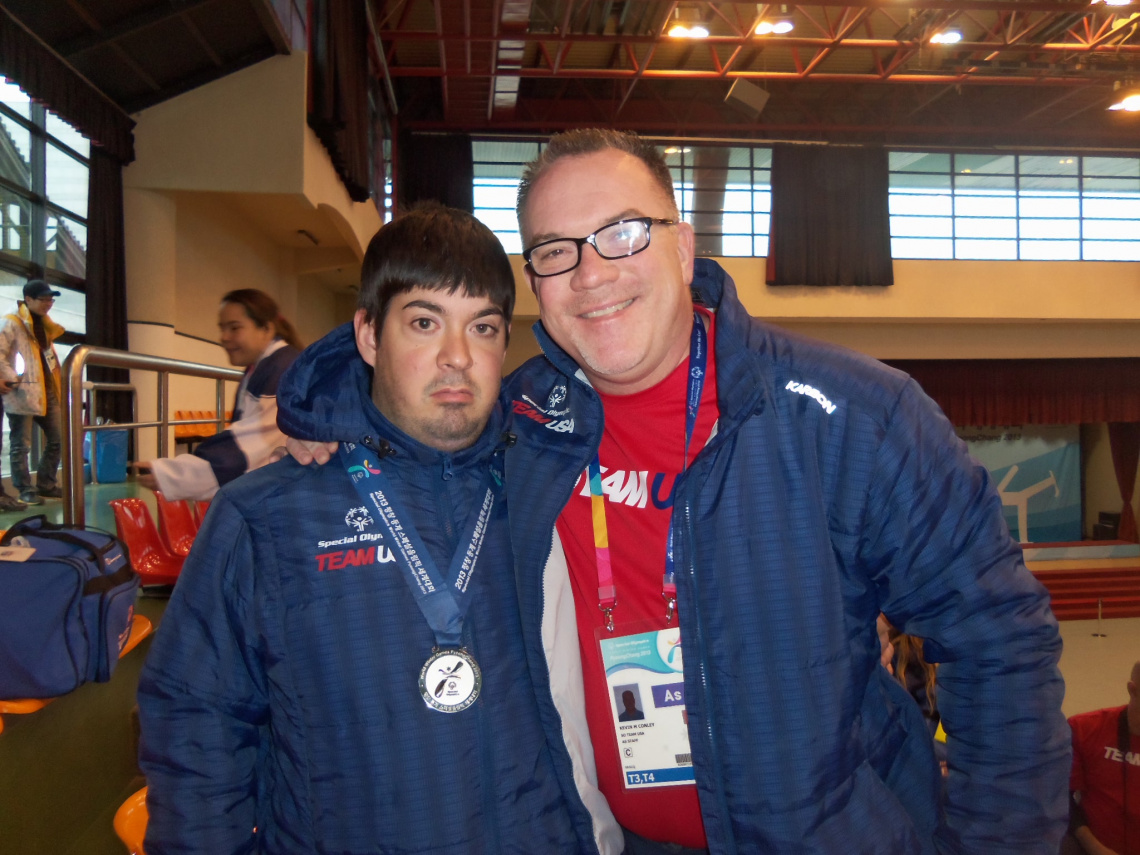 What has your experience been with patients who are disabled? Are there special tools, verbiage, care ATs should use?
Beyond volunteering with my local Special Olympics organization, I was also a member of the medical staff for two Special Olympics World Games: the 2011 World Summer Games in Athens, Greece, and the 2013 World Winter Games in PyeongChang, Republic of Korea.
Although Special Olympics is dedicated to empowering individuals with intellectual disabilities, often the athletes have co-morbidities and several in many cases. These may range from physical disabilities to endocrine, cardiological and neurological disorders. What this means is that it is incumbent upon the medical staff to understand each of the athlete's conditions, any triggers that might exacerbate their condition(s), required medications/dosages/timing.
This was extremely important when traveling with the teams to the World Games in 2011 and 2013 because the athletes were not accompanied by their normal caregivers. The range of abilities where Special Olympics is concerned can vary widely. Some athletes are very low functioning, and it may be necessary to have a greater understanding of the assistive technology being used, while others are extremely high functioning and are looked at no differently than their peers who do not participate in Special Olympics.      
When speaking with patients who are disabled, is it important to be cognizant of the words you are using? Are patients vocal about their preferences when you are speaking to/about them?
Communication with the caregiver is incredibly important, but it is also critical to develop a rapport with the athlete in order to build the trust necessary to provide the most effective care. Communication may be difficult for the athlete at times because the athletic trainer represents a new or strange voice that may not be readily identified or understood; and there may also be barriers to understanding the athlete at times as well. Patience and empathy are very important attributes to possess.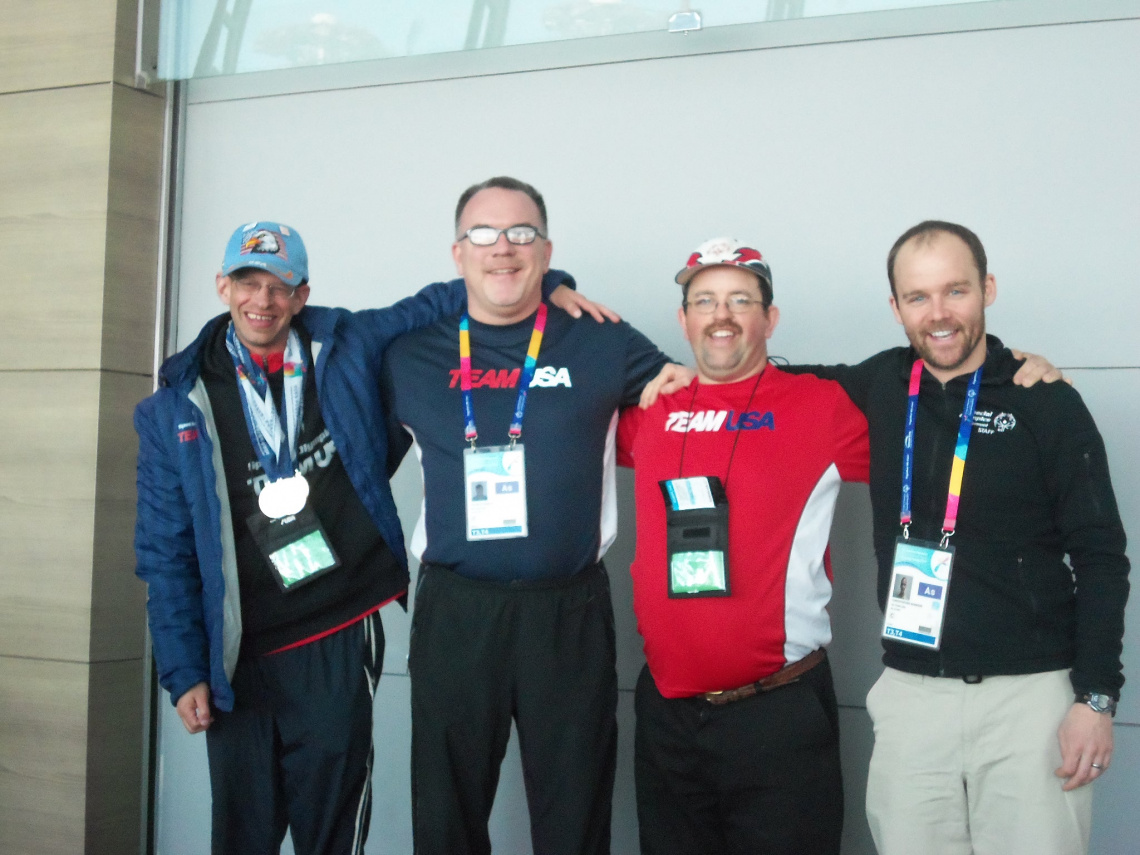 What can other ATs learn from you about working with patients who are disabled?
Athletes with disabilities do not want to be treated differently or with kid gloves and, most importantly, they do not want to be pitied. They simply want to be given a chance to participate with their peers. For Special Olympics athletes, the social interaction is as valuable as the competition and the joy of getting to participate with their friends is priceless. These athletes are also incredibly thoughtful, polite and grateful for any level of care that enables them to perform better or return effectively from injury. My involvement with Special Olympics over the years and the athletes I have met have taught me a lot about humility, courage, joy and the thrill of competing. It has been a very gratifying experience.  
Are there places or resources online where ATs can continue their learning about working with patients who are disabled?
This is a small sample of the literature that exists as it pertains to people with intellectual disabilities and Special Olympics participants.
Conatser P, Naugle K, Tillman M, Stopka C. Athletic trainers' beliefs toward working with Special Olympics athletes. Journal of Athletic Training. 44(3):279-85, 2009. 
Hamdani Y, Yee T, Oake M, McPherson AC. Multi-stakeholder perspectives on perceived wellness of Special Olympics athletes. Disability & Health Journal. 12(3):422-430, 2019.
Rubin AL, Woodward T, Harrison L, Simon L, Rodriquez J. Medical learning from the Special Olympics World Games 2015. Current Sports Medicine Reports. 15(3):134-9, 2016.
Tint A, Thomson K, Weiss JA. A systematic literature review of the physical and psychosocial correlates of Special Olympics participation among individuals with intellectual disability. Journal of Intellectual Disability Research. 61(4):301-324, 2017.
Weiss JA, Burnham Riosa P, Robinson S, Ryan S, Tint A, Viecili M, MacMullin JA, Shine R. Understanding Special Olympics experiences from the athlete perspectives using photo-elicitation: a qualitative study. Journal of Applied Research in Intellectual Disabilities. 30(5):936-945, 2017.